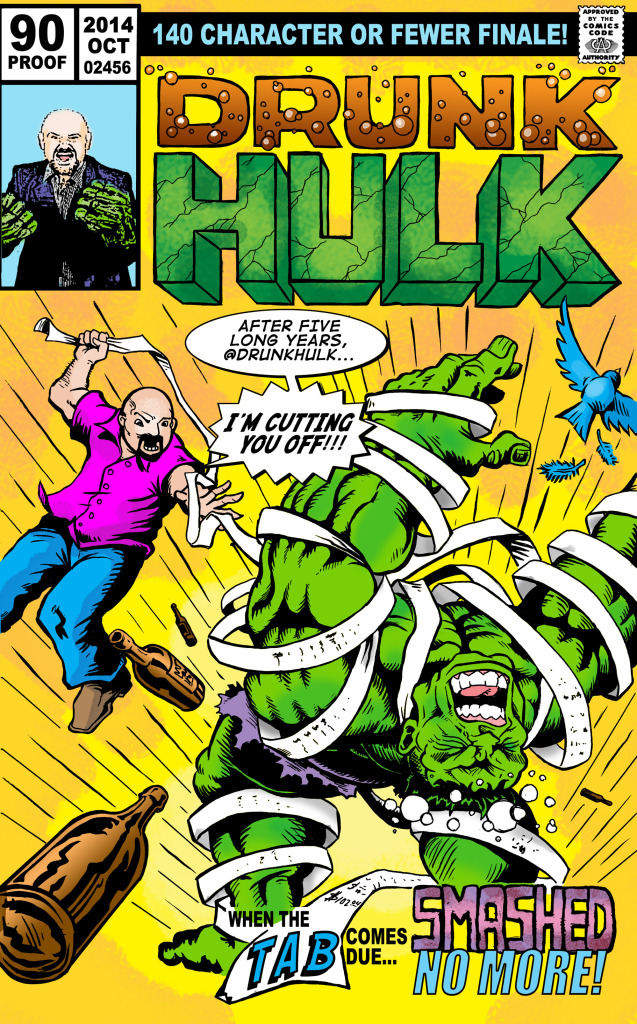 I managed to reinvent myself by the time I was 30 years old by taking a chance and moving to Poland. A little over a decade later – having just turned 40 – I feel like I need to do it again. This particular reinvention is going to be more internal this time around and force me to take on some personal challenges to help me evolve both as a human being and a writer (I know how pretentious that sounds…just work with me here).
Drunk Hulk is five years old today. For a silly Twitter feed, five years is an eternity, and what one would call a good run. So rather than keep Drunk Hulk going until people get sick of him, I've decided that I'm cutting him off.
This decision does not come easily. I'm worried Drunk Hulk has become a crutch I'm too dependent on as a writer and a public speaker. There are only so many times you can be introduced as Drunk Hulk at speaking events before you become a parody of yourself.
Smashed: The Life and Tweets of Drunk Hulk is meant to be the ! at the end of an amazing experience. I've been so fortunate to have had this opportunity, to have made friends and strangers all over the world laugh, and to have met some of the most incredible people along the way.
So this is it. It's closing time.
But before everyone goes home, I'd like to thank some people…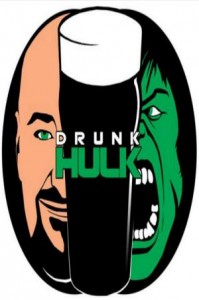 Let's start with the big ones: Thanks to Joe Hill, Anthony Bourdain, Peter Straub, Neil Gaiman, Jill Thompson, John Hodgman, Russell Brand, Linda Holmes, Mary Elizabeth Williams and Joe Lhota, for not only helping to push Drunk Hulk into the spotlight but for the kind words and support.
Thanks to Beck for creating the definitive image of Drunk Hulk and letting me run with it. You should follow him on Twitter.
Thanks to my friends and family: my parents, my Polish parents, Derrek Carriveau, John Polo, Brandy Polo, Dr. Sean Murray, Joe Davison, Scott Bradley (of BradleySMP, who did the t-shirt design on the left), Angeleeta Sosnowski, Ken Schmidt, Kristi Schmidt, Jim Williams, Lou Mally, Eric Hon, the Slushers and everyone else I've forgotten for being in my life and cheering on the big guy.
A special thank you to Nicholas Pendleton, creator of Feral Boy and Gilgamesh at the End of the World, who helped send me off with the incredible artwork you can see at the top of the page.
And to Jeff Manley, creator of The Team and so much more, for his wonderful contribution that you can see below.
A huge loving thank you to my wife Justyna for being there from the beginning to the end, for tolerating the often relentless alerts from Tweetdeck, and for supporting Drunk Hulk even when she didn't get the appeal.
And most importantly, thanks to all of you for following Drunk Hulk and making him such a success. You amazed me every day in ways I didn't know was possible. You've provided me with an extraordinary five year adventure, and I'll always be grateful for that.
[Cue sad piano music as I walk away.]