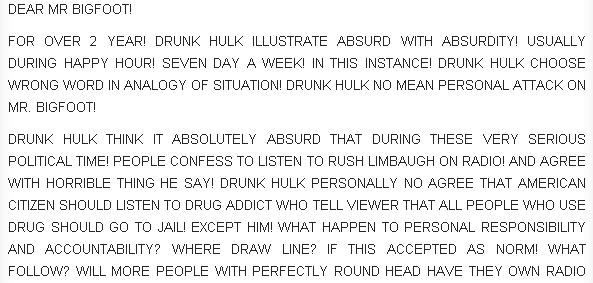 DRUNK HULK APOLOGY!
Previously on DRUNK HULK:
[tweet httpss://twitter.com/DRUNKHULK/status/176240616613748736 align='center']
◊                                 ◊                                      ◊
DEAR MR BIGFOOT!
FOR OVER 2 YEAR! DRUNK HULK ILLUSTRATE ABSURD WITH ABSURDITY! USUALLY DURING HAPPY HOUR! SEVEN DAY A WEEK! IN THIS INSTANCE! DRUNK HULK CHOOSE WRONG WORD IN ANALOGY OF SITUATION! DRUNK HULK NO MEAN PERSONAL ATTACK ON MR. BIGFOOT!
DRUNK HULK THINK IT ABSOLUTELY ABSURD THAT DURING THESE VERY SERIOUS POLITICAL TIME! PEOPLE CONFESS TO LISTEN TO RUSH LIMBAUGH ON RADIO! AND AGREE WITH HORRIBLE THING HE SAY! DRUNK HULK PERSONALLY NO AGREE THAT AMERICAN CITIZEN SHOULD LISTEN TO DRUG ADDICT WHO TELL VIEWER THAT ALL PEOPLE WHO USE DRUG SHOULD GO TO JAIL! EXCEPT HIM! WHAT HAPPEN TO PERSONAL RESPONSIBILITY AND ACCOUNTABILITY? WHERE DRAW LINE? IF THIS ACCEPTED AS NORM! WHAT FOLLOW? WILL MORE PEOPLE WITH PERFECTLY ROUND HEAD HAVE THEY OWN RADIO SHOW?
DRUNK HULK CAN NO BLAME RUSH LIMBAUGH FOR RADIO SHOW! IF DRUNK HULK LOOK LIKE OVERGROWN BABY PRETENDING TO BE MAN! DRUNK HULK PROBABLY HIDE ON RADIO TOO!
IN MONOLOGUE! DRUNK HULK POSIT THAT IT NO PEOPLE BUSINESS WHATSOEVER TO KNOW WHAT GO ON IN BEDROOM! ESPECIALLY IN BEDROOM OF RUSH LIMBAUGH! WHICH MUST BE LIKE EPISODE OF SILK STALKINGS WRITTEN BY H.P. LOVECRAFT AND DIRECT BY UWE BOLL! DRUNK HULK THINK IT TOPIC THAT SHOULD NO REACH ANY LEVEL OF CURIOSITY!
DRUNK HULK CHOICE OF WORD NOT BEST! AND IN ATTEMPT TO BE HUMOROUS! DRUNK HULK CREATE NATIONAL STIR! AND DRUNK HULK ONLY INTEREST IN STIRRING MARTINI! DRUNK HULK SINCERELY APOLOGIZE TO MR. BIGFOOT FOR COMPARE YOU TO DISGUSTING CREATURE LIKE RUSH LIMBAUGH!
SINCERE!
DRUNK HULK!