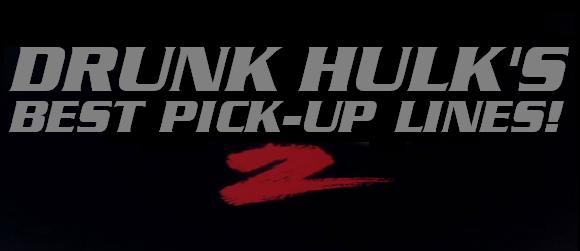 DRUNK HULK'S BEST PICK-UP LINES 2: THE QUICKENING!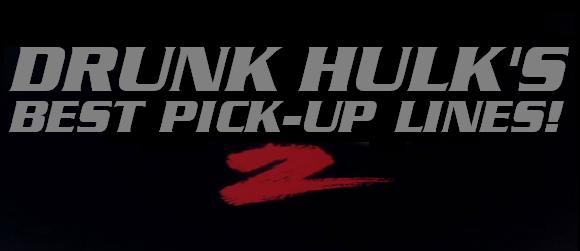 1. DRUNK HULK READY TO BE YOU RUNNING MATE!
2. YOU LIKE AT&T DATA PLAN! YOU MORE COMPLICATE THAN YOU LOOK! WITH LOTS OF SURPRISE WHEN DRUNK HULK NO FINANCIALLY READY TO DEAL WITH THEM!
3. HELP SUPPORT RACIAL INTEGRATION! AND LET DRUNK HULK BUY YOU MIXED DRINK!
4. NO LET FACT THAT DRUNK HULK CAN BARELY GET INTO OWN PANT! STOP YOU FROM LETTING DRUNK HULK GET INTO YOURS!
5. DRUNK HULK START KICKSTARTER TO FALL IN LOVE WITH YOU! WANT TO JOIN?
6. DRUNK HULK PREPARE TO BE YOU FRIEND WITH BENEFITS! AND THERE NO HIDDEN DEDUCTIBLE!
7. HEY BABY! LOOK LIKE DRUNK HULK PRINCESS IS AT THIS WHITE CASTLE!
8. DRUNK HULK HERE TO REVIEW BEER! YOU CAN BE SISKEL TO DRUNK HULK EBERT!
9. DRUNK HULK INTERESTED IN BINGING YOU! BECAUSE DRUNK HULK TIRE OF GOOGLING SELF!
10. YOU MUST BE TIRED! BECAUSE YOU BEEN RUNNING THROUGH DRUNK HULK DREAM ALL NIGHT! WHICH MAKE NO SENSE BECAUSE DRUNK HULK JUST SEE YOU FOR FIRST TIME! AND WOMAN RUNNING AWAY FROM DRUNK HULK IN DREAM LOOK MORE LIKE EMMA STONE!  THAT SAID! YOU ARE PRETTY TOO!
11. WHAT COLOR LIPSTICK ARE YOU WEARING? BECAUSE DRUNK HULK PRETTY SURE THAT SAME COLOR MOM USES!
12. OF ALL TACO BELL IN ALL TOWN IN ALL WORLD! YOU HAD WALK INTO DRUNK HULK TACO BELL!
13. YOU REMIND DRUNK HULK OF U.S. CONSTITUTION! EVERYONE SAY THEY UNDERSTAND YOU! BUT ALL THEY WANT DO IS CHANGE YOU TO SERVE THEY OWN AGENDA! DRUNK HULK ACCEPT YOU JUST WAY YOU ARE!
14. DRUNK HULK NEED OPEN GOOGLE MAP! BECAUSE DRUNK HULK KEEP GETTING LOST IN YOU EYES!
15. YOU HAD DRUNK HULK AT JELL-O! SHOT!
16. DRUNK HULK LOVE FOR YOU SO PURE! THERE NO CHICKEN SANDWICH IN WORLD THAT JUDGE DRUNK HULK!
◊                                  ◊                                  ◊
Did you miss DRUNK HULK'S BEST PICK-UP LINES?