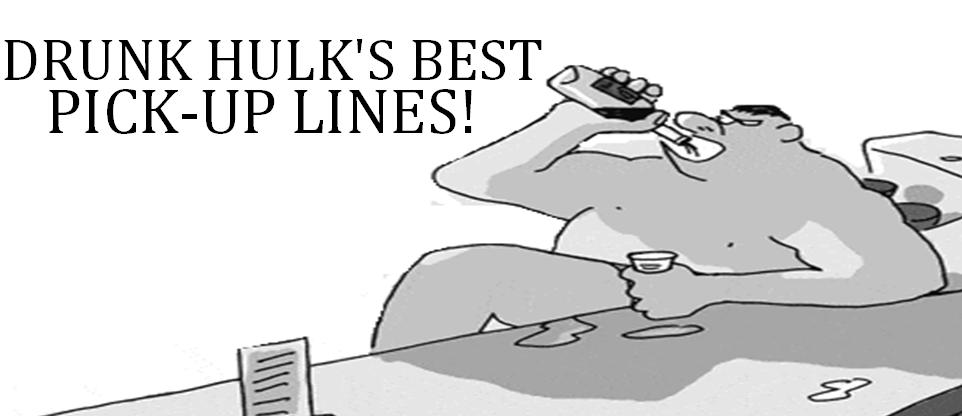 DRUNK HULK'S BEST PICK-UP LINES!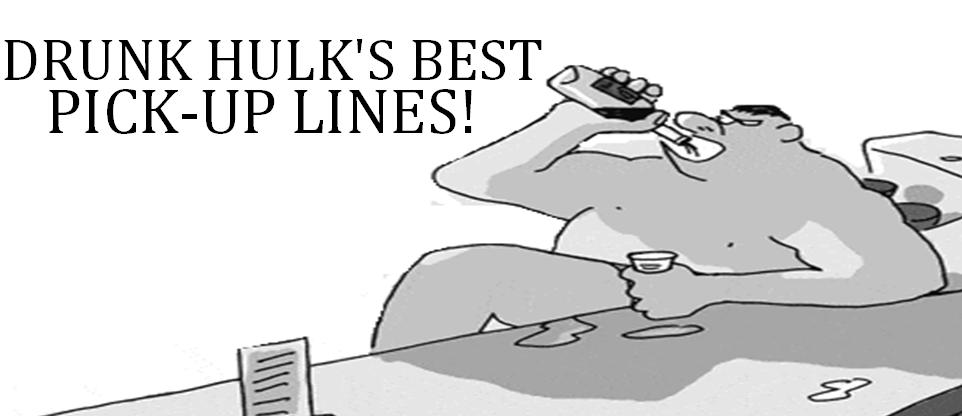 1. HEY BABY! PUT THAT HADRON COLLIDER AWAY! YOU JUST FOUND WHAT YOU BEEN LOOKING FOR!
2. STUDY SAY DRINKING ALCOHOL ENHANCE PROBLEM SOLVE SKILL! WHEN DRUNK HULK FINISH THIS BEER! DRUNK HULK FIX YOU BROKEN HEART!
3. YOU EYES SO MUCH LIKE STARS! DRUNK HULK WISH TO BE MAKS CHMERKOVSKIY! SO DRUNK HULK COULD DANCE WITH THEM EVERY WEEK!
4.  THESE PANTS SUPER STRONG! AND NEVER COME OFF! BUT FOR YOU! DRUNK HULK MAKE EXCEPTION!
5. DRUNK HULK COULD HAVE BEEN LAWYER! BUT THAT MEAN DRUNK HULK WOULD HAVE TO PASS THIS BAR AND NOT MEET YOU!
6. DRUNK HULK PROMISE NOT SPEND SEVEN YEAR TELLING CHILDREN HOW DRUNK HULK MEET YOU!
7. GET OUT OF DRUNK HULK DREAM! GET INTO DRUNK HULK CAR!
8. IF YOU LOVE AMERICA! THEN YOU LOVE DRUNK HULK! BECAUSE DRUNK HULK ABOUT TO INVADE YOU HEART! AND DRUNK HULK GOT NO EXIT STRATEGY!
9. ARE YOU SARAH CONNOR? NO MATTER! COME WITH DRUNK HULK IF YOU WANT DRINK!
10. YOU MIGHT CONFUSE DRUNK HULK WITH GOLDMAN SACHS! BECAUSE DRUNK HULK ABOUT TO STEAL YOU HEART! AND TOTALLY GET AWAY WITH IT!
11. IF DRUNK HULK CHANGE ALPHABET! DRUNK HULK PUT U BEFORE DRUNK HULK!
12. SHALL DRUNK HULK COMPARE BEER TO SUMMER DAY? YOU MORE BUBBLY! MORE TEMPERATE! ROUGH WIND SHOOKS FROSTY BUD!
13. WOW! UP UNTIL THIS MOMENT! DRUNK HULK THOUGHT TOUCHED BY ANGEL WAS JUST TV SHOW THAT RUN ON CBS FOR NINE SEASON BETWEEN 1994 AND 2003! BECAUSE! YOU JUST TOUCH DRUNK HULK! AND YOU ANGEL! AND NOW YOU LIKE WALKER: TEXAS RANGER! ANOTHER CBS SHOW THAT RUN FOR EIGHT YEAR! BECAUSE YOU WALK AWAY FROM DRUNK HULK NOW!
14. WAITRESS! MORE PANCAKE PLEASE!