Drunk Hulk's Tiger Beat Interview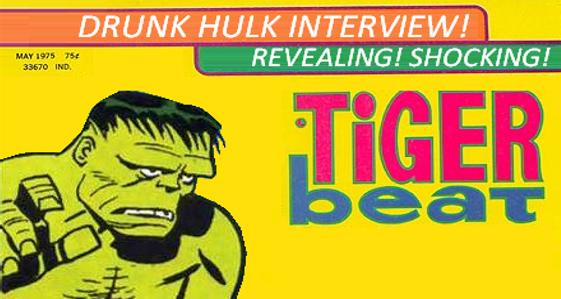 Today Drunk Hulk answers some hard hitting questions taken from old Tiger Beat interviews. These specific questions were taken from a comprehensive and indepth interview with Usher, who handled these hardballs with elegance and grace. Let's see how Drunk Hulk does…
What's your favorite soft drink?
WHAT GREAT QUESTION! FINALLY! REAL JOURNALISM!
USE LIKE DR PEPPER! BUT DRUNK HULK HAVE SERIOUS DOUBT ABOUT HIS MEDICAL QUALIFICATION! THESE DAY DRUNK HULK LIKE ANY ADJECTIVE + NOUN (ANIMAL)  DRINK! IT LIKE DRINK CRAZY MAD LIB!
Have you ever had a celebrity crush?
NO! BUT THERE LOT CELEBRITY DRUNK HULK WANT CRUSH! WOULD PROVIDE LIST! BUT WHO HAVE THAT KIND OF TIME!
Do you have any pets?
NO PET FOR DRUNK HULK! NO SINCE SEA MONKEY DRUNK HULK HAD AS KID! HIS NAME WAS MR BELVEDERE! HE COULD NO BE ALONE! DESTROY FURNITURE! AND FLING CRAP ALL OVER PLACE!  DRUNK HULK HAD FLUSH MR BELVEDERE DOWN TOILET! DRUNK HULK CAN STILL HEAR HIS HORROR SCREAM! AND REMEMBER WAY HE NO WANT LET GO OF TOILET! POOR MR BELVEDERE!
What do you do for fun?
HEY! THIS IS DRUNK HULK! IT OBVIOUS! WOULD YOU ASK BRAINY SMURF WHAT HIS DEAL IS! OR GRUMPY DWARF!  OR BLANCHE FROM GOLDEN GIRL!
If you were abducted by aliens, what CD and book would you bring along for the ride?
THAT SO KIND OF ALIEN GIVE DRUNK HULK OPPORTUNITY PACK!
FOR CD! DRUNK HULK BRING DIRTY DANCE SOUNDTRACK! BECAUSE THAT ALBUM NO EVER GET OLD!
FOR BOOK! DRUNK HULK BRING ATLAS SHRUG! BECAUSE DRUNK HULK RESPECT ANY BOOK WITH HUNDRED PAGE MONOLOGUE! MAYBE DRUNK HULK CAN ACT OUT FOR ALIEN BUDDY!
What's your favorite outfit?
YOU ARE WORST INTERVIEWER EVER! DRUNK HULK BEGIN WONDER IF YOU JUST CRAZY HOBO!
WHATEVER! YOU CAN NO EVER GO WRONG WITH PURPLE STRETCHY HAMMER TIME PANT!
Who's better: Britney or Christina?
WHAT DECADE IS THIS!
What's in your CD player right now?
DUST! WHAT CENTURY IS THIS!
What's your idea of a perfect date?
IT NO MATTER! AS LONG AS DRUNK HULK OUTSIDE YOU HOUSE AT END OF NIGHT WITH BOOM BOX OVER HEAD! PLAYING IN YOU EYE BY PETER GABRIEL!
IN YOU EYE! LIGHT! HEAT! IN YOU EYE! DRUNK HULK AM COMPLETE! IN YOU EYE! DRUNK HULK SEE DOORWAY TO THOUSAND CHURCH! IN YOU EYE! RESOLUTION OF ALL FRUITLESS SEARCH! IN YOU EYE! DRUNK HULK SEE LIGHT! AND HEAT! IN YOU EYE! OH! DRUNK HULK WANT BE THAT COMPLETE! DRUNK HULK WANT TOUCH LIGHT! HEAT! DRUNK HULK SEE IN YOU EYE!
PERFECT!
Like Drunk Hulk? Consider buying Cover Stories for 10 brand new short stories written by the man behind the big green guy. Please note: stories are written in lower case with appropriate capitalizations and in grammatically correct sentences.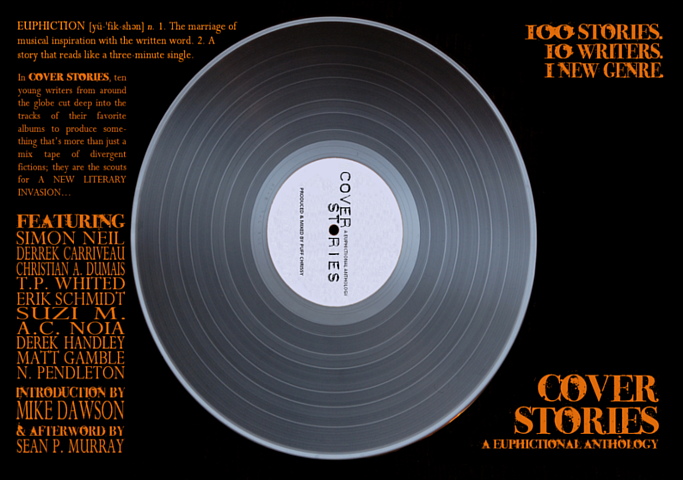 And don't forget my book collection of short stories, Empty Rooms Lonely Countries:
Thanks for your support.