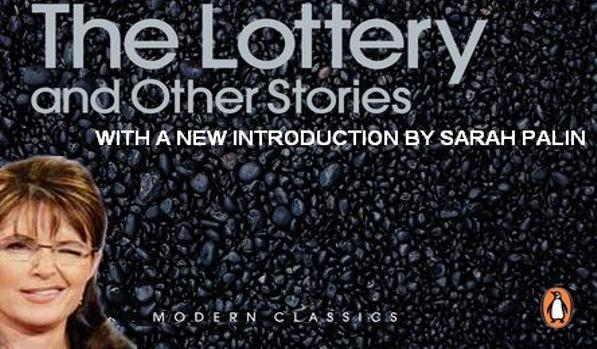 False Starts #3: Sarah Palin Introduces Shirley Jackson's "The Lottery and Other Stories"

False Starts is devoted to sharing never before seen introductions to books that may or may not have existed. Have you ever wondered what it would be like to have Richard Simmons introduce Cormac McCarthy's The Road? Or Hunter S. Thompson introduce Dr. Atkins' New Diet Revolution? Or a college student who just read Ayn Rand for the first time introducing Fountainhead? Hopefully we'll be able to answer these questions and more in the coming months.
Sarah Palin Introduces Shirley Jackson's "The Lottery and Other Stories"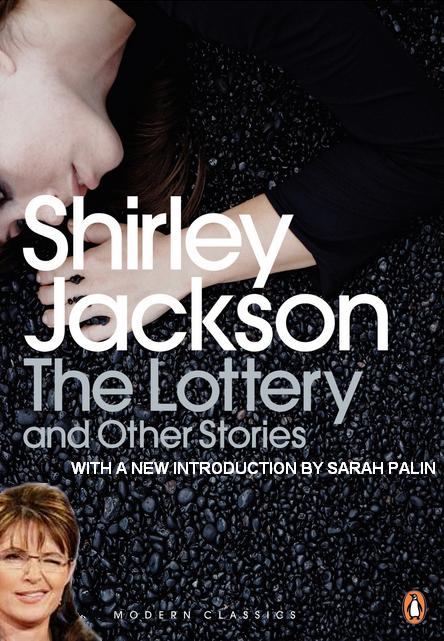 I was surprised when I got the email from Penguin asking if I'd be interested in writing the introduction to this book. First off, while I've been a fan of the Jacksons all my life, I had never heard of Shirley. So imagine my surprise that not only did that family produce some fine singers, but writers too. Then again, I'm no stranger to a family with an enormous amount of gifted artists, as I'm the writer of two bestselling books, my husband Todd has the amazing ability to name our children like they were Star Wars characters, and my son Track has over 300 Facebook friends.
Because I'm busy these days allucidating my intentions to run for the President of the United States in 2012, I had one of my children assistants read the book for me. Once I read her summary of "The Lottery" I put this story in my crosshairs telescope hole thing and decided to take it down experience it for myself. Despite the fact that it's more than 140 characters long (I convinced myself I was reading many tweets back to back), I managed to finish the story in less than a day.
I sense this is one of those stories that's got symbolism and all that mumbo-jumbo that my English professors would talk on and on about back when I was at universities. You know, it's got layers. Like that Chinua Achebe book Things Fall Apart where the main character suffers because he's racist against those good Christians who want to make life better for him and his family. Or Animal Farm by George Orwell where all the animals revolt because Charlotte the spider keeps writing Communist propaganda for the pig. And of course Herman Melville's Moby Dick (there has to be a less offensive way of saying this title!) where Captain Ahab, because of his obsession and narcissism, is clearly out of his element in pursuit of something he'll never be able to win. It's important to read books like these and take in their messages to better ourselves.
I bet you didn't think this Mama Grizzly was so dang literated. So it should come to no surprise that I had no problem seeing what's going on in "The Lottery" underneath all those syllables and vowels. It is clear Shirley was writing about a Socialized America and that the lottery here is no different than a national health care system. She's like some kind of African American prophet, able to predict a future where doctors stone their patients to death because they ran out of Tylenol or want to go home early to watch that hater Bill Maher.
Unless I'm wrong and this is just a story about stoning people. How awful! In that case, I'd question why this story is taught in American public schools. I would think that a story that encourages America's children to throw stones at their parents would be frowned upon. I promise you one thing, if I'm ever blessed to be hired by the American people to work for them – which I may or may not be interested in – I will make sure "The Lottery" is no longer taught in schools, and more importantly, I will ban all rocks and stones.
The ability to find different meanings in this story is what makes me so gosh darned proud to be an American. Finding multiple interpretations in things like art or Constitutional amendments is what our Founding Fathers sacrificed their lives for during the Civil War, and I'm so proud to be able to carry on this tradition with Shirley's work.
-Sarah Palin
Previously on False Starts…
False Starts #1: Burt Reynolds introduces The Cannonball Run
False Starts #2: Neil Gaiman Introduces Duran Duran
– FALSE STARTS was created and written by Christian A. Dumais