Favorite Comic Book Pages: Batman Year 100 #2, Page 26
I'm always amazed how fans gravitate to older Batman stories like The Dark Knight Returns, Arkham Asylum and The Killing Joke when namedropping their definitive Batman story, especially when we've been offered some amazing stories in the last five years. If I had to choose the best Batman mini-series to hit shelves in the last decade, I would have to pick Paul Pope's Batman Year 100, an alternate future story that gets right a lot of the basic things many in-continuity Batman stories get wrong.
There isn't a lot I can say about Pope's art that hasn't been said better before. At a quick glance, his work can appear sloppy, but if you really take the time to see what he's doing, it seems like his art is trying to jump off the page, as if the inks and colors can barely contain the action. One of the things Pope gets so right is showing a Batman that's working. All too often, Batman swinging and jumping through the rooftops of Gotham is shown as if it were the easiest thing in the world, but in reality, it would be painful, sweaty and exhausting. And Pope is good at showing Batman as a human being, just like he does with this page: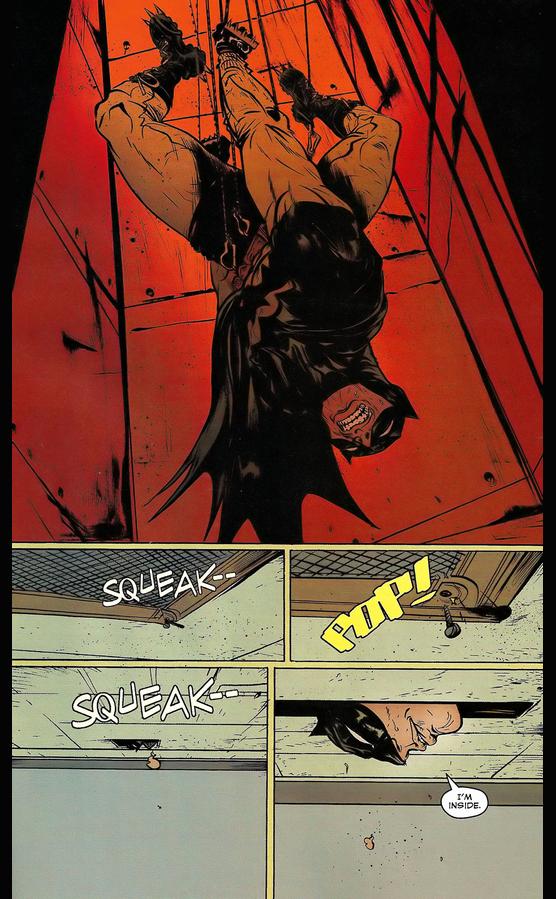 I love that dominating panel at the top with Batman hanging upside down, straining from his weight, his cape tucked under his arm to keep it out of the way…it's just so real, so matter of fact. It makes Batman look so human, and heroic in the process.
If you haven't read Batman Year 100, you've denied yourself an amazing Batman story with some sharp twists and turns. The chase scene that kicks off the first issue will leave you breathless. In many ways, I believe it to be as important today as Frank Miller's The Dark Knight Returns was back in 1986.