Favorite Comic Book Pages: Detective Comics #857, Pages 18-19
Because of the nature of this discussion, it should be noted that I will be revealing a spoiler from Detective Comics #857.
It's clear that writing the new Batwoman is a labor of love of Greg Rucka, as the character has brought out some of his best storytelling. And while Rucka's talent as a writer would be more than enough to get us interested in Batwoman, it's J.H. Williams III's involvement as an artist that makes his story excel from a comic book into a work of art.
This is something I never thought I'd be saying about Detective Comics, let alone a story involving Batwoman, who up until this storyline started a few months ago, was simply defined by her sexuality thanks to the media prematurely announcing her arrival in comics.
Now, while the success of modern comic books has partially hinged on the borrowing of film techniques (such as: widescreen panels, removal of thought balloons, over-emphasis on panel narration, more natural dialogue and much, much more), this  has unfortunately homogenized the uniqueness of comics and turned it into a vehicle that offered nothing particularly special, especially when compared to other media. In a podcast interview, writer Alan Moore said, "at the end of the day, if you only see comics in cinematic terms then the best that a comic can ever be is a film that doesn't move."
What's the point?
I'd argue that the success of future comic books will be weighed heavily on its ability to create a kind of storytelling that simply cannot be achieved elsewhere. This is one of the things that liberature does so well for books, by allowing authors to create novels that cannot be replicated on film, or as House of Leaves (one of the most important works of liberature) author Mark Z. Danielewski put it once, "This experience lives only in this book."
While this depends on comic book publishers taking chances with formats and allowing writers to have a more active participation in how the final product is conceived,  it also certainly relies on the artists ability to bypass the instilled traditions of comic storytelling and create something new.
And with that said, if there is any artist working who is achieving those results today, it is Williams.  The most recent issue of Detective Comics makes this point ridiculously clear, such as this page (and page #1 above):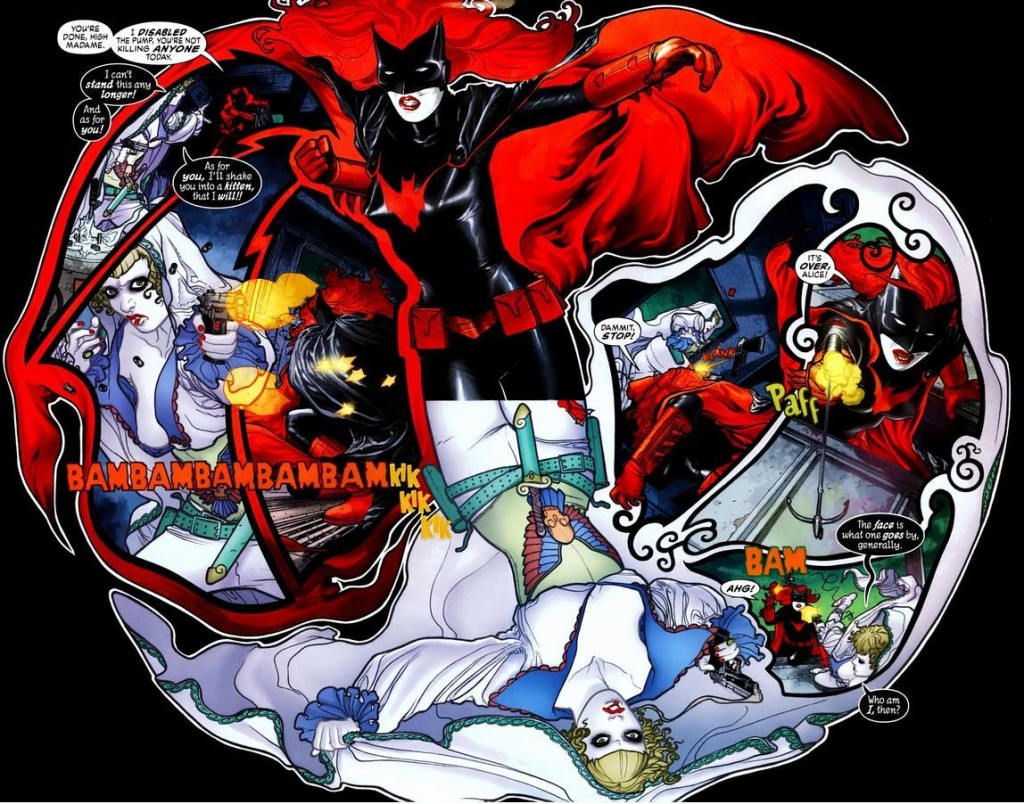 The decisions Williams makes here are stunning (Dave Stewart deserves a lot of credit for his coloring as well). First off, the page design helps to enhance the disorientation and insanity of Alice, the story's villain (woman in white). The symmetrical design, in lesser hands, would have appeared contrived and perhaps gotten in the way of the storytelling, but Williams makes it shine. And most importantly, the symmetry is teasing us towards the story's big twist, that Alice is Batwoman's sister. And this is what makes the first page so clever on second viewing. Not only was Williams simply finding a new way to draw a phone conversation, he was also emphasizing the similarities with the two characters to help facilitate the story's twist (it's amazing how he gives it away on the first page and still it's a surprise later). Williams' ability to convey the story in a new way while taking the design into consideration to enhance the story's payoff is something that needs to be studied carefully by other artists.
Most importantly, the work here forces the reader to turn the book, to participate in the storytelling. I know readers are complacent to have the books move from left to right and have the story given to them with little resistance, but when the reader has to move the book upside down to take in the complete story, it helps to remind them of the medium's possibilities and acknowledge the book as an object. The more this is understood and recognized, the easier it is when artists like Williams really start to think outside of the box.
You simply cannot do this kind of storytelling anywhere else, and Williams not only makes it look easy, but he makes the comic book medium better as a result. This is why Williams is one of the most important mainstream comic book artists working today.
Next time: In honor of Puff-Tober-Ween, I'll be looking at some horrifying comic book pages.