Favorite Comic Book Pages: Fell #5, Page 13
There really is a lot to love about Warren Ellis and Ben Templesmith's Fell, a sporadically scheduled 16 page comic book published through Image. While the format is certainly interesting (lower page count, more panels per page, $1.99 cover price), it's the story of homicide detective Richard Fell as he deals with his reassignment in Snowtown, a decaying city that's as frightening as it's familiar. It's been said that Ellis tends to gravitate to the same kind of male characters with his stories, but with Richard Fell, he has created the kind of detective we'd want out there in our modern world, someone who is smart and thoughtful to the right people and scary and shrewd to the wrong people, but either way, Fell's sense of compassion is clear and determined. And Templesmith's art really makes Fell come alive in ways other artists wouldn't be able to.
The nine-panel page I've selected comes from issue #5, a story that is essentially one long interrogation scene. It's a great sampler for someone who is on the fence with reading Fell, because it hits all of the right notes in terms of story, characterization, dialogue and art. Ellis' dialogue is sharp and Templesmith's art is on fire, making a conversation between two people feel like a car chase.
At this point in the interrogation, things have gone sour. The suspect being interrogated has revealed to have a gun and has taken Fell hostage. And if you've read the issues thus far, you'd know that some of Fell's greatest weapons are his ability to listen and speak: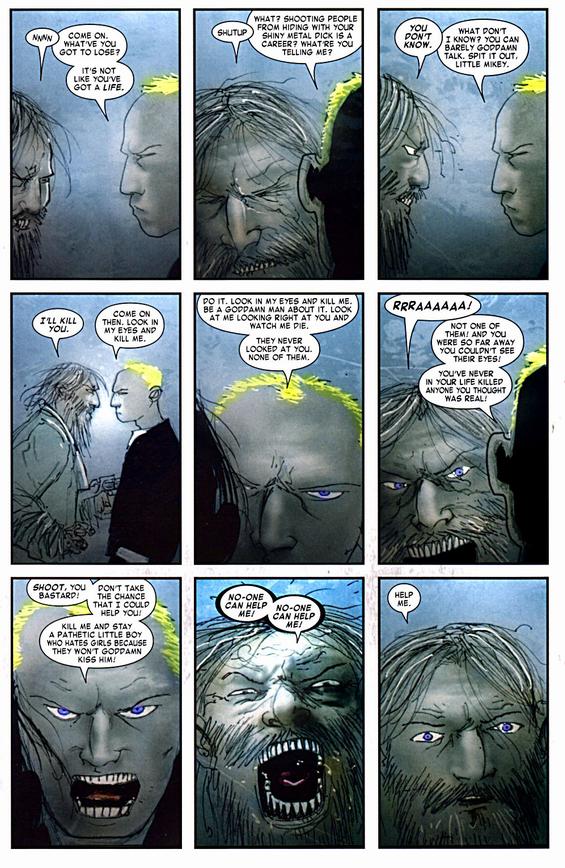 Perfect.
Next week I'll be taking a look at another one of Ellis' books.