Long Box Tuesday: Superman – For All Seasons
Superman For All Seasons have one of my favorite interpretations of Clark Kent in comic books. As presented through the words of Jeph Loeb and the art of Tim Sale, Kent is kind, sensitive and compassionate, particularly in ways the character rarely gets a chance to express in his monthly books. A lot of that has to do with exploring Kent as he's coming to terms with his powers and finally becoming Superman, but it's an excellent reminder of where the character came from and what makes his heart pump.
The portrayal of Martha and Jonathan Kent is also a large reasons for this book's success, as the first chapter looks at them coming to terms with the fact that their boy is becoming a man, and not only that, but a man with a destiny unlike anyone else. A lot of the emotion comes from Jonathan, a father who loves his son but fears what he can do, and just isn't equipped with the emotional tools to effectively reach out to Clark. The best moments, particularly in the book's first chapter, are those between the parents and the son.
Here is a page that highlights one of those moments: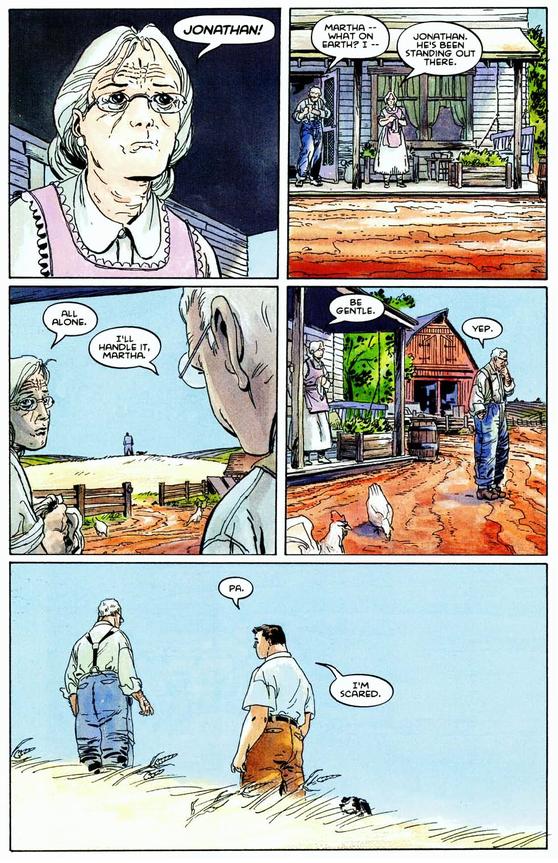 Loeb gets a lot of grief these days, and perhaps it's because his current work doesn't quite pack in the emotional range of his earlier stuff. Superman For All Seasons, like his Batman work before this, is a prime example of what he's capable of as a writer. There's a lot of restraint at work here, allowing for his collaborator, Sale, to really pull out all the stops in his art. One excellent example of how one sentence can speak volumes is highlighted when a boy compliments Superman on his costume, and he replies, "My mom made it for me." That's Clark.
Speaking of Sale, his art here is so lovely. Lots of big splash pages with details that warrant repeat looks. When it comes to unique talents in comic books, Sale is a name I'd check immediately. He's clearly doing his own thing, and his art has the kind of beauty that could easily find a home in other media. And the unspoken hero of the book is Bjarne Hansen's amazing colors, who brings out the best of Sale's art.
If you're looking for a Superman story with a lot of heart, give this one a look.