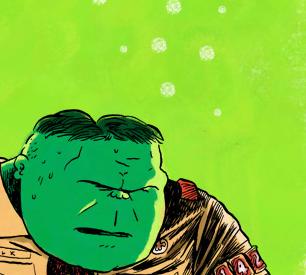 Mike Dawson does Drunk Hulk!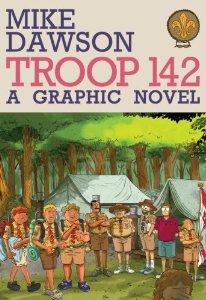 I'm a huge fan of Mike Dawson's work, from his early stuff like Cabaret and Gabagool! to his more recent efforts like Freddie & Me, a marvelous look at his experiences growing up with Freddie Mercury's music, as well as a unique look at how memories work and our ability to turn those memories into stories.
Dawson's latest book Troop 142, published by Secret Acres, looks equally remarkable:
Troop 142 follows a group of campers and counselors at a week-long scout retreat in the woods of New Jersey. It is a story as much about adults as it is adolescents, the blurred line between childhood and manhood, and the consequences of authoritative posturing. Dispensing with idyllic notions, Dawson describes the hilarious and brutal truths about boys and men, the hypocrisy of institutional morality and the resilience of Spam and the human spirit.
Dawson reminds me of the graphic novelist equivalent to Jim Crace in the sense that you never know what you're going to get with each new book. Crace's work varies so greatly from book to book that it's almost impossible to judge him from a single work. There're a lot of writers and artists who tend to circle the same themes (or, as Raymond Carver called them, obsessions) and ideas, but Dawson has been great about turning left when you expect him to go right. He is most certainly an artist that deserves your attention not only in terms of excellent storytelling and craftmanship, but also as an example of someone who is clearly pushing himself into new territory with every new project.
If you want to see what he's capable of now for free, read Prospect Park Dusk, Prospect Park Dawn, a haunting short story about a working mother in Park Slope with an eerie twist.
Yesterday, Dawson posted a picture of Drunk Hulk on his website. I'm honored and thrilled he took the time draw the big green guy.
Click the picture below to see the whole image.