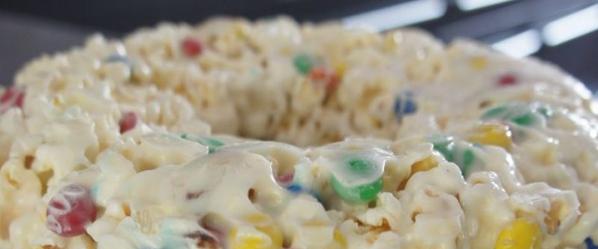 Puff Chrissy in The Case of the Popcorn Cake!
It's been a while since I've shared any of my cooking adventures (like Pizza Day! or Pie Day!).
I've been meaning to make the Popcorn Cake ever since I discovered the recipe here. I'm an absolute sucker for bizarre recipes, and marshmallows, buttered popcorn and M&Ms seemed to irresistible to pass up, especially since I'm a huge fan of the chocolate/salt combination.
I made it today because I've been itching to make something creative in my new kitchen, and my wife's grandmother is coming over to visit later this afternoon. Because Babcia is in her nineties and extremely traditional when it comes to cooking (her food is amazing though), I try my best to make dishes she has probably never seen before when she comes over. By the way, the original recipe for this cake includes pretzel sticks, but I figured that would be one ingredient too many for Babcia's patience.
Meanwhile my wife, who took the photos here, has approached the Popcorn Cake with a lot of hesitation. I'm beginning to wonder if I should have added pierogies or potatoes inside of the cake as a gateway to acceptance.
Big thanks go to our friends Peter and Karolina, who were kind enough to not only bring a big bag of marshmallows, but a box of donuts from Dunkin' Donuts all the way from Berlin (DD isn't here in Poland yet, sadly).
If you're interested in checking out the cake in more detail and seeing the recipe, go to this site. Or if you just want to cut to the chase and get the printable version of the recipe, go here.
Now we wait to see what Babcia thinks when she gets here.