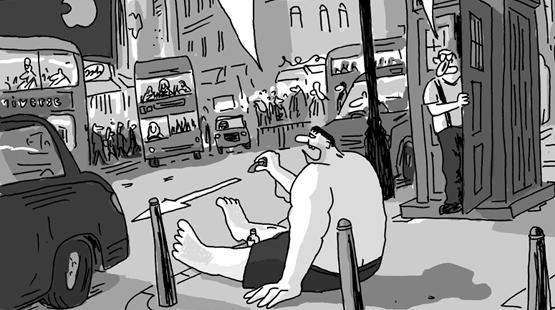 Reflecting on Two Years of Drunk Hulk: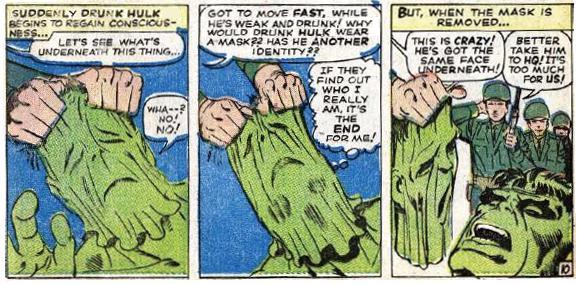 Today is the second birthday of Twitter's Drunk Hulk. It was on this day two years ago when I finished writing a short story at Starbucks and on a whim checked to see if "drunkhulk" was available on Twitter. As I've explained in interviews before, my goal was to treat Drunk Hulk as the ginger between the sushi that's my real writing; a light distraction from my heavier work.  I had no idea that it would take on a life of its own and largely define my work for the next couple of years.
If you're interested in the details regarding Drunk Hulk's origin,  you can read what I wrote last year when the feed turned one.
The Year in Review. This has been a nice year, certainly less hectic than the first year. One of the year's highlights was making Time's 140 Best Twitter Feeds and then making #21 in the reader poll (see left), beating out tweeters like Patton Oswald (what? really?) and Sarah Palin (yes!). That was enormously gratifying.
Other highlights include seeing more amazing Drunk Hulk cartoons by Beck, Mike Dawson drawing Drunk Hulk, being contacted by Comedy Central for the second time regarding a project (which fell through, but still, awesome!), talking about Drunk Hulk before a live audience, getting a shout out from Anthony Bourdain, Drunk Hulk making the now-defunct Peanutweeter, the Death Star PR interview, the UGO interview, Drunk Hulk telling Emma Stone his feelings (thanks, Jim Carrey!), and a ton more stuff I know I'm forgetting at the moment.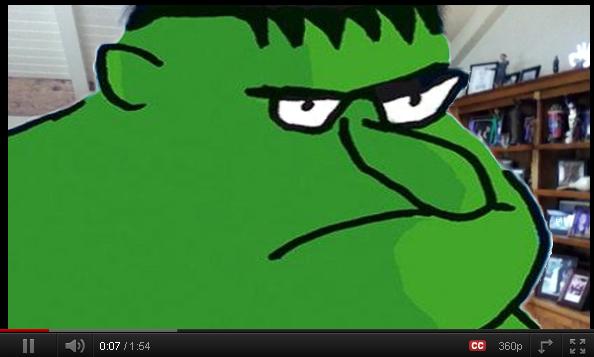 My Biggest Challenge was – and continues to be – getting readers to crossover from Drunk Hulk to my other work. Because I'm all over the map when it comes to my writing, it's hard to find that happy medium. I can't say, "Hey, if you like Drunk Hulk, maybe you'll like this intensely disturbing horror story I wrote." Or "If Drunk Hulk makes you laugh, try out this short story about Americans and violence." Or, "If you like alcohol and humor, you'll love my book Empty Rooms Lonely Countries when it's  not busy trying to make you cry." You get the idea. It doesn't work that way, sadly.
I created False Starts to give the people the funny, which has brought a crazy amount of traffic here (thanks to Neil Gaiman for helping me with that), but outside of the website, it's a concept that simply doesn't work. At least, that's what agents and publishers have politely told me.
I'm currently working on a novel, a fast-paced horror thriller that's as funny as it is dark, but again, it'll probably be a hard sell when most readers only know me as Drunk Hulk. I mean, it's the road trip, haunted house, zombie apocalypse, detective love story you've been waiting your whole life to read. Why wouldn't you want to read that? My hope is to one day find a literary agent who can help me navigate and tell me what I need to do. Any takers? Seriously, I'm all ears.
Advice. I've received a lot of emails in the last year from people wanting advice on how to make a successful Twitter account, as if there was some secret to it. As far as I'm concerned, a lot of people have done it better and far more successfully than I have, and continue to do so. I'm still surprised to see the number of Drunk Hulk's followers growing every day, still amazed to see that people are still discovering the feed. I thought that the joke would've gotten old by now, but people continue to respond positively to the big lug.
If you do want advice on how to do something like Drunk Hulk, the best I can offer you is the following: Did you think the idea through before you started? Does the concept have a good enough shelf life? Will you be able to have material that will last more than a week? A month? A year? Are you prepared to do the work? I ask these questions because I've noticed a lot of feeds start out with strong jokes but then they realize that there's no where else to go. Or they post two tweets and give up because they didn't get the response they were aiming for.
The thing to remember is that Drunk Hulk wasn't an overnight sensation. It might look that way if you arrive to the BBQ late, sure, but Drunk Hulk took over a month to get 1,000 followers. A year to get 50,000. And almost two years to break 100,000. I've worked my ass off to get those numbers, and I feel like I've earned every one of them. I don't take the numbers lightly either, as I'm completely aware that they could disappear at any moment. It's an ongoing process and it requires work. If you're not ready to do that, then there's a good chance your feed isn't going to go anywhere.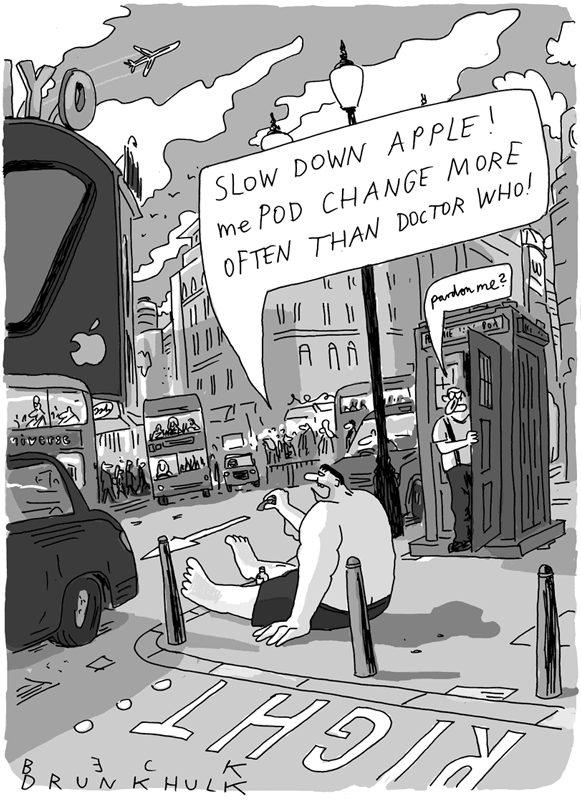 The lost Beck cartoon. Above is a Beck cartoon that I'm pretty sure never officially made its way online. It's been the background for Drunk Hulk's Twitter page and a lot of people have contacted me asking where they can see it. Well, here it is.
Answers to Commonly Asked Questions.
Though Twitter only allows 140 characters, I never use more than 125.
A Drunk Hulk book proposal was made and shopped around, and though several major publishers expressed interest, their legal teamscommon sense won the day.
No, I've never been contacted by Marvel regarding Drunk Hulk.
There is only one Drunk Hulk joke I made that will never see the light of day (it was so crass I couldn't believe I wrote it).
I haven't made a single cent from Drunk Hulk.
While I'm confident your website is amazing and your project is the Next Big Thing, I probably won't post a link to it as Drunk Hulk.
Drunk Hulk only follows one person: @PuffChrissy
Yes, I really do live in Poland.
42.
Here is the complete list of Drunk Hulk Interviews. And sure, he's available for more.
Drunk Hulk is no longer available Bar Mitzvahs. I apologize for the inconvenience.
Drunk Hulk for Halloween? I've gotten a couple of emails from people telling me that they're going to be Drunk Hulk for Halloween. If you are, please consider sending me your pictures and, if you'll let me, I'll post them here.
Thanks. As always, I want to thank all of you for supporting Drunk Hulk. I really do appreciate all the feedback you've given me. Without your participation, I wouldn't have this ridiculous platform to write and make jokes.
Thank you for reading.