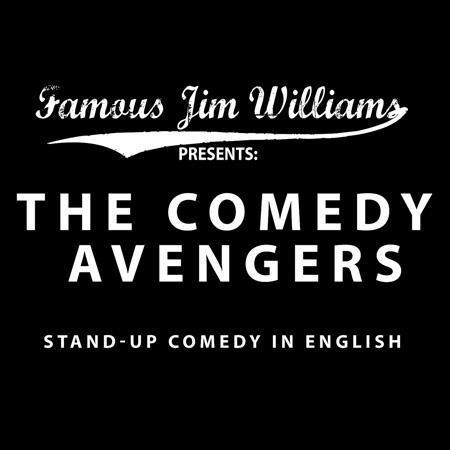 Wrocław's heroes of American humor return to Mleczarnia with comedy of epic proportions! Famous Jim Williams Presents: "The Comedy Avengers" will be a mix of new material as well as some classic favorites as each comedian brings his own unique super-power to the stage.
First, a fresh face from the most recent open-mic nights will assume the role of Special Guest-Host. Polish-Greek sensation Jakub Pychynsk will guide the audience through an action-packed, gamma-radiation filled evening of laughter and fun.
"The Man from Manhattan", Peter LaVilla brings the hammer down and demonstrates his lightning fast ability to win an audience over with his candid, self-deprecating, tell-all humor.
Next, writer and in-demand voice actor Derrek Carriveau takes the stage with his iron-man endurance to drain beer can after beer can and his ability to transform alcohol into laughter with his whisky-warm voice and his martini-dry wit.
Christian A. Dumais – writer and creator of Twitter's @DrunkHulk – follows and proves why TIME called him "one of [their] favorite funnymen!" Drunk Hulk was recently named the #1 "Parody Twitter Account of All Time" by Heavy, and thanks to his 189,000 followers, he continues to be a major force to be reckoned with.
Finally, Captain of all things "Ah-muhr-ka", Jim Williams takes the stage. Fresh off an award-winning performance of his Polish-language stand-up act "UWAGA! I'm Gonna' Mówić Po Polsku" at Krakow's PAKA kabaret festival, Williams returns to his mother tongue to share his biting observations about American culture throughout the world. Using his dual powers of physical and spoken-word comedy, it's easy to see why Wroclaw Uncut called Williams a "comedy gem."
Come check out Wroclaw's best stand-up comedy in English as Famous Jim Williams continues his comedy invasion of Poland, and eventually the world!
Date: Sunday, May 19th
Time: 7pm
Place: Place: @Mleczarnia (ul. Pawła Włodkowica 5, Wrocław)
Tickets: Tickets can be purchased online via Ekobilet for 13zl. 15zl at the door (10zł for students with ID), and ALWAYS $3.