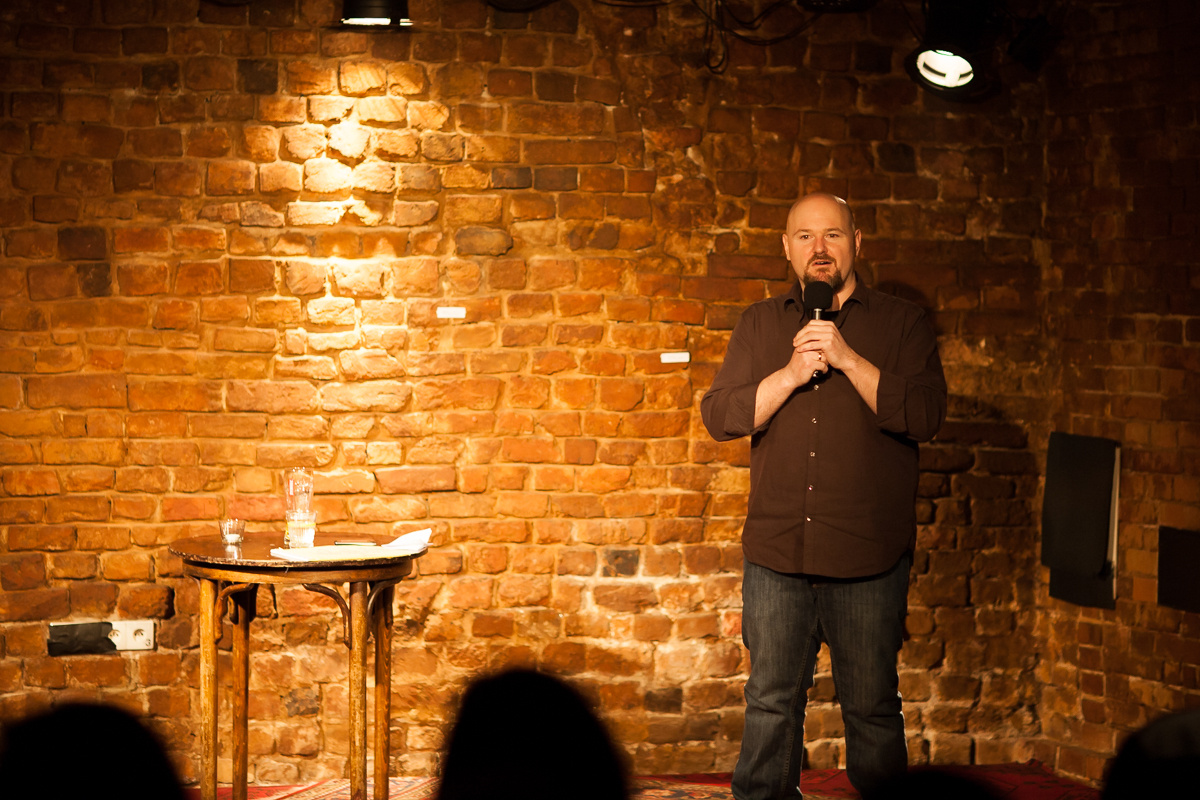 I came home from last night's CD/DC 2 show feeling high. Not only did Derrek Carriveau and I pull off a great comedy show, the whole evening turned out to be an amazing experience.
We filled Mleczarnia with over a hundred people. Our previous show had just over 80 people and we were really hoping to top that, but considering that winter had finally arrived to Poland and most students had to start preparing for exams, we knew the odds were against us. So to find out that there were over a hundred people in attendance…well, I cannot properly convey to you how happy that made me.
Derrek opened the show with a great 25 minute set. It's so much fun watching him figure things out on stage. And because I wasn't in the back rehearsing my own material, this was one of the first times I could sit back and really just enjoy his performance.
My set was the longest I had ever done. I was going for an hour, and I managed about 55 minutes. I wasn't nervous (I was too excited to be). The laughs were steady. I stayed in the moment. I paid attention to the audience. And I had a blast.
I was really proud of my material. I went into the set knowing I had a guaranteed strong ending (a first for me) and this gave me the freedom to take some chances in the last ten minutes. In the process I created some new material to build with for future sets.
The show was hosted by the affable Lou Cash, who did a nice job keeping things moving. I'm convinced that there's a comedian inside of him just waiting to come out, and I hope he gives it a try in the future.
I love the CD/DC shows for a lot of reasons, but mostly, it's just fun to do a project like this with a friend. Derrek and I have come a long way from our days working together at City Style magazine in Tampa. The fact that we're both here in Poland and doing American stand up comedy is something we don't take for granted.
Thank you to Mleczarnia for being a great venue. And most importantly, thanks to all of you who showed up and supported us. You were a fantastic audience.
Oh, I need to bring up the hugs, but I think I'm going to save that for another entry.