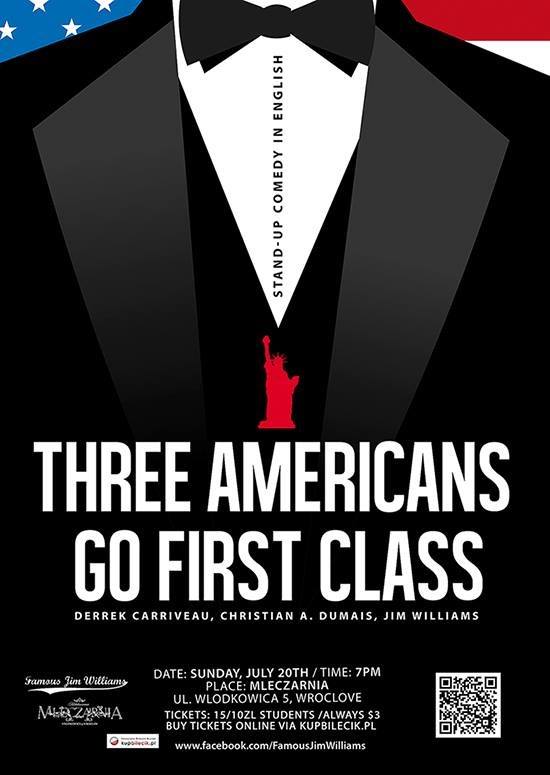 Three Americans Go First Class – TONIGHT!
You've seen THREE AMERICANS WALK INTO A BAR…and THREE AMERICANS GO OVERBOARD, now it's time to class it up and watch THREE AMERICANS GO FIRST CLASS. Come join your favorite American comedians for an evening of sophistication and grace at the classy Mleczarnia. Come for the laughs, stay for the elegance…and the beer, of course.
From classy to classiest…
Writer and humorist CHRISTIAN A. DUMAIS is not only classy, but he's the creator of Twitter's @DRUNKHULK with nearly 200,000. Dumais mixes wicked one-liners with razor-sharp observations that will have you not only laughing, but appreciating how sophisticated you really are.
Writer and voice actor DERREK CARRIVEAU brings the experience and refinement you've come to expect from Wrocław's comedy scene. Armed with a whiskey-warm voice and martini-dry wit, Carriveau aims his boozy humor at everyday life and makes you a better person because of it.
The man who started the flagship stand-up comedy show in Wrocław, FAMOUS JIM WILLIAMS, is as classy as they come. Williams uses his dual powers of physical and spoken-word comedy to seduce you with elegance and charm. It's easy to see why Wroclaw Uncut called Williams a "comedy gem."
Get out your fancy pen and mark the date on your calendar. It's summer after all, and you deserve a sassy break.
DATE: July 20th
PLACE: Mleczarnia, Ul. Włodkowice 5
TIME: 7:00 pm / 19.00
TICKETS: 15 zloty, 10 zloty with student ID – ALWAYS $3!
(Tickets can be purchased in advance at Mleczarnia or online via kupbilecik.pl)