I went to England by myself for 10 days to finish writing a book. I was 23 years old. I was hoping it would be the kind of trip that would help me discover what I wanted to do with the rest of my life. In a way it was, but I didn't understand that until years later.
The day before the trip, my boss Rick Davis took me to the side and said, "Listen to me carefully. If anything goes wrong over there, I don't care what it is, but if you find yourself in some kind of trouble, don't call your parents. You call me. I don't care if I have to fly over there to bail you out, I will be there. Nothing will happen, but we always say that, don't we? Just call me."
He gave me a strong hug that took me by surprise.
I never had to call him.
◊                                   ◊                                  ◊
I paid my way through college by working at Eckerd, a popular drug store chain in Florida. It sold a little of bit of everything and had a pharmacy located in the back of the store. Originally, I worked the registers in the front of the store with my good friend Dave, selling anything from film to snacks to radios. My experience with the pharmacy was minimal, but I always said good night to the pharmacists – Tarek Fawaz and Rick Davis – when they left the store at the end of the day.
The first time I had significant contact with Rick was when I had gone to the beach and returned home with the kind of sunburn that made people turn in disgust. The first day wasn't so bad, but when I woke up the following day I felt like I was trapped in my own personal hell. How I made it to work is beyond me, but it took everything I had to stand at the register and ring people up. At one point, I remembered that I was working at a drug store and asked Dave to go to the pharmacy and ask Rick what he could recommend to help ease the pain. Dave returned five minutes later with a grin on his face and a  handwritten note. "Rick said to give you this," he said.
The note read: Stay out of the fucking sun!
That's when I knew Rick and I were going to be friends.
A few weeks later Rick needed a cashier in the pharmacy and pretty much walked up to the front of the store and stole me. Within a couple of months, I was on my way to becoming a pharmacy technician.
I liked both the pharmacists. Tarek and Rick were vastly different people in every regard, but they respected and liked one another tremendously. They were tough, but fair, and they ran a tight ship that allowed enough room to also have fun in the process. They treated us extremely well.
Rick was in his forties, had a New England accent, a great sense of humor and told some wonderful stories. He often went by his nickname Bubba.  He was a fantastic pharmacist. When it came to the patients, he knew most of their names by heart and he was always straight with them.
I remember one time when a patient came in complaining about his medication. "These pills the doc prescribed are too big to swallow," the patient said. "Thankfully they're chewy though."
Rick took the medication from the man and frowned. He said, "These aren't pills. They're suppositories."
"What?" said the patient.
"Suppositories," Rick repeated. "You don't swallow these. You insert them rectally."
"Rectally? I don't understand."
Rick leaned forward, lowering his voice. "You stick them up your ass, sir."
I often worked the Saturday shift, which meant nine hours with just the pharmacist and me. When there was downtime, Rick and I would talk. He'd ask about what I was doing, what I wanted to do. By this point, I was in the middle of a gap year, having finished community college the summer before. I honestly didn't know whether I wanted to continue or not. It was Rick who told me to go to university. "Just jump in and take it all in," he said. "Even if you don't like the classes, it's an experience you got to have." He was a major reason why I continued my education at the University of South Florida later that year.
At the time, he was the oldest friend I had. And we were friends. We went out for drinks. I sometimes went over to his house. He was successful, married with two children, and he seemed to have it all figured out. He never talked down to me or treated me any differently, even though I was young and didn't have a clue what I was doing. What I really liked about him was how vulnerable he was. He never pretended to be anything he wasn't and if he made a mistake, he owned up to it. In a lot of ways, Rick showed me the kind of man I should aspire to be.
My favorite thing in the world when we worked together was getting him to laugh. He had a great laugh and it was an absolute joy to get him to crack up, sometimes to the point where his eyes watered. And he was always ready for a good practical joke.
We noticed that one of the pharmacy technicians, Eileen, looked at the keyboard when she typed. So one day when she took a break I switched the keys on the keyboard. When she returned and started typing up prescriptions, it took her about ten minutes to figure out why everything she wrote was misspelled. By that point, Rick was hiding in the corner in tears.
One of our more memorable practical jokes backfired on us in a big way. Under the computer at the consultation window (where patients could have a one-on-one with the pharmacist) was one of the wastebaskets. It was hidden inside a large metal door with an opening on top to throw things away. If you removed the wastebasket, you could easily fit inside of it. And all you had to do was wait for someone to come use the computer and you could reach out and scare them. Again, the target was supposed to be Eileen.
Here is what I'm talking about: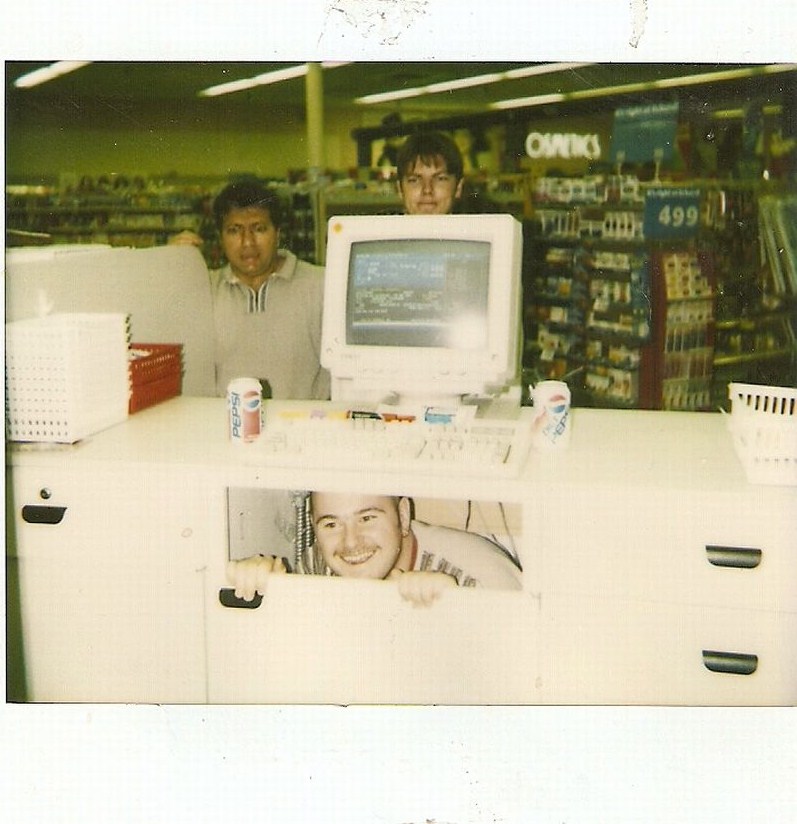 However, when I got inside, we had a surprise visit from the president of the company. Rick stood in front of the opening to help hide me while he chatted away with the president. I was crouched inside for a good 20 minutes and finally the president stepped out of the pharmacy. When the coast was clear, I opened the door but my legs were asleep, so I stumbled onto the floor like an idiot. And at that very moment, the president walked back into the pharmacy having forgotten something. It was like a bad Three's Company episode.
◊                                   ◊                                  ◊
I went through a bit of a rough patch back in 1997 over a girl. Everyone keeps expecting the end of the world these days, but back then, at that age, it really was the end of the world for me. I disappeared for two days. I can remember waking up on the beach in the morning and not really caring about how I had gotten there. When I finally returned home later in the day to my angry but relieved parents, they told me that work had called asking where I was. I had neglected everything, including my job. I called work and Rick answered the phone. "It's me, Rick," I said. I didn't know what to say, and I certainly didn't have a reasonable excuse as to why I had missed a 12 hour shift. "Christian, thank God! Are you okay?" And hearing the concern in his voice, I lost it and just started crying. "I'm sorry, Rick. I'm sorr–"
"It's fine, Christian," he said. "I'm just happy you're okay."
By this point, I was a mess. For a few minutes I sobbed into the phone while struggling to complete a sentence. Rick didn't say a word. He just listened and waited. When I finally could talk again, I simply apologized. He said, "We all have our days, son. I'll see you here tomorrow."
The next day, we worked together like nothing had happened. It was another 12 hour shift. For lunch we had ordered sandwiches (German bologna with mustard and banana peppers) from the neighboring store. He insisted on paying. At the end of the day, we locked up the pharmacy. He never mentioned anything about the day before. The closest thing to that was when we were walking to our cars and he put his arm around me and said, "You're going to make it through just fine."
After I graduated from university I moved away. I saw him a few times here and there, but never with the regularity we once did. I kept moving farther and farther away until I eventually made my way to Poland.
The last time I saw him was in 2004. I visited a pharmacy he was working at while I was in the States for the summer. I was so happy to see him. We talked for a good half hour while he worked. We hugged each other at the end. We tried to meet for drinks but our schedules never matched up, so I had no way of knowing that when he turned around to step up into the pharmacy after saying goodbye that it would be the last time I'd ever see him.
Nine years passed and tonight I get an email informing me that he passed away yesterday. I don't know how. I just know that Rick Davis is no longer in this world. I can no longer call him if I'm in trouble. I would like to explain to you how immensely unfair this is, but Rick would tell me to shut up about that. "Fair's got nothing to do with it," he would say.
I never got the chance to tell him that I made it through just fine, just as he predicted; never got the chance to tell him that I'm happy, I'm married with two kids of my own; never got the chance to tell him that I'm where I am today because of some of the things he taught me; and most importantly, I never got the chance to tell him that I loved him.
I just assumed he'd always be there to remind me to stay out of the fucking sun.
We all have our days. Rick was right about that. And today is one of those days.
Goodbye, Bubba.
(updated with pictures)