We Don't Need No Water
When she walked out of the doctor's office, my pregnant wife calmly informed me that we needed to go to the hospital. The pain she had been feeling were, as she predicted, mild contractions. "We need to be there before seven," Justyna said. I looked at my watch and saw that we had a little over two hours.
When we got home, she went upstairs to check on her suitcase which had been packed for a few weeks already. Our dogs sulked at the sight of the suitcase. I went ahead and made dinner. Surely, one last meal together couldn't hurt, right? As we ate our salads, I said, "I'm sorry our last meal together wasn't more imaginative."
"That's okay," she said. "It's just nice to have a last dinner with just you."
"Yeah," I said. And we didn't talk a lot after that.
When it was time, we put our shoes on and went to the car. It was like we were going shopping, not to the hospital to have twins.
When we were almost there, Justyna said, "We should be playing our song." I looked through our CDs and finally found it. Before long we were singing the chorus of "Fire Water Burn" by the Bloodhound Gang:
The roof the roof the roof is on fire
The roof the roof the roof is on fire
The roof the roof the roof is on fire
We don't need no water let the motherfucker burn
Burn motherfucker burn
At a stoplight, I looked at my wife of almost five years, my love for over seven years, and I was overcome with sadness. While I'm excited about becoming a parent, I'd be lying if I didn't admit that was depressed by the End of Us. I liked the two of us together. I liked the fact that we could sing stupid songs like this one in the car. I liked the shortcuts we carved out to make one other laugh. I liked the days when there was no reason to get out of bed. I liked the ongoing process of discovery.
I especially liked our adventures. We have traveled three continents together. We rented an apartment in Bologna one Easter that turned out to be scary, especially at night, and it was Justyna who said I needed to turn the experience into a horror story – and I did. A joke she made on the streets of Budapest stayed with me enough to become a short story later. We got lost together in Venice. We got lost in Hungary for a few hours and then got lost again in Slovakia – we lost a whole day, but ended up right where we were supposed to be. We drunkenly clung to one another during the hot nights in Tunisia. In America I showed her where I came from. In Poland she continues to share where she came from. In Berlin we made predictions of our future – but there was no mention of a son and daughter entering our lives at the same time.
I know you're not supposed to talk about these things, especially when children are on the way, but it's the truth. I really loved the time we had, just the two of us.
They take Justyna away at the hospital. I sat out in the lobby with her suitcase, not knowing what to expect. Were they going to do a C-section now? Would they just keep her overnight and do it in the morning? I waited at a window which looked out over the city. The sun was setting on Wrocław and the view was stunning. You could pick out almost every major landmark in the city.
One of the doctors walked by, and, in English, said, "Wonderful view."
Not realizing he was speaking in English, I replied in Polish, "Bardzo ładna." Very pretty.
Eventually a nurse came for me. I took Justyna's suitcase and followed. She brought me to Justyna, who was now lying in bed. She was clearly in pain at this point. "They're going to do a C-section."
"Now?"
"Now," she answered.
I took her hand. She said she was scared. I told her I was scared too. I said, "But just think about the two babies you'll have in your arms when this is all over. And it'll be over before you know it."
She tightened her grip and smiled.
"I love you. You know that, right?"
"Of course. And I love you."
A doctor and some nurses came then, and I stepped away from the bed. And they took her away again. From the doorway, I watched them wheel her down across the hall.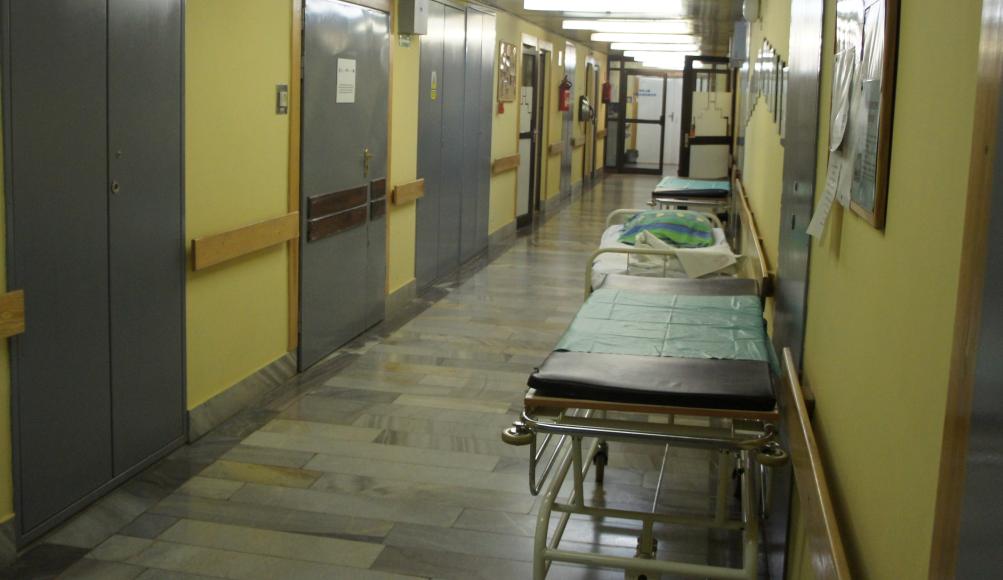 The doctor told me to wait where I was. "In a few minutes," the doctor said, "we'll bring your children to you."
I went to the window in the room. It was a different view, but it didn't matter because it was too dark to make out anything. At 22:05, I heard the first of the babies crying from across the hallway. They brought our daughter Emily to the room. I watched the nurses wash her, weigh her, and wrap her up. At 22:11, they brought our son Elliot into the room and did the same. I took pictures because I didn't know what else to do.
When they were done, the nurses left. A doctor told me that Justyna would be returned in about 20 minutes. And then I was left alone with my babies. That can't be right? Surely someone should be watching me and protecting these babies? It occurred to me that no, I should be watching them, protecting them. They were lying next to one another, Emily on the left. Elliot never made a sound. He kept opening and closing his eyes. Emily would cry and then fall back to sleep. I couldn't stop looking at them. They were so small. They looked so much alike and yet so different. They were beautiful.
And I said, "I think I'm going to like our adventures too."