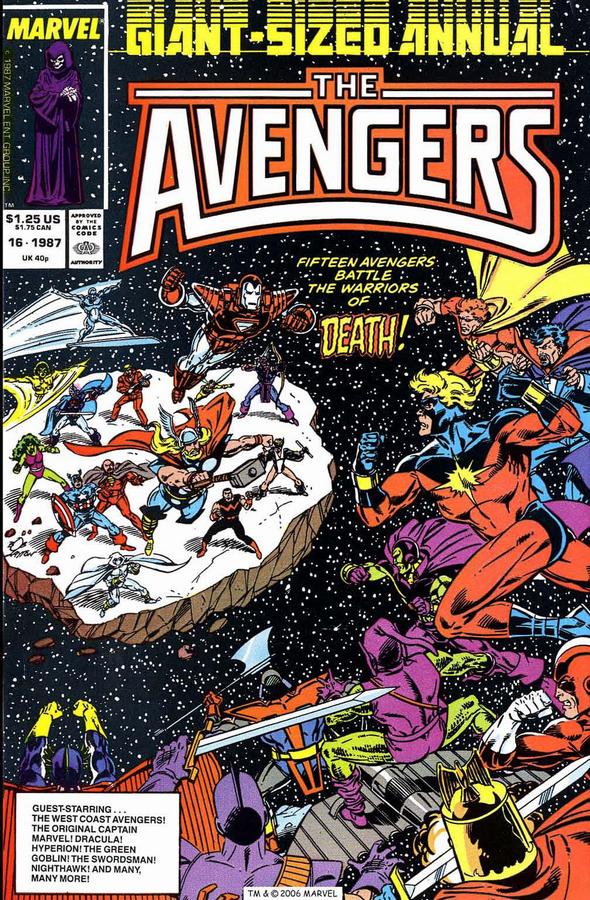 Avengers Annual #16 (1987)
WEST COAST CREDITS!
Writer: Tom DeFalco
Layouts: Bob Hall, John Romita Jr, Keith Pollard, Marshall Rogers, Jackson Guice, Ron Frenz
Finishes: Tom Palmer, Bill Sienkiewicz, Al Williamson, Bob Layton, Kevin Nowlan, Bob Wiacek,
WEST COAST SUMMARY!
It's Part 2 of the Dead Avengers in the Dugout Saga. As the cover says, it's fifteen Avengers battling the Warriors of Death. Nuff said!
WEST COAST THOUGHTS!
The Gamemaster has conquered Death herself thanks to the Avengers always thinking with their fists. And now he's created five Life Bombs that are scattered in various corners of the galaxy. When they go off, it's the end of everything with a new Big Bang.  The Gamemaster, being the Gamemaster, creates a new game for the Avengers: this time, it's the Avengers versus the Legion of the Unliving (filled with famous dead Marvel characters!) in order to save life as we know it.
Right off the bat, thanks to DeFalco's exposition, the rules are clearly established and the stakes are laid out, something I don't think Englehart did a good job with in the previous annual. This issue's chapters are a lot like the other book, with random members of the Avengers transported to various locations and fighting against random members of the Legion of the Unliving. What makes the chapters particularly interesting is that each one is drawn by a different team of artists. So, for instance, with Chapter Two (Hawkeye/Thor/Doctor Pym!), you have the magic combination of John Romita Jr and Bill Sienkiewicz. Lovely stuff here.
Another surprise with this annual is how violent it is. Pym's death by impalement (by Nighthawk) is particularly shocking, as is the Wasp's death by the hand (yes, hand!) of Bucky.
That said, it all looks pretty hopeless until Hawkeye steps up with a game of chance that the Gamemaster can't possibly pass up (and, of course, Hawkeye cheats). Thanks to this, his distraction allows Death to free herself. She deals with the Gamemaster and then sends everyone back to life, back to reality, back to life, back to reality, back to life, back to reality, back to the here and now, yeah!
Sorry.
WEST BOAST OR ROAST?
Boast. Some great dramatic moments brought to life by some amazing artists makes this annual spectacular.
WEST COAST SCENE (OF THE WEEK)!
Tigra, Tigra lost the fight
Despite She-Hulk's awesome might!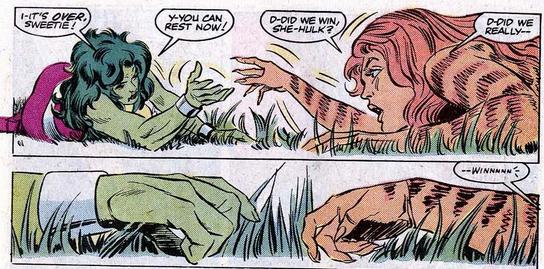 WEST COAST WEDNESDAY BONUS!
Silver Surfer #3 (September, 1987)
WEST COAST CREDITS!
Writer: Steve Englehart
Penciler: Marshall Rogers
Inker: Joe Rubinstein
WEST COAST SUMMARY!
The Silver Surfer comes to the Collector for answers only to discover that he's bummed out because his wife who died three million years ago from apathy has returned from the dead only to immediately die from apathy all over again. Stupid apathy! He meets up with Espirita, gives her a lift back to Earth, and then gets a severe beating from the Runner (not everyone's name can be a winner!).
WEST COAST THOUGHTS!
Well, this is fun. We're here because this issue ties in with both West Coast Avengers Annual #2 and Avengers Annual #16.
This is another series I have fond memories of. I didn't remember that Englehart also wrote this title (he's certainly less loquacious here than he is with West Coast). I was a huge fan of Marshall Rogers (his Batman run back in the day is still a sight to behold), so I remember gravitating to the Silver Surfer because of his art. That said, Rogers' art here is a little muddier than I remember, which might be because of the inking and coloring. But there are some panels that are gorgeous (check out the final panel below for proof of that).
While there are a few plot strands at work here, I'm simply going to focus on Espirita's story in the book as it's an offshoot of the West Coast Avengers. When the Silver Surfer comes for the Collector for some answers, he discovers Espirita has been trapped on his ship since the events from the annuals.
When the Silver Surfer gives her a lift back to Earth, she mentions that when he had first arrived on Earth many people believed he was the herald of the messiah. This leads to a brief conversation on god and the Force ("an energy that touches all of us"). Come on, like you wouldn't think the same thing!
WEST BOAST OR ROAST?
Boast. While it's not as lovely as I remember, this is a cool issue.
WEST COAST SCENE (OF THE WEEK)!
Preach it, Surfer!
Previously on West Coast Wednesdays…
West Coast Avengers Vol. 1, #1
West Coast Avengers Vol. 1, #2
West Coast Avengers Vol. 1, #3
West Coast Avengers Vol. 1, #4
The Vision and Scarlet Witch #1
West Coast Avengers Vol. 2, #2
The Vision and Scarlet Witch #2
West Coast Avengers Vol. 2, #3
West Coast Avengers Vol. 2, #4
West Coast Avengers Vol. 2, #5
West Coast Avengers Vol. 2, #6
West Coast Avengers Vol. 2, #7
West Coast Avengers Vol. 2, #8
West Coast Avengers Vol. 2, #9
West Coast Avengers Vol. 2, #10
West Coast Avengers Vol. 2, #11
West Coast Avengers Vol. 2, #12
West Coast Avengers Vol. 2, #13
West Coast Avengers Vol. 2, #14
West Coast Avengers Vol. 2, #15
West Coast Avengers Vol. 2, #16
West Coast Avengers Vol. 2, #17
West Coast Avengers Vol. 2, #18
West Coast Avengers Vol. 2, #19
West Coast Avengers Vol. 2, #20
West Coast Avengers Vol. 2, #21
West Coast Avengers Vol. 2, #22
West Coast Avengers Vol. 2, #23
West Coast Avengers Vol. 2, #24