West Coast Wednesdays: Avengers Spotlight #38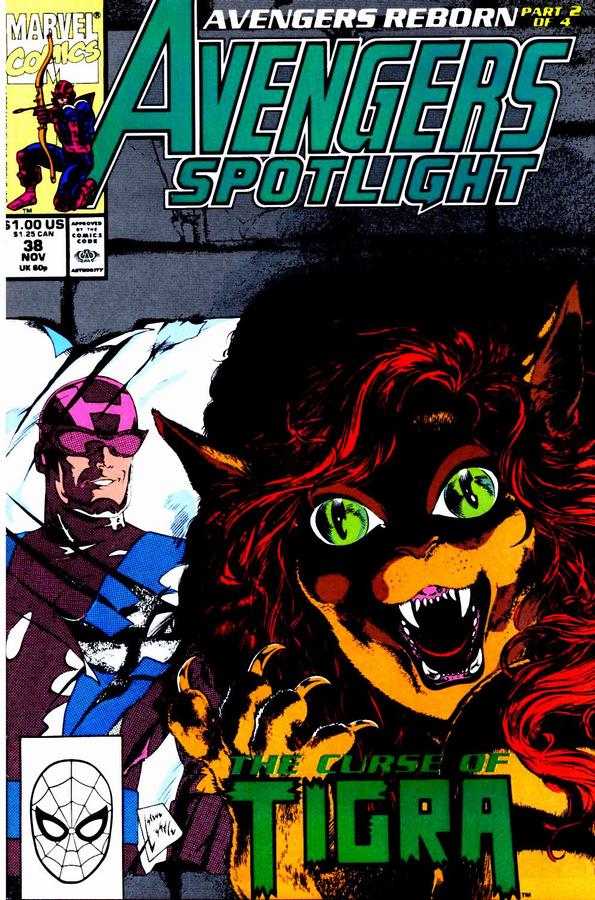 Avengers Spotlight, Issue 38 (November 1990)
WEST COAST CREDITS!
Writer: Roy and Dann Thomas
Penciler: June Brigman
Inker: Doug Hazlewood
WEST COAST SUMMARY!
Tigra disappeared from the main West Coast Avengers book a while ago after Hank Pym shrunk her, and now readers finally see what she's been up to all this time.
WEST COAST THOUGHTS!
We're taking a bit of a detour this week. You see, Tigra returns to West Coast Avengers in issue #66 (we'll be looking at that next week), but her return to humanity was actually dealt with outside of the series in Avengers Spotlight #38. The events of this issue take place immediately after Scarlet Witch was rescued from Immortus (West Coast Avengers Vol. 2, #62) and while the Avengers are battling Terminus (West Coast Avengers Annual #5).
First off, I need to mention June Brigman's art. I remember her work on Power Pack back in the day and liking it quite a bit. Her work here is good, but it feels like it belongs in a Vertigo book than a Marvel book. That's not a complaint though, as it's a refreshing change of pace from the work I've been reading for the last two years recapping these books.
An old woman is feeding the cats in the park when a peculiar orange cat wanders over and starts eating. Because her eyesight is poor, she doesn't notice that this is no ordinary cat. Of course, this "cat" is Tigra, a member of the West Coast Avengers, who had recently been overcome by her cat-side, and later shrunken down by Hank Pym.
A loose pitbull arrives and begins killing the cats. It has Tigra in its jaws when she begins fighting back, eventually killing it. However, she's wounded. The old woman takes her to the vet, where they decide to put her down. The vet is just about to push the needle inside of her, when Agatha Harkness arrives and rescues Tigra.
Back at the compound, Harkness uses Pym particles to return Tigra to her normal size (luckily Pym's equipment is easy for everyone to use, including witches). She talks to Tigra, trying to get her to remember who she was by recapping her life story. She informs her that while she was cured by the Cat People, because she has two souls, it was inevitable that her cat-side would eventually gain control.
Using a spell, she conjures Balkatar, an emissary of the Cat People, hoping that he'll be able to save Tigra. The emissary turns out to be Tabur, who quickly knocks Harkness out. It turns out that he's the King of the Cat People, and he's been searching for Tigra for a long time because…he wants to have sex with her. Tigra asks, "You…want to legitimize your rule…by mating with the heir of the Cat People's first Tigra?" And Tabur responds, "That, too, I suppose…but mostly…I just want to."
Yeah, that's not creepy at all.
He's just about to rape make his first move when Harkness' cat Ebony attacks Tabur. Once he realizes that he won't be mating with Tigra, he decides he needs to kill her instead. Tigra puts up a good fight, but eventually Tabur gets the upper hand. Just then, Harkness uses Tigra's amulet to cast a spell in order to remove Tigra's cat soul and then pushes it inside of Tabur, forcing him to transform into a normal cat.
Harkness informs Tigra that she's now capable of switching from her human form to Tigra with the amulet, and her cat-side will no longer control her. And now that she's back to normal, they decide to have some cookies.
WEST BOAST OR ROAST?
Roast. I'm digging the art, but this story is a painful way to get Tigra from Point A to Point B as quickly as possible. Plus, I'm not a fan of the whole Cat People aspect of Tigra's origin. Actually, now that I think of it, I'm not really a fan of Tigra. Her origin is too convoluted, and no matter how complicated writers make her, she's still Garfield in a bikini.
WEST COAST SCENE (OF THE WEEK)!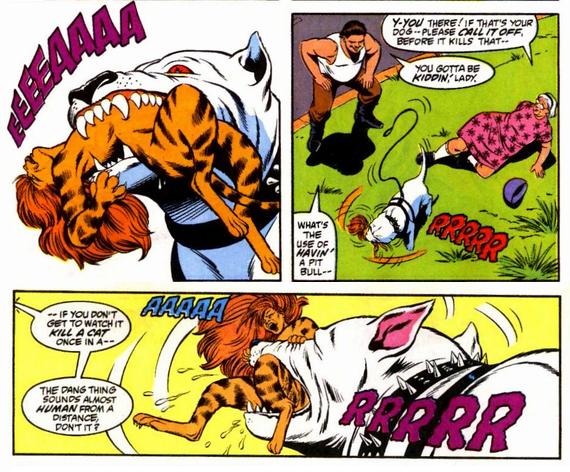 Previously on West Coast Wednesdays…
West Coast Avengers Vol. 1, #1
West Coast Avengers Vol. 1, #2
West Coast Avengers Vol. 1, #3
West Coast Avengers Vol. 1, #4
Avengers Vol. 1, #250
Iron Man Annual #7
West Coast Avenger Vol. 2, #1
The Vision and Scarlet Witch #1
West Coast Avengers Vol. 2, #2
The Vision and Scarlet Witch #2
West Coast Avengers Vol. 2, #3
West Coast Avengers Vol. 2, #4
West Coast Avengers Vol. 2, #5
West Coast Avengers Vol. 2, #6
West Coast Avengers Vol. 2, #7
West Coast Avengers Vol. 2, #8
West Coast Avengers Vol. 2, #9
West Coast Avengers Vol. 2, #10
West Coast Avengers Vol. 2, #11
West Coast Avengers Vol. 2, #12
West Coast Avengers Vol. 2, #13
Avengers Annual #15
West Coast Avengers Annual #1
West Coast Avengers Vol. 2, #14
West Coast Avengers Vol. 2, #15
West Coast Avengers Vol. 2, #16
West Coast Avengers Vol. 2, #17
West Coast Avengers Vol. 2, #18
West Coast Avengers Vol. 2, #19
West Coast Avengers Vol. 2, #20
West Coast Avengers Vol. 2, #21
West Coast Avengers Vol. 2, #22
West Coast Avengers Vol. 2, #23
West Coast Avengers Vol. 2, #24
West Coast Avengers Annual #2
Avengers Annual #16
Silver Surfer #3
West Coast Avengers Vol. 2, #25
West Coast Avengers Vol. 2, #26
West Coast Avengers Vol. 2, #27
West Coast Avengers Vol. 2, #28
West Coast Avengers Vol. 2, #29
West Coast Avengers Vol. 2, #30
West Coast Avengers Vol. 2, #31
West Coast Avengers Vol. 2, #32
West Coast Avengers Vol. 2, #33
West Coast Avengers Vol. 2, #34
West Coast Avengers Vol. 2, #35
West Coast Avengers Vol. 2, #36
West Coast Avengers Annual #3
West Coast Avengers Vol. 2, #37
West Coast Avengers Vol. 2, #38
West Coast Avengers Vol. 2, #39
West Coast Avengers Vol. 2, #40
West Coast Avengers Vol. 2, #41
West Coast Avengers Vol. 2, #42
West Coast Avengers Vol. 2, #43
West Coast Avengers Vol. 2, #44
West Coast Avengers Vol. 2, #45
West Coast Avengers Vol. 2, #46
West Coast Avengers Vol. 2, #47
West Coast Avengers Vol. 2, #48
West Coast Avengers Vol. 2, #49
West Coast Avengers Vol. 2, #50
West Coast Avengers Annual #4
West Coast Avengers Vol. 2, #51
West Coast Avengers Vol. 2, #52
West Coast Avengers Vol. 2, #53
Avengers Vol. 1, #312 
West Coast Avengers Vol. 2, #54
Avengers Vol. 1, #313 
West Coast Avengers Vol. 2, #55
West Coast Avengers Vol. 2, #56
West Coast Avengers Vol. 2, #57
West Coast Avengers Vol. 2, #58
West Coast Avengers Vol. 2, #59
West Coast Avengers Vol. 2, #60
West Coast Avengers Vol. 2, #61
West Coast Avengers Vol. 2, #62
West Coast Avengers Annual #5
West Coast Avengers Vol. 2, #63
West Coast Avengers Vol. 2, #64
West Coast Avengers Vol. 2, #65