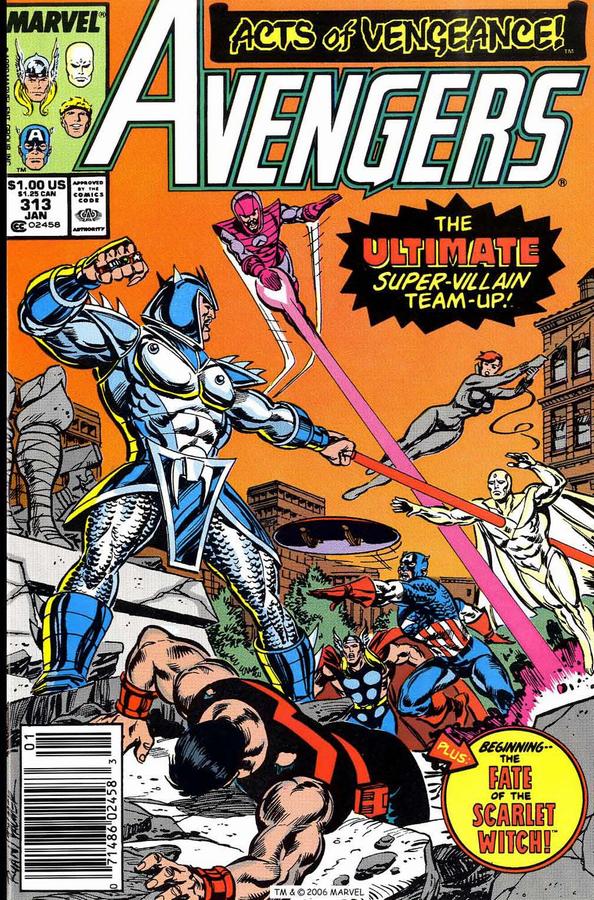 Avengers, Vol. 1, Issue 313 (January 1990)
WEST COAST CREDITS!
Writer: John Byrne
Penciler: Paul Ryan
Inker: Tom Palmer
WEST COAST SUMMARY!
The Avengers are recovering from the destruction of their main headquarters when the Mandarin (now with convenient nipples on his armor!) decides to pay a visit!
WEST COAST THOUGHTS!
 The three Avengers teams (West, East and Great Lakes) communicate with a one-eyed Jarvis in the Batcave Avengers Park sub-basement. Everyone is a little uneasy by how the public has suddenly turned on them. Hawkeye tells everyone that the Great Lakes Avengers are ready when they're needed, while the Avengers have to do an inspection of the recently destroyed hydro-base, along with Wonder Man and Vision.
Meanwhile, Mandarin shows up at Avengers Park to continue the damage Freedom Force started last issue. The park is surrounded by protesters who want "NYC for Real People!" Before the police can pepper spray the protesters, Mandarin starts nonchalantly killing officers and soldiers.
Doctor Doom, watching Mandarin on a video screen in a secret lair, is annoyed at Mandarin's actions. He claims that he has "the fighting sense of a novice in a nunnery." Harsh words, indeed, Doom. Red Skull enters the room and he starts laying out insults at Doom. This doesn't please Doom one bit, and they have a throw down, leading Red Skull to shoot Doom. Luckily, Kingpin comes in and starts giving a verbal smack down to both Doom and Skull.
Vision and Wonder Man arrive at the park to take care of Mandarin when the Wizard flies in and gives the two of them a run for their money.
Thousands of miles away, a comatose Scarlet Witch (her new default setting) is being taken care of by Agatha Harkness. She senses that something is wrong and steps outside of their bungalow at the compound. Suddenly, the home begins to shake and is hurled into Earth's orbit. Once there, Magneto appears. He then wishes his daughter a good afternoon, because, hey, that's just common courtesy.
Captain America, Black Widow and Hellcat show up to bring Mandarin down. It's a pretty good fight with lots of punching, scratching, and sexist remarks, until Thor shows up and gets all Hammer Time with Mandarin. The Wizard and Wonder Man continue their fight, which ruins Mandarin's plans, so he uses the Wizard as a decoy so that he can escape. The Avengers catch the Wizard who basically tells them that he's fallen into his clever trap.
The issue ends with the bickering villains discovering that Doctor Doom was actually a good old fashion Doombot, meaning he was never a part of their plan to begin with. Twist!
WEST BOAST OR ROAST?
Roast. Not a fan of this one at all. Too much going on and, despite the nature of the crossover, it feels like they're just throwing villains out to fight the team without any rhyme or reason. And while there's some progress with the main villains (probably the most interesting part of this whole story), this feels like wheel spinning.
WEST COAST SCENE (OF THE WEEK)!
I see your racism…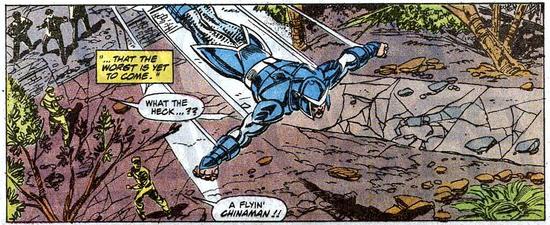 And I raise it with sexism!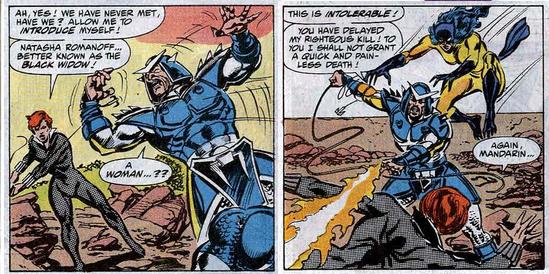 Previously on West Coast Wednesdays…
West Coast Avengers Vol. 1, #1
West Coast Avengers Vol. 1, #2
West Coast Avengers Vol. 1, #3
West Coast Avengers Vol. 1, #4
The Vision and Scarlet Witch #1
West Coast Avengers Vol. 2, #2
The Vision and Scarlet Witch #2
West Coast Avengers Vol. 2, #3
West Coast Avengers Vol. 2, #4
West Coast Avengers Vol. 2, #5
West Coast Avengers Vol. 2, #6
West Coast Avengers Vol. 2, #7
West Coast Avengers Vol. 2, #8
West Coast Avengers Vol. 2, #9
West Coast Avengers Vol. 2, #10
West Coast Avengers Vol. 2, #11
West Coast Avengers Vol. 2, #12
West Coast Avengers Vol. 2, #13
West Coast Avengers Vol. 2, #14
West Coast Avengers Vol. 2, #15
West Coast Avengers Vol. 2, #16
West Coast Avengers Vol. 2, #17
West Coast Avengers Vol. 2, #18
West Coast Avengers Vol. 2, #19
West Coast Avengers Vol. 2, #20
West Coast Avengers Vol. 2, #21
West Coast Avengers Vol. 2, #22
West Coast Avengers Vol. 2, #23
West Coast Avengers Vol. 2, #24
West Coast Avengers Vol. 2, #25
West Coast Avengers Vol. 2, #26
West Coast Avengers Vol. 2, #27
West Coast Avengers Vol. 2, #28
West Coast Avengers Vol. 2, #29
West Coast Avengers Vol. 2, #30
West Coast Avengers Vol. 2, #31
West Coast Avengers Vol. 2, #32
West Coast Avengers Vol. 2, #33
West Coast Avengers Vol. 2, #34
West Coast Avengers Vol. 2, #35
West Coast Avengers Vol. 2, #36
West Coast Avengers Vol. 2, #37
West Coast Avengers Vol. 2, #38
West Coast Avengers Vol. 2, #39
West Coast Avengers Vol. 2, #40
West Coast Avengers Vol. 2, #44
West Coast Avengers Vol. 2, #48
West Coast Avengers Vol. 2, #50
West Coast Avengers Vol. 2, #53

West Coast Avengers Vol. 2, #54