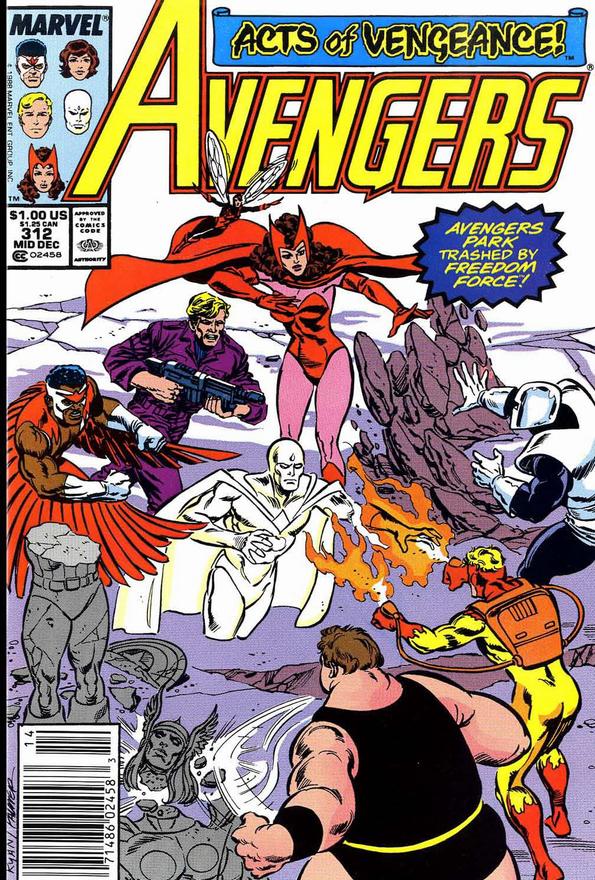 Avengers, Vol. 1, Issue 312 (Mid-December 1989)
WEST COAST CREDITS!
Writer: John Byrne
Penciler: Paul Ryan
Inker: Tom Palmer
WEST COAST SUMMARY!
The Avengers' Hydro-Base has been destroyed, forcing the Avengers to regroup in the sub-basement at their mom's house in Avengers Park. Before they can assess all the chaos happening across the nation, Freedom Force pays a visit, and unfortunately for our heroes, it isn't a friendly house call.
WEST COAST THOUGHTS!
I'm jumping over to the regular Avengers title this week to continue our look at Acts of Vengeance which took over the Marvel books during this time. When we last left off, Pym, Wasp, Vision and Scarlet Witch left the West Coast compound to return east to see what was happening with the other team. It's worth pointing out that this issue is written by Byrne as well.
With regular members of the Avengers occupied with their own problems related to the event, it appears that if the West Coast team hadn't jumped over, we'd be reading a solo Falcon book. In fact, it's worth noting that Wasp, Pym, Scarlet Witch and Vision have pretty much taken over the corner shot on the front cover.
Things start off with the team in the sub-basement (the basement under the basement? Because the Avengers just couldn't just have a basement, they needed something mightier!) where there are lots of TV screens showing off lots of chaos and destruction. Wasp asks, "Has the whole world gone mad?!?" And Pym calmly reminds her that, no, the whole world hasn't gone mad, just America. Oh! Thanks, Hank!
Scenes like this interest me in comic books as I never quite understand how heroes would get unnerved by this kind of imagery, as it's something they encounter every single day. These scenes only happen in event books (as they did in the recent Fear Itself) to remind readers that, unlike the time Earth exploded last week, this time It's Fucking Serious. This is a lot like in Bad Boys 2 when one of the main characters eloquently says "Shit just got real," implying that all the death and destruction we've been watching for the last 90 minutes were insignificant. And as these kinds of Event books grow bigger and bigger, you'd think that it would be easier to convey the doom and gloom of what's happening, when in actuality it becomes much harder.
Anyway, we cut to all the major villains sitting around the table and planning the Big Plan. We have Kingpin, Mandarin, Magneto, Red Skull, Doctor Doom and lots more. Loki is secretly orchestrating all of this as a man named Lackey (yeah, Loki isn't good at the whole disguise thing). While the plan to take down all the heroes might be effective, the villains have a difficult time getting along, namely Red Skull, a big time Nazi, and Magneto, a big time Holocaust survivor. Honestly, this is probably the most refreshing part of this entire issue and shows a little consideration in the main story line.
Back in the basement (sorry, sub-basement!), the Super-Power alert goes off! Apparently the Avengers have an alarm that rings whenever someone with super-powers enters Avengers Park. Yeah, I know, that's pretty dumb. How exactly does that work? And how come the West Coast Avengers never got one? Because that would've helped them out every time someone broke into the compound, which is every other day. It's Freedom Force, which was the 1990's answer to today's Thunderbolts. As Pym points out, they're "composed of known criminals recruited to serve out their time as government agents." Thank you, exposition. The three members of Freedom Force who arrive are Blob, Pyro and Avalanche.
Freedom Force's  arrival is anything but official, however. In fact, they're part of the whole don't-think-about-it-too-much-Acts-of-Vengeance plan to make heroes fight villains they're unfamiliar with. This is even highlighted when Falcon asks what do they know about Freedom Force, and Pym replies, "Not as much as we should, Falcon." We are, of course, ignoring the fact that Pym and Wasp fought Freedom Force back in Avengers Annual #15.
And so our big fight begins. For the purposes of dramatic tension, Freedom Force give the team a run for its money. It drags on way longer than it should, and it isn't until Captain America arrives and announces that Freedom Force is not there on the behalf of the government that it all ends. The issue wraps up with the team standing around in the debris wondering what's going on with Lackey watching from afar laughing.
WEST BOAST OR ROAST?
Roast. Not feeling it here. While I liked what was going on with the villains, the parts with our trusted heroes felt too much like wheel spinning.
WEST COAST SCENE (OF THE WEEK)!
So to you other villains all across the land, there's no need to argue: Red Skull just don't understand!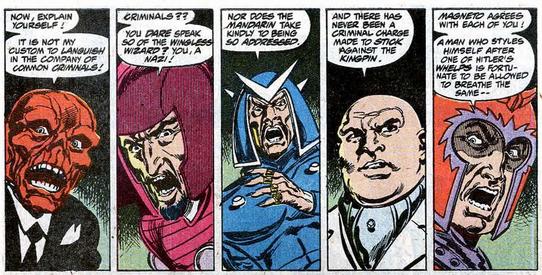 Previously on West Coast Wednesdays…
West Coast Avengers Vol. 1, #1
West Coast Avengers Vol. 1, #2
West Coast Avengers Vol. 1, #3
West Coast Avengers Vol. 1, #4
The Vision and Scarlet Witch #1
West Coast Avengers Vol. 2, #2
The Vision and Scarlet Witch #2
West Coast Avengers Vol. 2, #3
West Coast Avengers Vol. 2, #4
West Coast Avengers Vol. 2, #5
West Coast Avengers Vol. 2, #6
West Coast Avengers Vol. 2, #7
West Coast Avengers Vol. 2, #8
West Coast Avengers Vol. 2, #9
West Coast Avengers Vol. 2, #10
West Coast Avengers Vol. 2, #11
West Coast Avengers Vol. 2, #12
West Coast Avengers Vol. 2, #13
West Coast Avengers Vol. 2, #14
West Coast Avengers Vol. 2, #15
West Coast Avengers Vol. 2, #16
West Coast Avengers Vol. 2, #17
West Coast Avengers Vol. 2, #18
West Coast Avengers Vol. 2, #19
West Coast Avengers Vol. 2, #20
West Coast Avengers Vol. 2, #21
West Coast Avengers Vol. 2, #22
West Coast Avengers Vol. 2, #23
West Coast Avengers Vol. 2, #24
West Coast Avengers Vol. 2, #25
West Coast Avengers Vol. 2, #26
West Coast Avengers Vol. 2, #27
West Coast Avengers Vol. 2, #28
West Coast Avengers Vol. 2, #29
West Coast Avengers Vol. 2, #30
West Coast Avengers Vol. 2, #31
West Coast Avengers Vol. 2, #32
West Coast Avengers Vol. 2, #33
West Coast Avengers Vol. 2, #34
West Coast Avengers Vol. 2, #35
West Coast Avengers Vol. 2, #36
West Coast Avengers Vol. 2, #37
West Coast Avengers Vol. 2, #38
West Coast Avengers Vol. 2, #39
West Coast Avengers Vol. 2, #40
West Coast Avengers Vol. 2, #44
West Coast Avengers Vol. 2, #48
West Coast Avengers Vol. 2, #50