West Coast Wednesdays: Iron Man Annual #7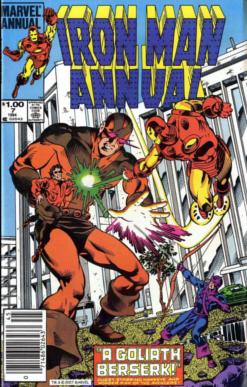 Iron Man Annual, Vol. 1, Issue 7 (1984)
WEST COAST CREDITS!
Writer: Bob Harras
Penciler: Luke McDonnell
Inker: Akin & Garvey
WEST COAST SUMMARY!
Jim Rhodes is not only having a hard time pretending to be the real Iron Man with the West Coast Avengers but he is trying to live up to the name with the general public. A disastrous fight with Goliath only makes matters worst, and it'll take the help of Hawkeye and Wonder Man to make things right again.
WEST COAST THOUGHTS!
This annual appears to take place between issues #1 and #2 of the West Coast Avengers mini-series.
The issue does a good job balancing Iron Man in context with his own series and where he is in the WCA series. The biggest problem is that Rhodes has a few natural opportunities to reveal his identity to the team (which would help resolve one of the major conflicts in the story) and he doesn't use them. We know he'll finally do it in West Coast Avengers Vol. 1 Issue #4, but when you put this story into context, it feels way overdue.
Tony Stark makes one appearance in the book (see image below) and he comes across as a real jerk.
Since I want to focus on the team, there isn't a lot to say. The team appears together at the very beginning, and later, Harras seems satisfied in only writing in the male members to help Iron Man.
WEST BOAST OR ROAST?
Boast! Not bad all things considered. I'd probably appreciate things more if I were reading the regular Iron Man title, but as a West Coast Avengers tale, it's pretty good.
WEST COAST SCENE (OF THE WEEK)!
You're not my daddy!