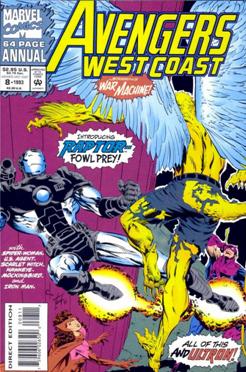 West Coast Avengers Annual #8 (1993)
WEST COAST CREDITS!
Writer: Roy Thomas
Penciler: Kris Renkewitz, Dave Ross, Scott Kolins, Larry Alexander, John Czop and Vince Russell
Inker:  Don Hudson, John Lowe, Tim Dzon, Maria Beccari, Mike Barreiro and Fred Fredericks
WEST COAST SUMMARY!
When the West Coast Avengers are hypnotized by Ultron, it's up to some reservists along with Raptor to help stop the end of the world.
WEST COAST THOUGHTS!
The good news with this annual is that it isn't a crossover, nor does it have a bunch of nonsensical vignettes. The bad news is that this annual is one long terrible story.
 The West Coast Avengers gets an anonymous tip that Ultron and War Toy are in San Francisco. When they land at Coit Tower, 18 year old Gary Wiltons flees believing there's something dangerous going on. While he's running away, his pencil clip falls into a sewer hole. Because it's a gift from his father, he enters the sewer and stumbles upon Ultron and War Toy in their secret lair. When Ultron grabs him, a mysterious aura appears around Gary. And that's when the West Coast Avengers show up.
Unfortunately for the team, Ultron hypnotizes them all. Seeing an opportunity, Ultron orders them to take his three seismic activators and place them at three exact locations. Once activated, this will cause the eruptions of volcanoes in three states, creating something similar to a nuclear winter. Ultron catches up with the fleeing Gary and once again he's surrounded by that aura, only this time he grows wings and turns into Raptor.
We get his origin story, which really isn't worth getting into here, as he'll never appear in this title again. In fact, the whole issue feels like a backdoor pilot.
Because we have mesmerized heroes at three different locations trying to plant bombs, this creates an opportunity for fights between heroes without pesky misunderstandings. We have Hank Pym versus Hawkeye. Wasp versus Scarlet Witch. The Living Lightning versus War Machine. Tigra versus Mockingbird. Iron Man versus U.S. Agent. And Raptor versus Spider-Woman. Surprisingly, every mesmerized hero defeats his/her challenger.
Eventually, it's up to Iron Man to save the day by taking down Ultron. While Ultron is using all his energy to defeat shellhead, he loses control of the mesmerized heroes. So now it's a big free for all.
However, War Toy ends up stabbing Ultron in the back. It turns out, she was the one who tipped off the team to their location in San Francisco. She disagrees with the way Ultron treats her like a toy, and more importantly, she prefers to kill humans one by one and slowly, whereas Ultron wants to destroy everyone as quickly as possible.
Maybe they need couple's therapy.
Ultron is taken down, but War Toy gets away – despite Raptor's attempt to catch her.
The annual ends with Mockingbird talking to Hawkeye, wondering if Ultron and War Toy will ever get back together; you know, the way they did.
I think I might be missing the summer crossovers.
WEST BOAST OR ROAST?
Roast. I'm pretty sure a large chunk of my soul died just now.
WEST COAST SCENE (OF THE WEEK)!
It's called a bluff, Miguel!

Previously on West Coast Wednesdays…
West Coast Avengers Vol. 1, #1
West Coast Avengers Vol. 1, #2
West Coast Avengers Vol. 1, #3
West Coast Avengers Vol. 1, #4
Avengers Vol. 1, #250
Iron Man Annual #7
West Coast Avenger Vol. 2, #1
The Vision and Scarlet Witch #1
West Coast Avengers Vol. 2, #2
The Vision and Scarlet Witch #2
West Coast Avengers Vol. 2, #3
West Coast Avengers Vol. 2, #4
West Coast Avengers Vol. 2, #5
West Coast Avengers Vol. 2, #6
West Coast Avengers Vol. 2, #7
West Coast Avengers Vol. 2, #8
West Coast Avengers Vol. 2, #9
West Coast Avengers Vol. 2, #10
West Coast Avengers Vol. 2, #11
West Coast Avengers Vol. 2, #12
West Coast Avengers Vol. 2, #13
Avengers Annual #15
West Coast Avengers Annual #1
West Coast Avengers Vol. 2, #14
West Coast Avengers Vol. 2, #15
West Coast Avengers Vol. 2, #16
West Coast Avengers Vol. 2, #17
West Coast Avengers Vol. 2, #18
West Coast Avengers Vol. 2, #19
West Coast Avengers Vol. 2, #20
West Coast Avengers Vol. 2, #21
West Coast Avengers Vol. 2, #22
West Coast Avengers Vol. 2, #23
West Coast Avengers Vol. 2, #24
West Coast Avengers Annual #2
Avengers Annual #16
Silver Surfer #3
West Coast Avengers Vol. 2, #25
West Coast Avengers Vol. 2, #26
West Coast Avengers Vol. 2, #27
West Coast Avengers Vol. 2, #28
West Coast Avengers Vol. 2, #29
West Coast Avengers Vol. 2, #30
West Coast Avengers Vol. 2, #31
West Coast Avengers Vol. 2, #32
West Coast Avengers Vol. 2, #33
West Coast Avengers Vol. 2, #34
West Coast Avengers Vol. 2, #35
West Coast Avengers Vol. 2, #36
West Coast Avengers Annual #3
West Coast Avengers Vol. 2, #37
West Coast Avengers Vol. 2, #38
West Coast Avengers Vol. 2, #39
West Coast Avengers Vol. 2, #40
West Coast Avengers Vol. 2, #41
West Coast Avengers Vol. 2, #42
West Coast Avengers Vol. 2, #43
West Coast Avengers Vol. 2, #44
West Coast Avengers Vol. 2, #45
West Coast Avengers Vol. 2, #46
West Coast Avengers Vol. 2, #47
West Coast Avengers Vol. 2, #48
West Coast Avengers Vol. 2, #49
West Coast Avengers Vol. 2, #50
West Coast Avengers Annual #4
West Coast Avengers Vol. 2, #51
West Coast Avengers Vol. 2, #52
West Coast Avengers Vol. 2, #53
Avengers Vol. 1, #312 
West Coast Avengers Vol. 2, #54
Avengers Vol. 1, #313 
West Coast Avengers Vol. 2, #55
West Coast Avengers Vol. 2, #56
West Coast Avengers Vol. 2, #57
West Coast Avengers Vol. 2, #58
West Coast Avengers Vol. 2, #59
West Coast Avengers Vol. 2, #60
West Coast Avengers Vol. 2, #61
West Coast Avengers Vol. 2, #62
West Coast Avengers Annual #5
West Coast Avengers Vol. 2, #63
West Coast Avengers Vol. 2, #64
West Coast Avengers Vol. 2, #65
Avengers Spotlight #38 
West Coast Avengers Vol. 2, #66
West Coast Avengers Vol. 2, #67
West Coast Avengers Vol. 2, #68
West Coast Avengers Vol. 2, #69
West Coast Avengers Vol. 2, #70
West Coast Avengers Vol. 2, #71
West Coast Avengers Vol. 2, #72
West Coast Avengers Vol. 2, #73
West Coast Avengers Vol. 2, #74
West Coast Avengers Annual #6
West Coast Avengers Vol. 2, #75
West Coast Avengers Vol. 2, #76
West Coast Avengers Vol. 2, #77
West Coast Avengers Vol. 2, #78
West Coast Avengers Vol. 2, #79
West Coast Avengers Vol. 2, #80
West Coast Avengers Vol. 2, #81
West Coast Avengers Vol. 2, #82
West Coast Avengers Vol. 2, #83
West Coast Avengers Vol. 2, #84
West Coast Avengers Vol. 2, #85
West Coast Avengers Vol. 2, #86
West Coast Avengers Annual #7
West Coast Avengers Vol. 2, #87
West Coast Avengers Vol. 2, #88
West Coast Avengers Vol. 2, #89
West Coast Avengers Vol. 2, #90
West Coast Avengers Vol. 2, #91
West Coast Avengers Vol. 2, #92
West Coast Avengers Vol. 2, #93
West Coast Avengers Vol. 2, #94
West Coast Avengers Vol. 2, #95
West Coast Avengers Vol. 2, #96
West Coast Avengers Vol. 2, #97
West Coast Avengers Vol. 2, #98