West Coast Wednesdays: West Coast Avengers Vol. 1, #2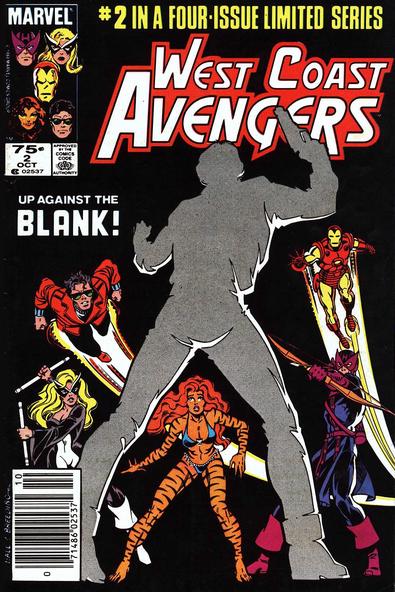 West Coast Avengers, Vol. 1, Issue 2 (October 1984)
WEST COAST CREDITS!
Writer: Roger Stern
Penciler: Bob Hall
Inker: Brett Breeding
WEST COAST SUMMARY!
Everyone practices working together as a team while Wonder Man has a run in with the bank robber known as the Blank. After the Blank escapes from Wonder Man, the team gathers to take down this low level nuisance once and for all. And finally, we get a brief look at the team's first serious threat to come.
WEST COAST THOUGHTS!
This issue works a lot better than the first, that's for sure. Hawkeye, who was glowingly optimistic in the previous chapter, comes off as being horribly passive-aggressive this time around. He has one run in with Iron Man that feels petty (see below), but maybe that's Hall drawing Hawkeye to look angrier than Stern intended. Later, after Wonder Man's first meeting with the Blank, Hawkeye is trying to calm Wonder Man. He says, "What's eating you? Look, I can understand that you're unhappy that you let him get away…" This is interesting because Wonder Man didn't let him get away and I'm surprised Wonder Man didn't punch him right there.
I'm also not buying why Jim Rhodes feels he needs to keep his identity a secret, especially when Hawkeye keeps saying things like, "Remember that one time when we made out, Tony? Remember how hot that was?"
The Blank has all the Marvel trademarks of a bad guy. A down on his luck guy stumbles across an invention that provides him with a "slippery force-field". Naturally, he decides to rob banks. And that's about as deep as it gets for the Blank. It is interesting to note that his origin is a cool inversion of Daredevil's origin.
The big high point of the issue is seeing Wonder Man moving by lifting the back wall of his house like a garage door, taking everything out of the house (not sure how he does this while holding the wall up), putting his things into one giant wooden crate made of the strongest wood in the world, and then putting the wall back down. Also of interest, books and fragile things go in the bottom of the crate and weights go on the top.
Anyway, this is the first time the team is working together to fight a legitimate threat that doesn't amount to a misunderstanding. How do they do? Not so bad, but there does seem like a lot of emphasis on their searching for the Blank instead of the actual fight. I suppose this is to help ground the story and show how things are different on the west coast (This isn't your grandma's Avengers, kids!).
Most importantly, the ending introduces Graviton, who will be the big bad for the rest of this storyline. And the introduction shows a lot of restraint, ending with a final image that certainly works. Things look like they're picking up.
WEST BOAST OR ROAST?
Boast! The sophomore issue doesn't have the problems the first one did (stupid freshmen!) and the storyline has finally picked up some momentum.
WEST COAST SCENE (OF THE WEEK)!
Hawkeye can be a real jerk sometimes.