West Coast Avengers, Vol. 2, Issue 100 (November 1993)
WEST COAST CREDITS!
Writer: Roy and Dann Thomas, Jim Novak and Len Kaminski
Penciler: David Ross, Don Hudson, Tom Tenney and Tom Morgan
Inker:  Tim Dzon, Charles Barnett, Avon and Don Cameron
WEST COAST SUMMARY!
This is the final battle between the West Coast Avengers and Satannish. And nothing will be the same again. SHUT UP! I mean it this time!
WEST COAST THOUGHTS!
Just look at that red foil cover, will you? There's absolutely no doubt that we're looking at a comic book from 1993.
"Soul Gauntlet"
Using one of Agatha Harkness' books, the team is trying to get to Satannish's dimension in order to save Mockingbird from the Lethal Legion. Along the way, they cross paths with Mephisto. He wants to teach Satannish a lesson because he stole the souls for his Lethal Legion from him. He asks Hawkeye who is more important, Satannish or his wife, but before he can answer, Scarlet Witch casts a spell that sends the team right to Satannish's door.
Satannish appears immediately throwing out his threat. And the danger gets turned up a notch as the Lethal Legion appears and takes down each member of the team one by one until only Hawkeye and Scarlet Witch are the only ones standing. However, Hawkeye has a strong case of the Mephisto…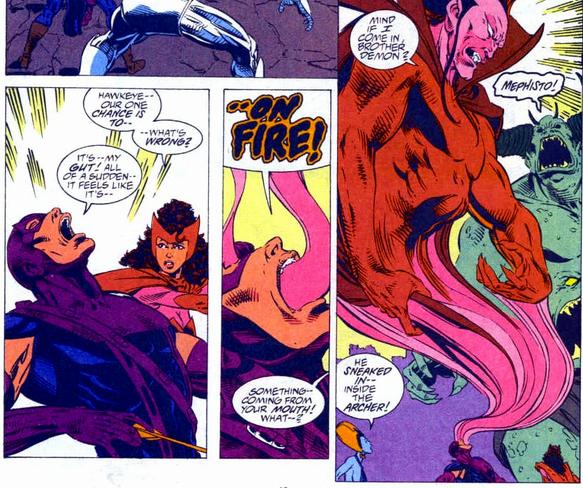 It turns into a giant fight between Mephisto and Satannish over the stolen souls of the Lethal Legion. The damage from the fight accidentally frees out heroes from their stony prison. The battle between the West Coast Avengers and the Lethal Legion is a little easier this time as the villains have reverted back to their human forms. When Mephisto goes to retrieve the four souls, Satannish resists, and their struggle completely destroys the souls in the process. With the four evil souls destroyed, Mephisto sets his eyes on the six pure souls of our heroes.
The team flees Satannish's dimension with Mephisto's deadly brimstone balls being thrown at them from behind. During the escape, Mockingbird tackles Hawkeye in order to get him out of Mephisto's crosshair, but she takes a hit in the process.
With the window to Satannish's dimension closed, the team has a moment to consider the price they just paid: Mockingbird's death.
The story ends with Mockingbird's funeral.
"…And Make Death Proud to Take Us"
Standing at his wife's grave, Clint remembers when they both first moved out to California to form the West Coast Avengers. "Remember the time when we were doing it and Bill Foster called us up about an amazing real estate opportunity?"
Yeah, those were good times.
Oh, and live every moment like it'll be the last! SO ALWAYS ANSWER THE PHONE!
"Boys Will be Boys"
A guilt stricken U.S. Agent takes leave from the West Coast Avengers and returns to his empty childhood home. When he visits the grave of his parents, he's interrupted by a bunch of college kids who just wants to par-teee! When one of them pulls a gun, he beats up everyone.
The story finishes with U.S. Agent telling his parents that what he just fought for was "real…more real than most of the battles I've had with countless super-villains. There's a greater truth at work here."
Indeed there is, U.S. Agent.
"Wild in the Street"
Because the Living Lightning is no longer a part of the team, it's up to War Machine to represent a minority culture on the team. And because this is the Nineties, this means that any story that focuses on a Hispanic or African American superhero must involve gang culture. We've gone down this road twice with the Living Lightning, so it's unfortunate to see War Machine having the torch passed to him.
When War Machine breaks up a gang fight, he's horrified to discover that they're packing some serious technology. He follows the source of the weapons and learns that Hate Monger and his Sons of the Serpent are supplying the weapons. And Hate Monger could care less about the money, he's in it for the killing. You see, the bloodshed and class warfare has been going on long before he showed up and it's going to be going on long after he leaves. And there's nothing War Machine can do to make a difference.
So War Machine punches him real hard and walks away. I'm not kidding. That's how it ends.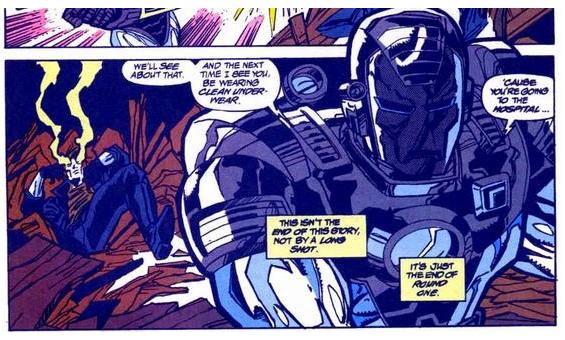 WEST BOAST OR ROAST?
Boast and Roast. I'm game for the main story, but those back-ups.
WEST COAST SCENE (OF THE WEEK)!
Total bummer.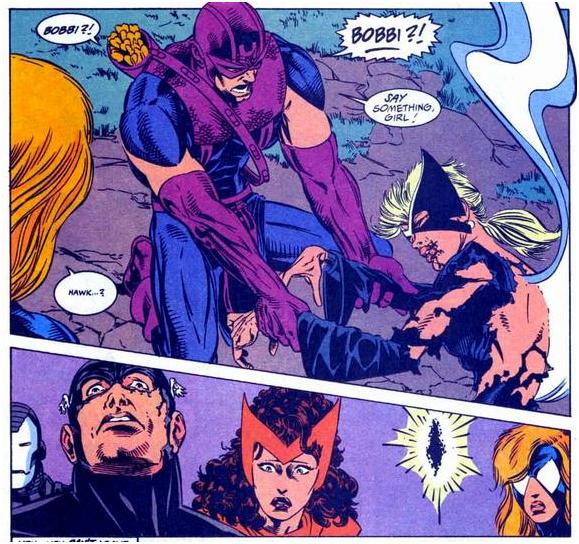 Previously on West Coast Wednesdays…
West Coast Avengers Vol. 1, #1
West Coast Avengers Vol. 1, #2
West Coast Avengers Vol. 1, #3
West Coast Avengers Vol. 1, #4
Avengers Vol. 1, #250
Iron Man Annual #7
West Coast Avenger Vol. 2, #1
The Vision and Scarlet Witch #1
West Coast Avengers Vol. 2, #2
The Vision and Scarlet Witch #2
West Coast Avengers Vol. 2, #3
West Coast Avengers Vol. 2, #4
West Coast Avengers Vol. 2, #5
West Coast Avengers Vol. 2, #6
West Coast Avengers Vol. 2, #7
West Coast Avengers Vol. 2, #8
West Coast Avengers Vol. 2, #9
West Coast Avengers Vol. 2, #10
West Coast Avengers Vol. 2, #11
West Coast Avengers Vol. 2, #12
West Coast Avengers Vol. 2, #13
Avengers Annual #15
West Coast Avengers Annual #1
West Coast Avengers Vol. 2, #14
West Coast Avengers Vol. 2, #15
West Coast Avengers Vol. 2, #16
West Coast Avengers Vol. 2, #17
West Coast Avengers Vol. 2, #18
West Coast Avengers Vol. 2, #19
West Coast Avengers Vol. 2, #20
West Coast Avengers Vol. 2, #21
West Coast Avengers Vol. 2, #22
West Coast Avengers Vol. 2, #23
West Coast Avengers Vol. 2, #24
West Coast Avengers Annual #2
Avengers Annual #16
Silver Surfer #3
West Coast Avengers Vol. 2, #25
West Coast Avengers Vol. 2, #26
West Coast Avengers Vol. 2, #27
West Coast Avengers Vol. 2, #28
West Coast Avengers Vol. 2, #29
West Coast Avengers Vol. 2, #30
West Coast Avengers Vol. 2, #31
West Coast Avengers Vol. 2, #32
West Coast Avengers Vol. 2, #33
West Coast Avengers Vol. 2, #34
West Coast Avengers Vol. 2, #35
West Coast Avengers Vol. 2, #36
West Coast Avengers Annual #3
West Coast Avengers Vol. 2, #37
West Coast Avengers Vol. 2, #38
West Coast Avengers Vol. 2, #39
West Coast Avengers Vol. 2, #40
West Coast Avengers Vol. 2, #41
West Coast Avengers Vol. 2, #42
West Coast Avengers Vol. 2, #43
West Coast Avengers Vol. 2, #44
West Coast Avengers Vol. 2, #45
West Coast Avengers Vol. 2, #46
West Coast Avengers Vol. 2, #47
West Coast Avengers Vol. 2, #48
West Coast Avengers Vol. 2, #49
West Coast Avengers Vol. 2, #50
West Coast Avengers Annual #4
West Coast Avengers Vol. 2, #51
West Coast Avengers Vol. 2, #52
West Coast Avengers Vol. 2, #53
Avengers Vol. 1, #312 
West Coast Avengers Vol. 2, #54
Avengers Vol. 1, #313 
West Coast Avengers Vol. 2, #55
West Coast Avengers Vol. 2, #56
West Coast Avengers Vol. 2, #57
West Coast Avengers Vol. 2, #58
West Coast Avengers Vol. 2, #59
West Coast Avengers Vol. 2, #60
West Coast Avengers Vol. 2, #61
West Coast Avengers Vol. 2, #62
West Coast Avengers Annual #5
West Coast Avengers Vol. 2, #63
West Coast Avengers Vol. 2, #64
West Coast Avengers Vol. 2, #65
Avengers Spotlight #38 
West Coast Avengers Vol. 2, #66
West Coast Avengers Vol. 2, #67
West Coast Avengers Vol. 2, #68
West Coast Avengers Vol. 2, #69
West Coast Avengers Vol. 2, #70
West Coast Avengers Vol. 2, #71
West Coast Avengers Vol. 2, #72
West Coast Avengers Vol. 2, #73
West Coast Avengers Vol. 2, #74
West Coast Avengers Annual #6
West Coast Avengers Vol. 2, #75
West Coast Avengers Vol. 2, #76
West Coast Avengers Vol. 2, #77
West Coast Avengers Vol. 2, #78
West Coast Avengers Vol. 2, #79
West Coast Avengers Vol. 2, #80
West Coast Avengers Vol. 2, #81
West Coast Avengers Vol. 2, #82
West Coast Avengers Vol. 2, #83
West Coast Avengers Vol. 2, #84
West Coast Avengers Vol. 2, #85
West Coast Avengers Vol. 2, #86
West Coast Avengers Annual #7
West Coast Avengers Vol. 2, #87
West Coast Avengers Vol. 2, #88
West Coast Avengers Vol. 2, #89
West Coast Avengers Vol. 2, #90
West Coast Avengers Vol. 2, #91
West Coast Avengers Vol. 2, #92
West Coast Avengers Vol. 2, #93
West Coast Avengers Vol. 2, #94
West Coast Avengers Vol. 2, #95
West Coast Avengers Vol. 2, #96
West Coast Avengers Vol. 2, #97
West Coast Avengers Vol. 2, #98
West Coast Avengers Annual #8
West Coast Avengers Vol. 2, #99