West Coast Wednesdays: West Coast Avengers Vol. 2, #101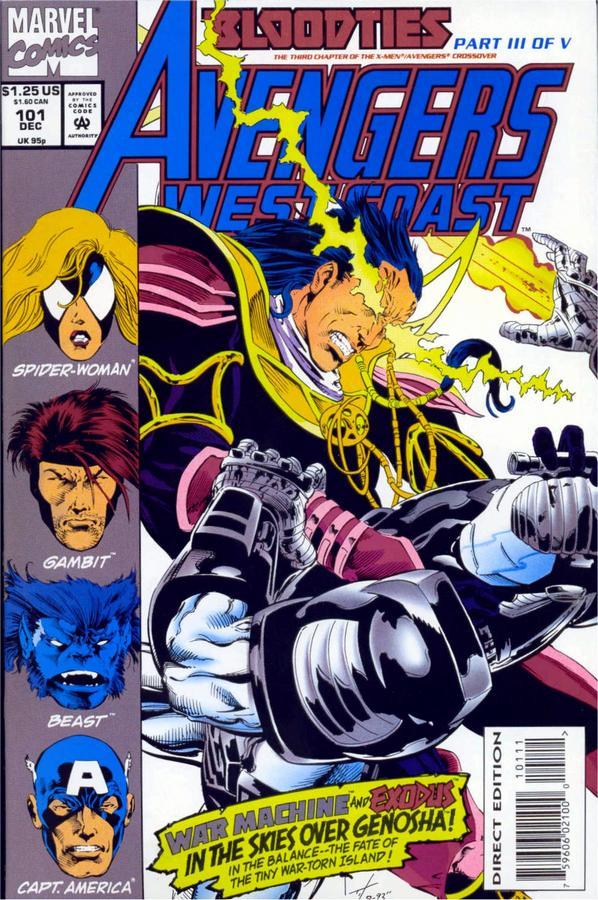 West Coast Avengers, Vol. 2, Issue 101 (December 1993)
WEST COAST CREDITS!
Writer: Roy Thomas
Penciler: David Ross
Inker:  Tim Dzon
WEST COAST SUMMARY!
While the team deals with the loss of one of its founding members, Hawkeye must make a difficult decision.
WEST COAST THOUGHTS!
And that's a shame. After three solid consecutive issues capped off with a giant anniversary blowout, the book is once again sucked into a crossover. This time it's "Bloodties". To keep things simple, let's refer to the always trusty Wikipedia:
 "Bloodties", a 1993 Avengers/X-Men crossover and a direct sequel to the X-Men "Fatal Attractions" story line. It details the fallout from Charles Xavier's infamous mindwipe of Magneto and Magneto's ultimate defeat. The story details a civil war between the human and mutant populations of Genosha, incited by Magneto's former protogé Fabian Cortez. Unaware of Magneto's incapacitation, Cortez attempted to shield himself from his former master's wrath by kidnapping Magneto's granddaughter Luna. However, as Luna's father Quicksilver had strong ties to the X-Men and her mother Crystal was a member of the Avengers, both teams became involved in the Genoshan conflict. The situation was further complicated by Magneto's lieutenant and self-proclaimed heir Exodus, who sought to kill both Cortez for his betrayal and Luna for "disgracing" Magneto's line by being merely human.
This is the third of five parts. Keeping in mind, this is the penultimate issue of the series and it's being derailed into an X-Men event.
Let's see if I can figure things out based on this issue. Hawkeye and some of the Avengers are at the U.N. trying to get permission to enter Genosha, as the country has entered a civil war involving mutants and humans. As a U.N.-sanctioned team, the Avengers are not allowed to interfere with a sovereign nation. Hawkeye just sees a bunch of politicians stalling and threatens to scrap their U.N. charter if that means getting the job done.
And this is probably the issue's biggest problem: how it completely ignores the death of Hawkeye's wife. The last time we saw him he was mourning her loss at her grave and now he's back to being cocky in front of a U.N. assembly.
Too bad.
The other Avengers are already in Genosha and they've come face to face with Exodus who is openly killing humans but claiming self defense. This doesn't please Captain America especially, and even a mutant like Scarlet Witch can see the error in Exodus' ways. War Machine is the first to lose his patience and goes after Exodus.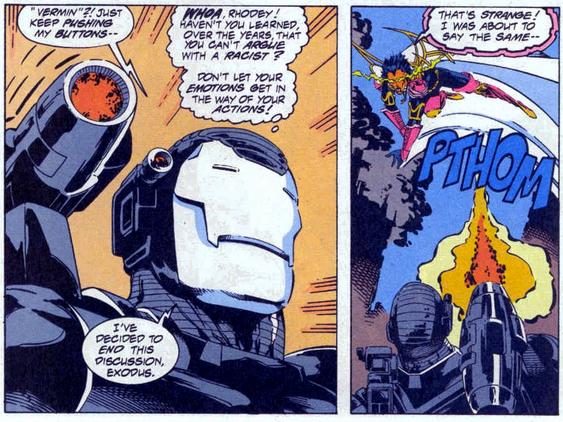 Despite the team's interference, the country is in the middle of a civil war, and both sides are too blind with rage to even consider the Avengers' attempt at mediation.
Meanwhile, in the sewers below the capitol, Professor Xavier, U.S. Agent and Beast are on a mission of their own. Despite Beast and U.S. Agent's constant sniping at one another, they uncover hundreds of mutants being locked away under inhumane conditions, guarded by Genosha's president's Magistrate Elite.
On the other side of the city, the X-Men are battling the Unforgiven along with Fabian Cortez. Once the bad guys are disposed of, Cyclops threatens Cortez only to discover that it's not really him, but a shape-shifter.
The issue ends with Exodus disposing of War Machine and being confronted by Sersi, one of the Eternals.
WEST BOAST OR ROAST?
Boast. Despite a lot of big set pieces, not a lot happens in this issue. And knowing that this is the penultimate issue only makes things worse. The team just lost a major player last issue and that's swept under a rug to accommodate a crossover that the series has no business being a part of. And it's not like they were using this to drive sales up to save the book because the final issue was probably already in the can by this point.
WEST COAST SCENE (OF THE WEEK)!
With Hawkeye not around, U.S. Agent hopes Beast will stand in for him…
Previously on West Coast Wednesdays…
West Coast Avengers Vol. 1, #1
West Coast Avengers Vol. 1, #2
West Coast Avengers Vol. 1, #3
West Coast Avengers Vol. 1, #4
Avengers Vol. 1, #250
Iron Man Annual #7
West Coast Avenger Vol. 2, #1
The Vision and Scarlet Witch #1
West Coast Avengers Vol. 2, #2
The Vision and Scarlet Witch #2
West Coast Avengers Vol. 2, #3
West Coast Avengers Vol. 2, #4
West Coast Avengers Vol. 2, #5
West Coast Avengers Vol. 2, #6
West Coast Avengers Vol. 2, #7
West Coast Avengers Vol. 2, #8
West Coast Avengers Vol. 2, #9
West Coast Avengers Vol. 2, #10
West Coast Avengers Vol. 2, #11
West Coast Avengers Vol. 2, #12
West Coast Avengers Vol. 2, #13
Avengers Annual #15
West Coast Avengers Annual #1
West Coast Avengers Vol. 2, #14
West Coast Avengers Vol. 2, #15
West Coast Avengers Vol. 2, #16
West Coast Avengers Vol. 2, #17
West Coast Avengers Vol. 2, #18
West Coast Avengers Vol. 2, #19
West Coast Avengers Vol. 2, #20
West Coast Avengers Vol. 2, #21
West Coast Avengers Vol. 2, #22
West Coast Avengers Vol. 2, #23
West Coast Avengers Vol. 2, #24
West Coast Avengers Annual #2
Avengers Annual #16
Silver Surfer #3
West Coast Avengers Vol. 2, #25
West Coast Avengers Vol. 2, #26
West Coast Avengers Vol. 2, #27
West Coast Avengers Vol. 2, #28
West Coast Avengers Vol. 2, #29
West Coast Avengers Vol. 2, #30
West Coast Avengers Vol. 2, #31
West Coast Avengers Vol. 2, #32
West Coast Avengers Vol. 2, #33
West Coast Avengers Vol. 2, #34
West Coast Avengers Vol. 2, #35
West Coast Avengers Vol. 2, #36
West Coast Avengers Annual #3
West Coast Avengers Vol. 2, #37
West Coast Avengers Vol. 2, #38
West Coast Avengers Vol. 2, #39
West Coast Avengers Vol. 2, #40
West Coast Avengers Vol. 2, #41
West Coast Avengers Vol. 2, #42
West Coast Avengers Vol. 2, #43
West Coast Avengers Vol. 2, #44
West Coast Avengers Vol. 2, #45
West Coast Avengers Vol. 2, #46
West Coast Avengers Vol. 2, #47
West Coast Avengers Vol. 2, #48
West Coast Avengers Vol. 2, #49
West Coast Avengers Vol. 2, #50
West Coast Avengers Annual #4
West Coast Avengers Vol. 2, #51
West Coast Avengers Vol. 2, #52
West Coast Avengers Vol. 2, #53
Avengers Vol. 1, #312 
West Coast Avengers Vol. 2, #54
Avengers Vol. 1, #313 
West Coast Avengers Vol. 2, #55
West Coast Avengers Vol. 2, #56
West Coast Avengers Vol. 2, #57
West Coast Avengers Vol. 2, #58
West Coast Avengers Vol. 2, #59
West Coast Avengers Vol. 2, #60
West Coast Avengers Vol. 2, #61
West Coast Avengers Vol. 2, #62
West Coast Avengers Annual #5
West Coast Avengers Vol. 2, #63
West Coast Avengers Vol. 2, #64
West Coast Avengers Vol. 2, #65
Avengers Spotlight #38 
West Coast Avengers Vol. 2, #66
West Coast Avengers Vol. 2, #67
West Coast Avengers Vol. 2, #68
West Coast Avengers Vol. 2, #69
West Coast Avengers Vol. 2, #70
West Coast Avengers Vol. 2, #71
West Coast Avengers Vol. 2, #72
West Coast Avengers Vol. 2, #73
West Coast Avengers Vol. 2, #74
West Coast Avengers Annual #6
West Coast Avengers Vol. 2, #75
West Coast Avengers Vol. 2, #76
West Coast Avengers Vol. 2, #77
West Coast Avengers Vol. 2, #78
West Coast Avengers Vol. 2, #79
West Coast Avengers Vol. 2, #80
West Coast Avengers Vol. 2, #81
West Coast Avengers Vol. 2, #82
West Coast Avengers Vol. 2, #83
West Coast Avengers Vol. 2, #84
West Coast Avengers Vol. 2, #85
West Coast Avengers Vol. 2, #86
West Coast Avengers Annual #7
West Coast Avengers Vol. 2, #87
West Coast Avengers Vol. 2, #88
West Coast Avengers Vol. 2, #89
West Coast Avengers Vol. 2, #90
West Coast Avengers Vol. 2, #91
West Coast Avengers Vol. 2, #92
West Coast Avengers Vol. 2, #93
West Coast Avengers Vol. 2, #94
West Coast Avengers Vol. 2, #95
West Coast Avengers Vol. 2, #96
West Coast Avengers Vol. 2, #97
West Coast Avengers Vol. 2, #98
West Coast Avengers Annual #8
West Coast Avengers Vol. 2, #99
West Coast Avengers Vol. 2, #100