West Coast Wednesdays: West Coast Avengers Vol. 2, #102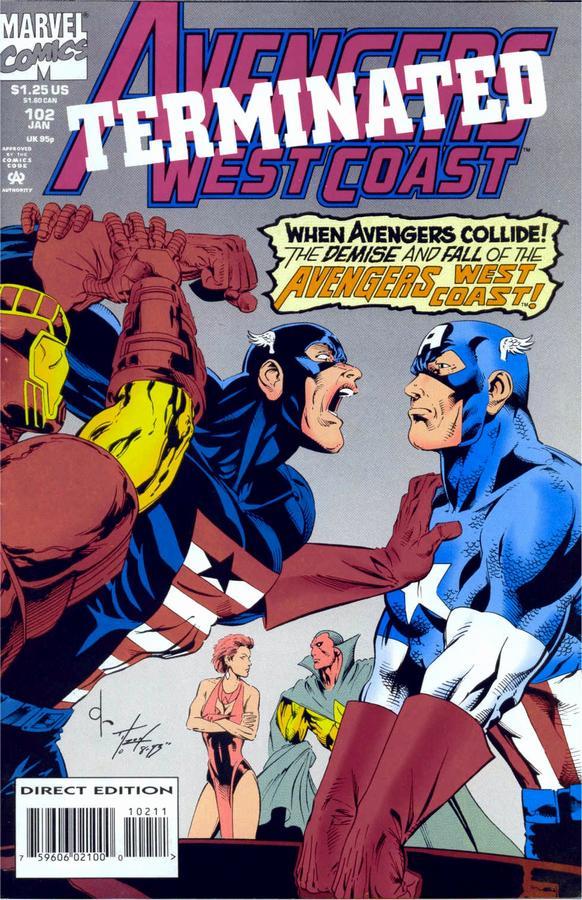 West Coast Avengers, Vol. 2, Issue 102 (January 1994)
WEST COAST CREDITS!
Writer: Dan Abnett and Andy Lanning
Penciler: David Ross
Inker:  Tim Dzon
WEST COAST SUMMARY!
The final issue.
WEST COAST THOUGHTS!
Roy and Dann Thomas are nowhere to be seen (all fairness, Dann Thomas has been absent for a few issues by this point) and Dan Abnett and Andy Lanning have stepped in to give the series a proper farewell. Which isn't exactly true as there's a specific reason why these two writers were chosen for this issue, which I'll get to soon enough.
Way back in May of 1984, Vision proposed the creation of the West Coast Avengers:
And a decade later, Vision changes his mind:
Vision calls together all active Avengers to basically humiliate the West coast branch. "Any assessment of the West Coast performance must conclude that it is an understudy operation, overshadowed by the power and competence of the original Avengers…The problems are becoming abundantly clear. Avengers West has failed, conceptually and practically."
And that's the nice part.
The West Coast Avengers is down to Scarlet Witch (who suddenly has a new costume and haircut), War Machine, Spider-Woman and U.S. Agent (Hawkeye has disappeared), and none of them are taking this lying down. Iron Man shows up unannounced and argues that the problem doesn't lie so much on there being two different teams, but the notion of what an Avenger is has changed in recent years. Captain America argues this, causing U.S. Agent to smash the table looking for a fight. Iron Man comes up behind U.S. Agent and says, "Not here. Not now. Not ever."
When lunch is served, everyone takes a break, but there's plenty of tension in the air. When Iron Man tries to approach and reconcile with War Machine, he quits the team and flies off. When Captain America lectures Iron Man on his lack of team unity, U.S. Agent almost comes to blows with Captain America. He's stopped in the nick of time by Iron Man who reiterates what he said before.
After all this drama, the team reconvenes to vote on disbanding the West Coast Avengers.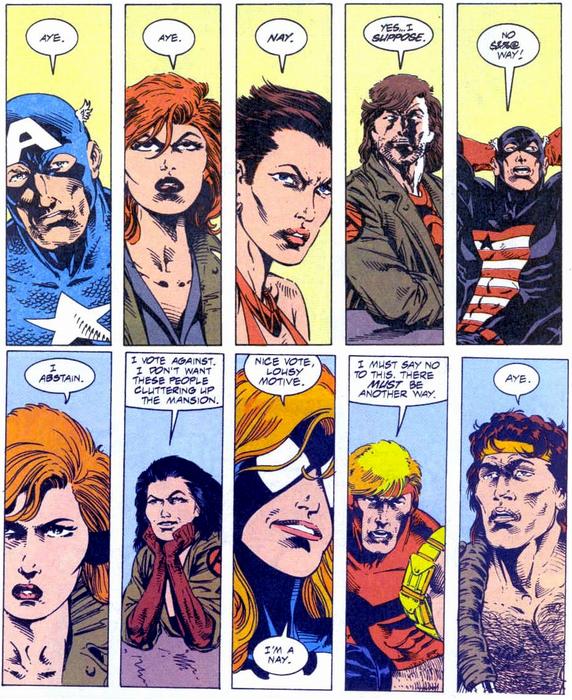 With Vision voting in the affirmative, it's a tie, leaving Iron Man with the final vote. And his answer is…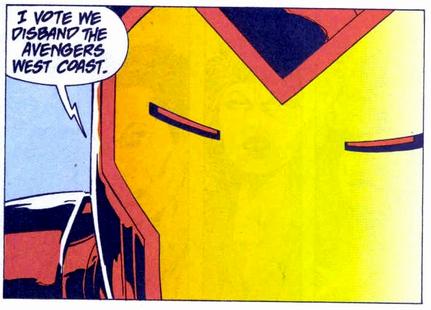 His teammates are shocked by his decision. When Captain America calls him on it, Iron Man responds, "The team can't continue to function with your resentment and lack of support." With that said, Captain America announces that members of the West Coast Avengers are now on reservist status.
Scarlet Witch promptly quits the team. Iron Man follows. U.S. Agent is next. And finally Spider-Woman quits.
We wrap up the issue with U.S. Agent throwing his uniform and shield into the waters near the Statue of Liberty, saying that he doesn't believe in anything anymore. And the final page shows Wonder Man returning to the empty compound announcing that he's ready to be a West Coast Avenger again. Iron Man is there to break the bad news.
The issue ends with this threat: The end…and just the beginning.
Which is why Dan Abnett and Andy Lanning are the writers, as this is not only an epilogue to the West Coast Avengers, but a prologue to Force Works, a spin-off book featuring Iron Man, Wonder Man, Spider-Woman, Scarlet Witch and U.S. Agent (in a new costume). It would run 22 issues. And if you think I'm going to read those next, you're crazier than I've been for the last two and half years.
WEST BOAST OR ROAST?
Boast. Not a bad way to wrap up the series. It's interesting that Vision's assessment of the team mirrors the criticism I've leveled at the book during the course of this experiment. Still, it's a shame Hawkeye was taken off the table for this issue. It would've been nice to not only see how he's dealing with the loss of Mockingbird (which the previous issue tragically neglected), but see his reaction to his baby being destroyed. There would've been a lot of emotion to mine with that.
WEST COAST SCENE (OF THE WEEK)!
Simon, late to the party as always…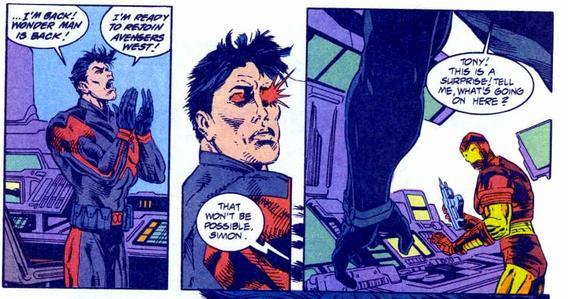 Previously on West Coast Wednesdays…
West Coast Avengers Vol. 1, #1
West Coast Avengers Vol. 1, #2
West Coast Avengers Vol. 1, #3
West Coast Avengers Vol. 1, #4
Avengers Vol. 1, #250
Iron Man Annual #7
West Coast Avenger Vol. 2, #1
The Vision and Scarlet Witch #1
West Coast Avengers Vol. 2, #2
The Vision and Scarlet Witch #2
West Coast Avengers Vol. 2, #3
West Coast Avengers Vol. 2, #4
West Coast Avengers Vol. 2, #5
West Coast Avengers Vol. 2, #6
West Coast Avengers Vol. 2, #7
West Coast Avengers Vol. 2, #8
West Coast Avengers Vol. 2, #9
West Coast Avengers Vol. 2, #10
West Coast Avengers Vol. 2, #11
West Coast Avengers Vol. 2, #12
West Coast Avengers Vol. 2, #13
Avengers Annual #15
West Coast Avengers Annual #1
West Coast Avengers Vol. 2, #14
West Coast Avengers Vol. 2, #15
West Coast Avengers Vol. 2, #16
West Coast Avengers Vol. 2, #17
West Coast Avengers Vol. 2, #18
West Coast Avengers Vol. 2, #19
West Coast Avengers Vol. 2, #20
West Coast Avengers Vol. 2, #21
West Coast Avengers Vol. 2, #22
West Coast Avengers Vol. 2, #23
West Coast Avengers Vol. 2, #24
West Coast Avengers Annual #2
Avengers Annual #16
Silver Surfer #3
West Coast Avengers Vol. 2, #25
West Coast Avengers Vol. 2, #26
West Coast Avengers Vol. 2, #27
West Coast Avengers Vol. 2, #28
West Coast Avengers Vol. 2, #29
West Coast Avengers Vol. 2, #30
West Coast Avengers Vol. 2, #31
West Coast Avengers Vol. 2, #32
West Coast Avengers Vol. 2, #33
West Coast Avengers Vol. 2, #34
West Coast Avengers Vol. 2, #35
West Coast Avengers Vol. 2, #36
West Coast Avengers Annual #3
West Coast Avengers Vol. 2, #37
West Coast Avengers Vol. 2, #38
West Coast Avengers Vol. 2, #39
West Coast Avengers Vol. 2, #40
West Coast Avengers Vol. 2, #41
West Coast Avengers Vol. 2, #42
West Coast Avengers Vol. 2, #43
West Coast Avengers Vol. 2, #44
West Coast Avengers Vol. 2, #45
West Coast Avengers Vol. 2, #46
West Coast Avengers Vol. 2, #47
West Coast Avengers Vol. 2, #48
West Coast Avengers Vol. 2, #49
West Coast Avengers Vol. 2, #50
West Coast Avengers Annual #4
West Coast Avengers Vol. 2, #51
West Coast Avengers Vol. 2, #52
West Coast Avengers Vol. 2, #53
Avengers Vol. 1, #312 
West Coast Avengers Vol. 2, #54
Avengers Vol. 1, #313 
West Coast Avengers Vol. 2, #55
West Coast Avengers Vol. 2, #56
West Coast Avengers Vol. 2, #57
West Coast Avengers Vol. 2, #58
West Coast Avengers Vol. 2, #59
West Coast Avengers Vol. 2, #60
West Coast Avengers Vol. 2, #61
West Coast Avengers Vol. 2, #62
West Coast Avengers Annual #5
West Coast Avengers Vol. 2, #63
West Coast Avengers Vol. 2, #64
West Coast Avengers Vol. 2, #65
Avengers Spotlight #38 
West Coast Avengers Vol. 2, #66
West Coast Avengers Vol. 2, #67
West Coast Avengers Vol. 2, #68
West Coast Avengers Vol. 2, #69
West Coast Avengers Vol. 2, #70
West Coast Avengers Vol. 2, #71
West Coast Avengers Vol. 2, #72
West Coast Avengers Vol. 2, #73
West Coast Avengers Vol. 2, #74
West Coast Avengers Annual #6
West Coast Avengers Vol. 2, #75
West Coast Avengers Vol. 2, #76
West Coast Avengers Vol. 2, #77
West Coast Avengers Vol. 2, #78
West Coast Avengers Vol. 2, #79
West Coast Avengers Vol. 2, #80
West Coast Avengers Vol. 2, #81
West Coast Avengers Vol. 2, #82
West Coast Avengers Vol. 2, #83
West Coast Avengers Vol. 2, #84
West Coast Avengers Vol. 2, #85
West Coast Avengers Vol. 2, #86
West Coast Avengers Annual #7
West Coast Avengers Vol. 2, #87
West Coast Avengers Vol. 2, #88
West Coast Avengers Vol. 2, #89
West Coast Avengers Vol. 2, #90
West Coast Avengers Vol. 2, #91
West Coast Avengers Vol. 2, #92
West Coast Avengers Vol. 2, #93
West Coast Avengers Vol. 2, #94
West Coast Avengers Vol. 2, #95
West Coast Avengers Vol. 2, #96
West Coast Avengers Vol. 2, #97
West Coast Avengers Vol. 2, #98
West Coast Avengers Annual #8
West Coast Avengers Vol. 2, #99
West Coast Avengers Vol. 2, #100
West Coast Avengers Vol. 2, #101