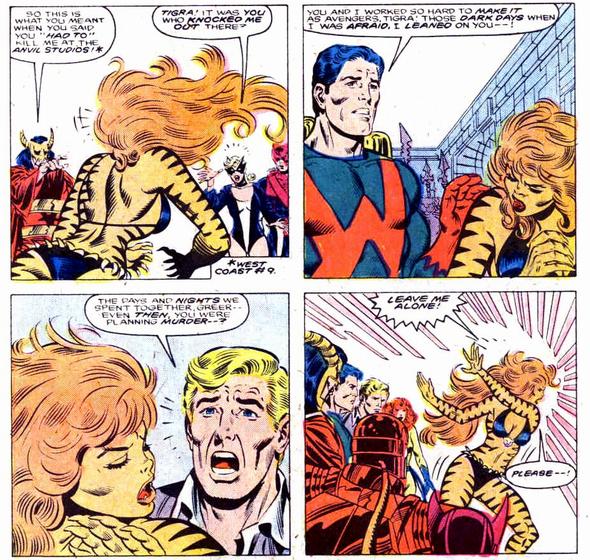 West Coast Wednesdays: West Coast Avengers Vol. 2, #15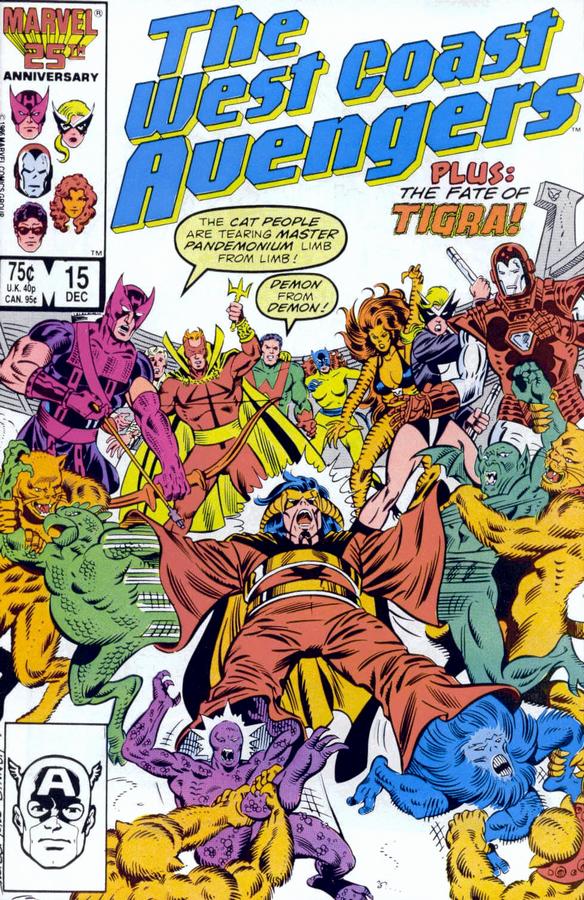 West Coast Avengers, Vol. 2, Issue 15 (December 1986)
WEST COAST CREDITS!
Writer: Steve Englehart
Layouts: Al Milgrom
Finishes: Joe Sinnott
WEST COAST SUMMARY!
The team, along with Hellstorm, Hellcat and Master Pandemonium, are trapped on a boat…on the River of Death…in hell (work with me here!). Eventually, the boat arrives in Cat Land, but not before Master Pandemonium finishes telling everyone his origin story. Lots of storylines come together here as Tigra's fate is finally revealed and Master P finally gets what's coming to him.
WEST COAST THOUGHTS!
There's a lot going on in this issue, as Englehart is wrapping up some of the storylines that have been weaving in and out of this title since the mini-series.
The conclusion to Master Pandemonium's origin is as screwed up as the first part, with Mephisto being a real jerk. You see, Mephisto, not content with stealing his arms and replacing them with demons, also took Master P's soul and cut it into five pieces. Now Master P is on the ultimate scavenger hunt to retrieve his soul. Now that I think about it, Mephisto comes across as being rather terrifying here, and I realize that it's been a long time since he's been this way in the Marvel Universe. Lately he's more of an Easy Fix for writers to use rather than a monstrous force of evil.
The ship conveniently arrives in Cat Land. It's here where the team finally learns about Tigra's bargain to kill Master P for the Cat King. Naturally everyone takes this pretty hard, especially Pym who can't quite get over the fact that she was planning murder while sleeping in his bed (see below).
The Cat People, like the cover suggests, remove the demons from Master P's body, making him a quadriplegic. Now it's up to Tigra to seal the deal and kill him…but, she can't! So the Cat King takes away her Tigra soul once and for all!
Eventually, it's up to Greer Nelson and the team to break out of Cat Land and make things right. In the process, Nelson wears Hellcat's outfit and takes down Balkatar and reclaims her Tigra soul, which for some reason, has strengthened in the king's care. Because Nelson is wearing Hellcat's suit, it keeps her human side intact and she is now Tigra with Nelson's soul.
If this doesn't make any sense to you, please do not cry. I read the issue and it doesn't really make any sense. Unfortunately, I did in fact cry like Matt Damon in Good Will Hunting.
The issue ends with Master P getting back 1/5 of his soul, threatening the team and jumping into the River of Oblivion, which is not to be confused with the River of Death. And because this is just another normal day for the West Coast Avengers, Hawkeye proposes they have a BBQ.
WEST BOAST OR ROAST?
Boast. Okay, I'll let this issue go. I appreciate Englehart wrapping things up despite all the melodrama. Once you let go of logic and stop questioning every bad decision, the issue works well.
WEST COAST SCENE (OF THE WEEK)!
Take note, people, if you're sleeping in Pym's bed, it's only dirty thoughts, not murder.