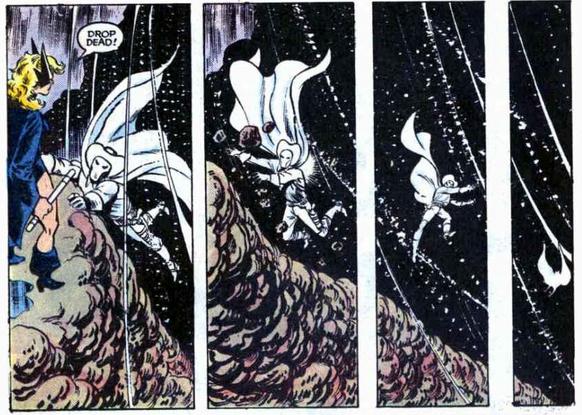 West Coast Wednesdays: West Coast Avengers Vol. 2, #23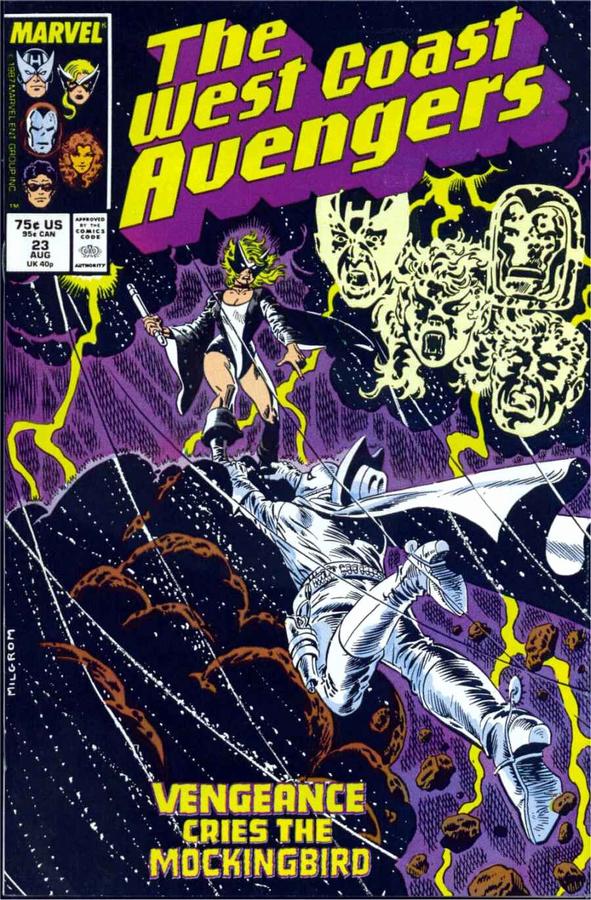 West Coast Avengers, Vol. 2, Issue 23 (August 1987)
WEST COAST CREDITS!
Writer: Steve Englehart
Layouts: Al Milgrom
Finishes: Romeo Tanghal
WEST COAST SUMMARY!
The story splits again, this time from six to seven (this never gets old!) as we follow everybody from the West Coast Avengers to Doctors Doom and Strange. This is it! It's Showtime!
WEST COAST THOUGHTS!
Part 7 of the West Coast Avengers "greatest adventure" continues with lots of jumping around through time.
Like last issue, regular inker Joe Sinnott is not onboard this time. Looks like Romeo Tanghal is stepping in, and it's not half bad. I'm beginning to suspect that even though Al Milgrom is a competent penciler, his work comes across as being flat no matter who's inking him.
A surprisingly large amount of this issue is Pym working with the Fantastic Four to get the time machine working again to save the team. While it initially seems like a waste, there's a lot of work being done here to reestablish Pym as a valuable asset. It's a lot of fun seeing the Thing working with the team again, even though he's in severe mopey mode.
Moon Knight sulking around in the background while everyone else is hard at work on the time machine is also an interesting choice. Even the Invisible Woman seems put off by his presence ("That man wears mystery around him like a second cloak."). Luckily just when the Moon Knight's appearance in the issue seems pointless, Englehart sees an opportunity for two pages of exposition recapping his origin. This is made even stupider by the fact that Moon Knight is simply reflecting on his origin and not sharing it with anyone.
In 1876, Mockingbird catches up with the Phantom Rider to get her revenge. This naturally leads to a dramatic fight where he tries to calmly explain why it was necessary to drug and seduce her. The fight ends with Mockingbird knocking him over a ledge. As he pleads for her to help him up, she reacts very unAvenger-like (see below) despite the fact that by definition she is avenging.
Once the time machine is ready to go, Hank, Firebird and Moon Knight jump back to ancient Egypt to get the team. There's a nice reunion with hugging and hair touching (the team's definition of intimacy makes Tony and Angela from Who's the Boss? look raunchy) and then they're off to 1876 to get Mockingbird. Hawkeye and Mockingbird are finally reunited (and to Englehart and Milgrom's credit, they make this scene work). Most importantly, when asked about the Phantom Rider, Mockingbird said that he killed himself.
The issue ends with the team heading back to the future to take care of Dominus, the lame villain who started this whole mess to begin with.
WEST BOAST OR ROAST?
Boast. A few surprisingly effective emotional moments make this issue work wonders.
WEST COAST SCENE (OF THE WEEK)!
She knows how to let a man down easy…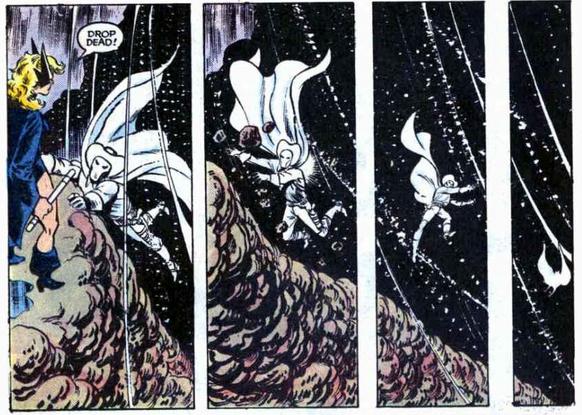 Previously on West Coast Wednesdays…
West Coast Avengers Vol. 1, #1
West Coast Avengers Vol. 1, #2
West Coast Avengers Vol. 1, #3
West Coast Avengers Vol. 1, #4
West Coast Avengers Vol. 2, #1
The Vision and Scarlet Witch #1
West Coast Avengers Vol. 2, #2
The Vision and Scarlet Witch #2
West Coast Avengers Vol. 2, #3
West Coast Avengers Vol. 2, #4
West Coast Avengers Vol. 2, #5
West Coast Avengers Vol. 2, #6
West Coast Avengers Vol. 2, #7
West Coast Avengers Vol. 2, #8
West Coast Avengers Vol. 2, #9
West Coast Avengers Vol. 2, #10
West Coast Avengers Vol. 2, #11
West Coast Avengers Vol. 2, #12
West Coast Avengers Vol. 2, #13
West Coast Avengers Vol. 2, #14
West Coast Avengers Vol. 2, #15
West Coast Avengers Vol. 2, #16
West Coast Avengers Vol. 2, #17
West Coast Avengers Vol. 2, #18
West Coast Avengers Vol. 2, #19
West Coast Avengers Vol. 2, #20
West Coast Avengers Vol. 2, #21