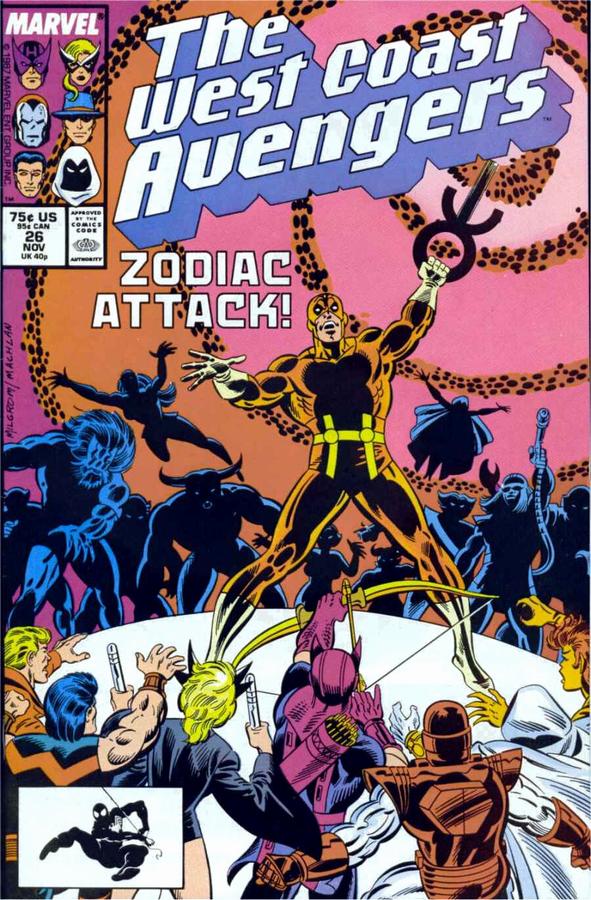 West Coast Avengers, Vol. 2, Issue 26 (November 1987)
WEST COAST CREDITS!
Writer: Steve Englehart
Layouts: Al Milgrom
Inks: Mike Machlan
WEST COAST SUMMARY!
The evil Zodiac Cartel (last seen in West Coast Avengers Annual #1) convene to discuss a serious problem involving lots and lots of exposition and Life Model Decoys (LMDs). You see, the evil Zodiac Cartel (apparently not last seen in West Coast Avengers Annual #1 afterall) are being attacked from within and replaced by their LMDs to form an evil-evil Zodiac Cartel. The Human Taurus, the last survivor after being ambushed, comes to the West Coast Avengers for help in taking down the evil-evil Zodiac Cartel.
WEST COAST THOUGHTS!
Part of my PhD work is looking at Grant Morrison's attempt to "wake up" fiction. He talks about it here in this interview:
Think of a STORY. My contention is that a story can be made sufficiently complex that it achieves some measure of self-awareness… I'd like to see if I can deliberately 'wake up' a story and let it make its own decisions.
Well, if comic books need to be "sufficiently complex" for it to become self-aware, the West Coast Avengers should have come to life a long, long time ago and taken over the planet. Englehart's stories are so needlessly complicated with continuity it's frightening. Plus his insistence on using exposition to the point of distraction and making every event – big or small – that happened in Marvel comics count (I know I praised him for this last week…uh…apparently I was drunk!) is becoming a serious problem for this book. The overuse of exposition and flashbacks is killing the story. Anytime it feels like the story is gaining momentum, someone decides to flashback the crap out of the reader. The first flashback takes place on the second panel of the second page, and the first page is a splash page!
If I'm understanding this issue right, the Zodiac Cartel meet because the West Coast Avengers recently fought their evil doppelgängers (LMDs), and since they've recently been freed from prison, they're concerned they may cause trouble for the real Cartel. But as this is being explained at the meeting, one of the members reveals himself to be the undead/alive LMD of Jake Fury (brother of Nick Fury). And the meeting turns out to be a trap as the evil-evil Zodiac Cartel attacks the evil Zodiac Cartel. The Human Taurus is the only one who escapes and he makes a run for the West Coast Avengers for help.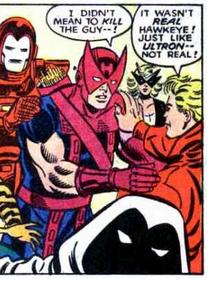 Taurus agrees to assist the team by promising to turn good once all of this is over. This is really Moon Knight's move, as he feels that "the moon's in Taurus — and he and I both understand the power of the night sphere!" And if that makes any sense to you, then I encourage you to take a Moon Oath with Moon Knight sometime.
Oh, Tigra returns after being inexplicably absent last issue. It appears she was chasing squirrels in trees the whole time.
The evil-evil Zodiac Cartel come face-to-face with the West Coast Avengers while they're robbing a Breeder's Cattle Auction. Let that sink in for a minute. I mean, when's the last time the Avengers had to stop a robbery at a cattle auction? This is why the West Coast Avengers are so hardcore!
Hawkeye accidentally kills one of the members of the evil-evil Zodiac Cartel, and even though he knows it wasn't a real person, he's pretty torn up about it; which only makes Mockingbird's guilt for letting the Phantom Rider die worse.
WEST BOAST OR ROAST?
Roast. Three words: Cattle Auction Robbery.
WEST COAST SCENE (OF THE WEEK)!
Scorpio isn't interested in having any Red Bull. He's high on life!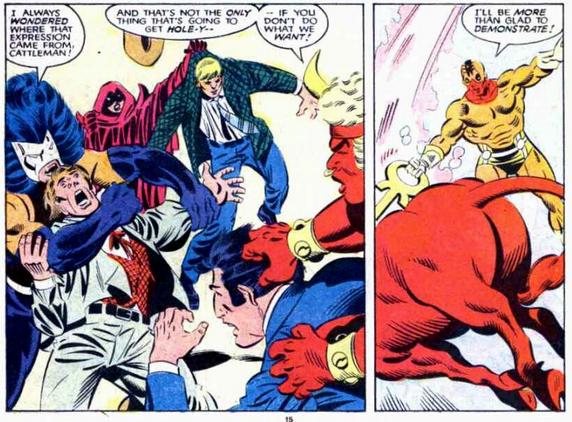 Previously on West Coast Wednesdays…
West Coast Avengers Vol. 1, #1
West Coast Avengers Vol. 1, #2
West Coast Avengers Vol. 1, #3
West Coast Avengers Vol. 1, #4
The Vision and Scarlet Witch #1
West Coast Avengers Vol. 2, #2
The Vision and Scarlet Witch #2
West Coast Avengers Vol. 2, #3
West Coast Avengers Vol. 2, #4
West Coast Avengers Vol. 2, #5
West Coast Avengers Vol. 2, #6
West Coast Avengers Vol. 2, #7
West Coast Avengers Vol. 2, #8
West Coast Avengers Vol. 2, #9
West Coast Avengers Vol. 2, #10
West Coast Avengers Vol. 2, #11
West Coast Avengers Vol. 2, #12
West Coast Avengers Vol. 2, #13
West Coast Avengers Vol. 2, #14
West Coast Avengers Vol. 2, #15
West Coast Avengers Vol. 2, #16
West Coast Avengers Vol. 2, #17
West Coast Avengers Vol. 2, #18
West Coast Avengers Vol. 2, #19
West Coast Avengers Vol. 2, #20
West Coast Avengers Vol. 2, #21
West Coast Avengers Vol. 2, #22
West Coast Avengers Vol. 2, #23
West Coast Avengers Vol. 2, #24
West Coast Avengers Vol. 2, #25