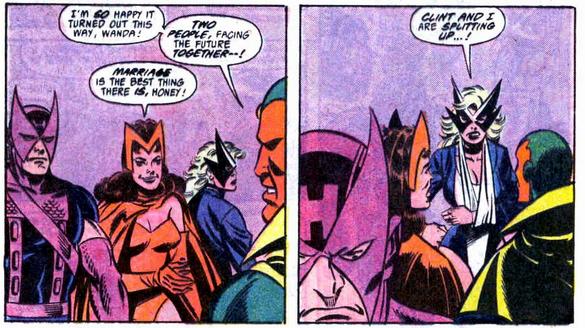 West Coast Wednesdays: West Coast Avengers Vol. 2, #36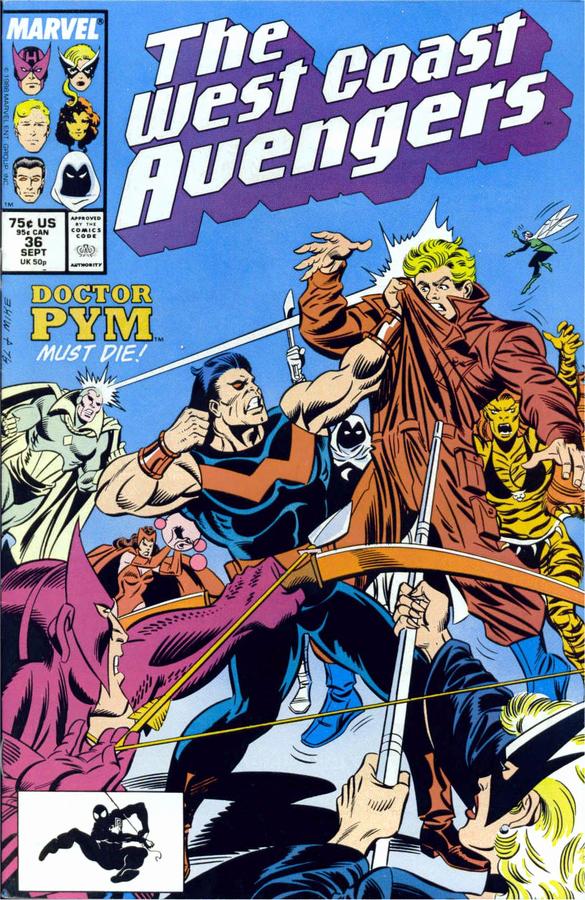 West Coast Avengers, Vol. 2, Issue 36 (September 1988)
WEST COAST CREDITS!
Writer: Steve Englehart
Layouts: Al Milgrom
Finished art: Mike Machlan
WEST COAST SUMMARY!
After a break in Latveria with Doctor Doom, the team returns to Hungary to find out the truth behind Pym's first wife. Is she dead or alive? And more importantly, why is the team trying to kill Pym?
WEST COAST THOUGHTS!
The issue kicks off with the team breaking into the Bratislava prison and everyone's in full exposition mode to help readers who blacked out while reading the previous issue. When they turn a corner, they come face to face with Quicksilver and the Voice, an old villain Pym fought years ago (Tales to Astonish #42) and not to be confused with the hit NBC show airing every week (check local listings for – WAIT A MINUTE!).  The Voice has the ability to make everyone do as he says with his, yes, you guess it, voice!
Quicksilver's plan to take down the team, as he explained in the last two issues, is undermined in less than a page as the Voice takes over. This is Quicksilver's second attempt to destroy the team in two years and it's amazing that his plans are ruined before he even starts. He is truly a terrible villain under Englehart's watchful eye.
The Voice gives Pym a five minute head start to run and hide and then he's sending the team (under his control) to kill him. Imagine "The Most Dangerous Game" crossed with the West Coast Avengers and you know how the next few pages turn out. Pym takes out each member one at a time starting with Hawkeye. Interestingly enough, he's particularly brutal with the women as he crushed the Scarlet Witch with an over-sized camera (yeah, it's dumb on the page too) and breaks Mockingbird's arm.
The issue's big shocker is that Pym's first wife Maria is alive. She's been hooked up to a machine to support her truck-sized brain that was expanded during scientific tests. She is doped up and can only communicate through a computer monitor. She gives Pym a big dose of exposition and then asks him to kill her. Pym naturally refuses and insists that he'll find a cure. It turns out that Maria can control people with her mind, so she undoes the Voice's control of the team and takes care of all the bad guys.
The issue ends with Pym leaving the team to take care of his wife. He also announces that he's Ant Man again! Janet and Hank have an awkward conversation where she acknowledges that since Maria was always alive, they were technically never married. Hank says, "That means we were never really divorced, either. Maybe the time I beat youbad times don't have to count anymore."
It's amazing that any Gen-Xer who grew up reading this stuff can sustain a healthy relationship today.
The issue ends with this week's West Coast Scene (of the Week)!
WEST BOAST OR ROAST?
Boast. I'm okay with this issue. Feels like Englehart is wrapping some things up as there are big changes for the team coming down the line.
WEST COAST SCENE (OF THE WEEK)!
Way to ruin the moment, Mockingbird!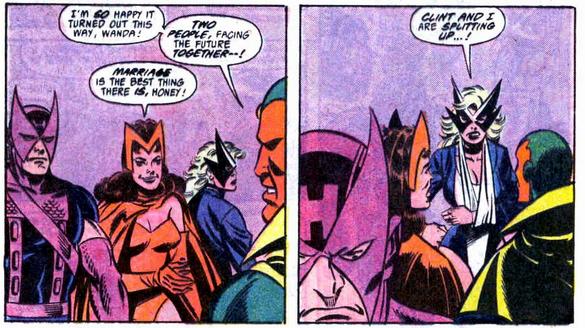 Previously on West Coast Wednesdays…
West Coast Avengers Vol. 1, #1
West Coast Avengers Vol. 1, #2
West Coast Avengers Vol. 1, #3
West Coast Avengers Vol. 1, #4
The Vision and Scarlet Witch #1
West Coast Avengers Vol. 2, #2
The Vision and Scarlet Witch #2
West Coast Avengers Vol. 2, #3
West Coast Avengers Vol. 2, #4
West Coast Avengers Vol. 2, #5
West Coast Avengers Vol. 2, #6
West Coast Avengers Vol. 2, #7
West Coast Avengers Vol. 2, #8
West Coast Avengers Vol. 2, #9
West Coast Avengers Vol. 2, #10
West Coast Avengers Vol. 2, #11
West Coast Avengers Vol. 2, #12
West Coast Avengers Vol. 2, #13
West Coast Avengers Vol. 2, #14
West Coast Avengers Vol. 2, #15
West Coast Avengers Vol. 2, #16
West Coast Avengers Vol. 2, #17
West Coast Avengers Vol. 2, #18
West Coast Avengers Vol. 2, #19
West Coast Avengers Vol. 2, #20
West Coast Avengers Vol. 2, #21
West Coast Avengers Vol. 2, #22
West Coast Avengers Vol. 2, #23
West Coast Avengers Vol. 2, #24
West Coast Avengers Vol. 2, #25
West Coast Avengers Vol. 2, #26
West Coast Avengers Vol. 2, #27
West Coast Avengers Vol. 2, #28
West Coast Avengers Vol. 2, #29
West Coast Avengers Vol. 2, #30
West Coast Avengers Vol. 2, #31
West Coast Avengers Vol. 2, #32
West Coast Avengers Vol. 2, #33
West Coast Avengers Vol. 2, #34