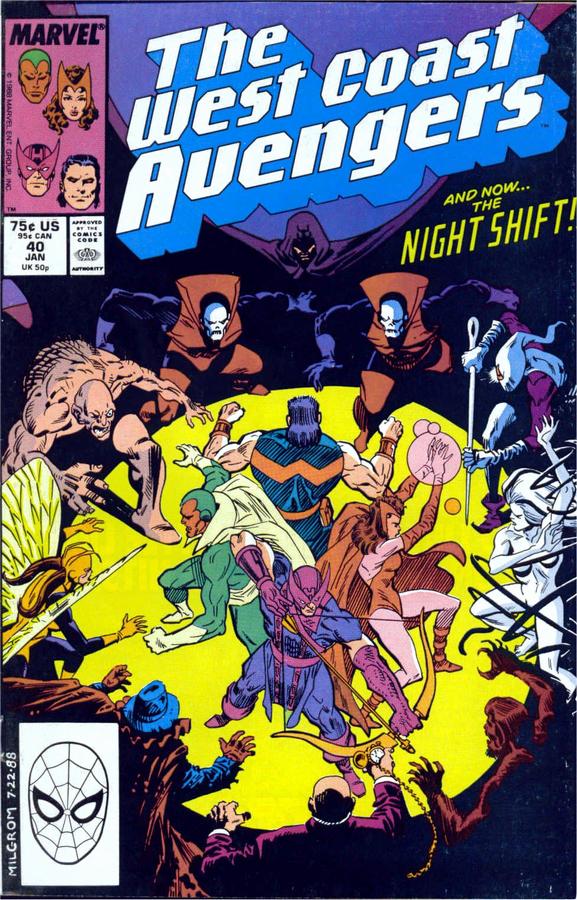 West Coast Avengers, Vol. 2, Issue 40 (January 1989)
WEST COAST CREDITS!
Writer: Mark Gruenwald
Penciler: Al Milgrom
Inker: Al Milgrom
WEST COAST SUMMARY!
After Mockingbird captures a Frankenstein-like character called the Digger, the Night Shift seeks revenge by attacking the West Coast Avengers at their compound. Meanwhile, Mockingbird and her crew break into the Night Shift's lair.
WEST COAST THOUGHTS!
With Steve Englehart out of the picture, it's none other than Mark Gruenwald at the plate. With Gruenwald on board, you know right away that he's simply filling in, as he was one of Marvel's most dependable fill-in writers back in the day. This isn't meant to slight his efforts here, because all things considered, this is a pretty good issue that not only moves along the drama that's been building in this series for the last year, but also connects a dot that's all the way back in the first issue of the original mini-series. In other words, this is the exact opposite of the inventory story from issue #38, which I'm still recovering from.
The issue kicks off with Mockingbird leaping from a building to confront Digger. This Frankenstein-like character is first seen burying people to their necks in the middle of the road in downtown L.A. with concrete. No, I don't think you understand me right. He's using a shovel, scooping up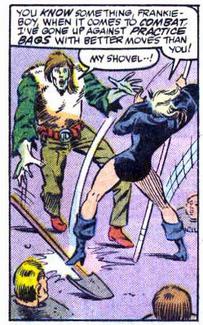 concrete, and burying them up to their necks. Now this isn't chunks of broken concrete, but rather magical dirt-like concrete that packs around the victims like dirt would. This makes me wonder if Al Milgrom, our faithful WCA artist, has ever been outside.
She stops Digger by taking away his shovel (seriously, he's really upset when she knocks his shovel out of his hand! See left!*) and takes him to the police station. Digger, however, is a part of the Night Shift, a group of monster-themed crime fighters, who are lead by none other than the Shroud. When word gets out that Mockingbird got Digger arrested, the Night Shift want revenge and decide to attack the West Coast Avengers, not knowing that she's no longer a member of the team.
The Night Shift arrive at the West Coast Avengers compound in two large hearses and immediately attack the bungalow where the servants live, kidnapping Yolanda, the scantily clad member of the maintenance staff.
Mockingbird, Tigra and Moon Knight decide to attack the Night Shift's headquarters only to find it empty. Luckily for them, the Night Shift was nice enough to leave a note for the Shroud letting him (and them!) know that they were going to see the West Coast Avengers. Mockingbird being Mockingbird, she decides not to warn the team, making this the second time she's put Avengers in danger because of her pride.
The rest of the pages are filled with your obligatory fight scenes where Hawkeye and Vision are outmatched by the Night Shift until Wonder Man shows up to save the day. I've noticed that Wonder Man is this team's Superman, and because of his power set, writers need to work out a way to remove him from the story so that there can be an illusion of tension. In this issue, Wonder Man was simply at a Hollywood party. Well played, Gruenwald.
Eventually, the Shroud shows up to whisk the Night Shift away, and the story ends with Hawkeye and him having a discussion about tactics and leadership. You know, man stuff!
WEST BOAST OR ROAST?
Boast. Nothing mind-blowing here, but Gruenwald makes the story, no matter how ridiculous, work.
WEST COAST SCENE (OF THE WEEK)!
Mark Gruenwald brilliantly captured how women talk in real life.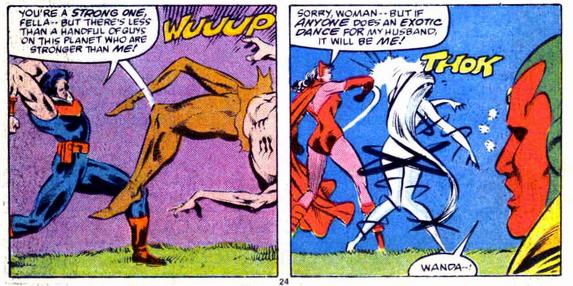 * I hear "My shovel!" in the voice of Adam Sandler doing the janitor from "The Beating of a High School Janitor" when he screams "That's my bucket!" Your interpretation, and mileage, may vary significantly.
Previously on West Coast Wednesdays…
West Coast Avengers Vol. 1, #1
West Coast Avengers Vol. 1, #2
West Coast Avengers Vol. 1, #3
West Coast Avengers Vol. 1, #4
The Vision and Scarlet Witch #1
West Coast Avengers Vol. 2, #2
The Vision and Scarlet Witch #2
West Coast Avengers Vol. 2, #3
West Coast Avengers Vol. 2, #4
West Coast Avengers Vol. 2, #5
West Coast Avengers Vol. 2, #6
West Coast Avengers Vol. 2, #7
West Coast Avengers Vol. 2, #8
West Coast Avengers Vol. 2, #9
West Coast Avengers Vol. 2, #10
West Coast Avengers Vol. 2, #11
West Coast Avengers Vol. 2, #12
West Coast Avengers Vol. 2, #13
West Coast Avengers Vol. 2, #14
West Coast Avengers Vol. 2, #15
West Coast Avengers Vol. 2, #16
West Coast Avengers Vol. 2, #17
West Coast Avengers Vol. 2, #18
West Coast Avengers Vol. 2, #19
West Coast Avengers Vol. 2, #20
West Coast Avengers Vol. 2, #21
West Coast Avengers Vol. 2, #22
West Coast Avengers Vol. 2, #23
West Coast Avengers Vol. 2, #24
West Coast Avengers Vol. 2, #25
West Coast Avengers Vol. 2, #26
West Coast Avengers Vol. 2, #27
West Coast Avengers Vol. 2, #28
West Coast Avengers Vol. 2, #29
West Coast Avengers Vol. 2, #30
West Coast Avengers Vol. 2, #31
West Coast Avengers Vol. 2, #32
West Coast Avengers Vol. 2, #33
West Coast Avengers Vol. 2, #34
West Coast Avengers Vol. 2, #35
West Coast Avengers Vol. 2, #36
West Coast Avengers Vol. 2, #37
West Coast Avengers Vol. 2, #38
West Coast Avengers Vol. 2, #39