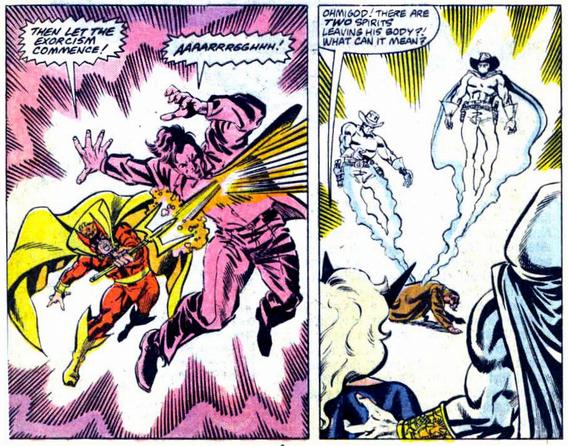 West Coast Wednesdays: West Coast Avengers Vol. 2, #41
West Coast Avengers, Vol. 2, Issue 41 (February 1989)
WEST COAST CREDITS!
Writer: Tom DeFalco (plot) and Ralph Macchio (script)
Penciler: Tom Morgan
Inker: Tom Morgan
WEST COAST SUMMARY!
Mockingbird and the gang, with the help of Daimon Hellstrom, go to the University of Nevada to perform an exorcism on Dr Hamilton Slade, the man unknowingly possessed by the Phantom Rider. But things get out of control fast as two Phantom Riders appear, as well as the ghost of Khonshu…and Lord Seth's army?
WEST COAST THOUGHTS!
Yet another new creative team shows up on the book after Steve Englehart's departure. Tom DeFalco and Ralph Macchio jump in to create a story that's clearly designed to catch most of Englehart's spinning plates. And like Gruenwald in the issue before this, they do a good job in moving things along while being respectful to what's come before. Tom Morgan returns after his one issue run (issue #38). He's credited for doing all the art here, but I'm willing to bet there were other inkers involved because the style changes from page to page. Whereas his previous work in the book looked more like what was to come in the Nineties, this time he looks like he's channeling Al Milgrom.
Mockingbird, Tigra, Moon Knight and Daimon Hellstrom arrive at the University of Nevada to confront Dr Hamilton Slade, the great-great grandson of Lincoln Slade, the Phantom Rider who drugged and raped Mockingbird back in the 19th century (WCW, the sentences you make me type never fail to amaze!). The last time Dr Hamilton Slade showed up in issue #32, when Mockingbird spent pages beating the living shit out of the poor man (of interest, according to this issue, that event happened only a few weeks before). You see, Slade is possessed by the spirit of the Phantom Rider, only he doesn't know it. Hellstrom wants to perform an exorcism to remove the spirit once and for all.
Things are more complicated in this issue for a couple of different reasons. One, Moon Knight has been possessed by the spirit of Khonshu since he joined the team. And two, the shoehorned Lord Seth and his powerful army are fighting against…apparently everything, and they believe that Khonshu "could rally [their] demoralized enemies to a resumption of hostility against [their] legions," and so they need to kill Khonshu. This motive is so flimsy, even Englehart would weep with joy.
When Hellstrom does the exorcism, it's discovered that two Phantom Riders are residing in Hamilton Slade's body, and they don't like one another. One of the aforementioned PRs is Lincoln Slade and the other is Carter Slade, the great-great uncle of Hamilton, and apparently Carter is a good Phantom Rider. And so all hell breaks loose as two Phantom Riders start to duke it out. To make matters worse, Hellstrom frees Moon Knight from the spirit of Khonshu and Lord Seth's army appears out of nowhere to attack everyone.
If this sounds like a mess, that's because it is. Everyone is fighting everyone. When it's all said and done, Carter Slade, the good Phantom Rider, enters Hamilton and tells Mockingbird that he'll spend the rest of his life making amends for the evil Lincoln caused. And Khonshu, separated from Moon Knight, leaves Earth to battle Emperor Seth, leaving our heroes demoralized and confused. This issue ends with Moon Knight and Mockingbird walking away from the team they formed after walking away from the team, leaving Tigra in the woods with Hellstrom to lament and cry.
WEST BOAST OR ROAST?
Boast. My instinct here is to dislike this issue, but I appreciate DeFalco and Macchio's attempts to wrap things up and set up the pins for the new writer coming up.
WEST COAST SCENE (OF THE WEEK)!
My exorcism may cause you slight discomfort!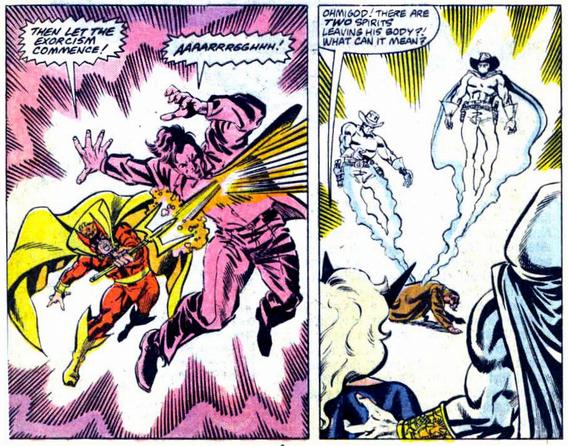 Previously on West Coast Wednesdays…
West Coast Avengers Vol. 1, #1
West Coast Avengers Vol. 1, #2
West Coast Avengers Vol. 1, #3
West Coast Avengers Vol. 1, #4
The Vision and Scarlet Witch #1
West Coast Avengers Vol. 2, #2
The Vision and Scarlet Witch #2
West Coast Avengers Vol. 2, #3
West Coast Avengers Vol. 2, #4
West Coast Avengers Vol. 2, #5
West Coast Avengers Vol. 2, #6
West Coast Avengers Vol. 2, #7
West Coast Avengers Vol. 2, #8
West Coast Avengers Vol. 2, #9
West Coast Avengers Vol. 2, #10
West Coast Avengers Vol. 2, #11
West Coast Avengers Vol. 2, #12
West Coast Avengers Vol. 2, #13
West Coast Avengers Vol. 2, #14
West Coast Avengers Vol. 2, #15
West Coast Avengers Vol. 2, #16
West Coast Avengers Vol. 2, #17
West Coast Avengers Vol. 2, #18
West Coast Avengers Vol. 2, #19
West Coast Avengers Vol. 2, #20
West Coast Avengers Vol. 2, #21
West Coast Avengers Vol. 2, #22
West Coast Avengers Vol. 2, #23
West Coast Avengers Vol. 2, #24
West Coast Avengers Vol. 2, #25
West Coast Avengers Vol. 2, #26
West Coast Avengers Vol. 2, #27
West Coast Avengers Vol. 2, #28
West Coast Avengers Vol. 2, #29
West Coast Avengers Vol. 2, #30
West Coast Avengers Vol. 2, #31
West Coast Avengers Vol. 2, #32
West Coast Avengers Vol. 2, #33
West Coast Avengers Vol. 2, #34
West Coast Avengers Vol. 2, #35
West Coast Avengers Vol. 2, #36
West Coast Avengers Vol. 2, #37
West Coast Avengers Vol. 2, #38
West Coast Avengers Vol. 2, #39