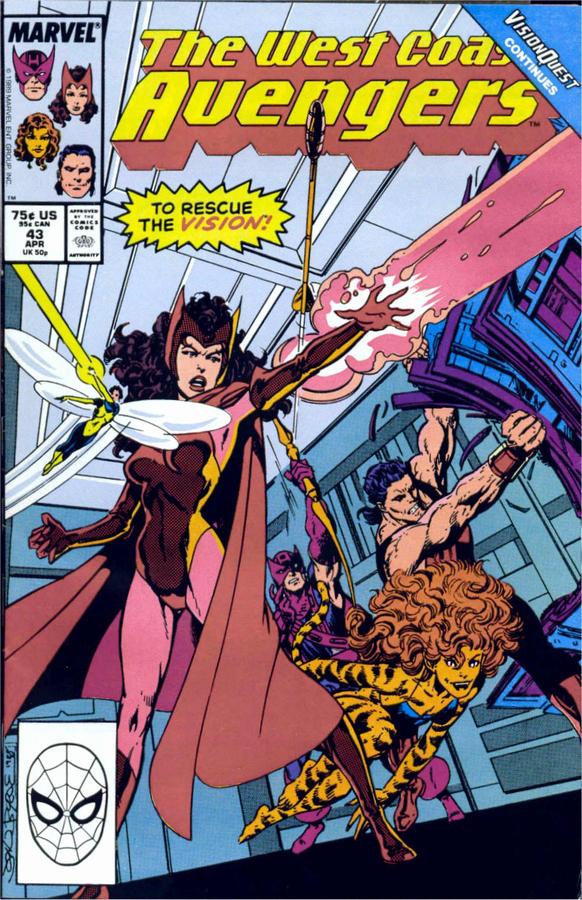 West Coast Avengers, Vol. 2, Issue 43 (April 1989)
WEST COAST CREDITS!
Writer: John Byrne
Penciler: John Byrne
Inker: Mike Machlan
WEST COAST SUMMARY!
Mockingbird explains her betrayal and gives the team the info they need to spring into action and rescue the Vision. But will Scarlet Witch like what she finds?
WEST COAST THOUGHTS!
Mockingbird tells her side of the story regarding her role in the Vision's disappearance. It turns out she was depressed and lost after what went down between her and Hawkeye. She was approached by S.H.I.E.L.D. to help create a contingency plan in the event that Vision were ever to snap and seize control of America's nuclear arsenal (as he did a while back). It was all supposed to be theoretical, but after giving them all of the info they needed, Mockingbird discovers that things are not as they seemed. When she quits, she's taken captive and put into what she believes to be a KGB maximum security cell. It was the Russians all along! After a few weeks, she makes her escape and returns to the West Coast compound to warn the team, but, as we already know, she's too late.
Naturally, the team isn't thrilled with Mockingbird helping people to kidnap and detain an Avenger. Hawkeye isn't shy about making his anger known.
Byrne makes a misstep in reconciling the previous issue's cliffhanger with Mockingbird saying she betrayed the team to this issue's explanation of her being duped. It's even directly addressed by Scarlet Witch, in which Mockingbird answers, "I was…upset. Embarrassed. I've been played for a fool. And when I came in on all of you — I realized I was too late — realized it was all my fault… Well, maybe it was something about seeing Hawkeye again. Seems like he's always had the power to make me say the wrong thing…like 'I do.'" Not only does this feel like a weak excuse to justify the transition, it's also unnecessarily harsh. And while Hawkeye had been written by Englehart to be one dimensional in terms of why they're separated, this feels like the pendulum swinging way too far in the other direction.
It seems that Pym is back to accidentally referring to Janet as "darling" at inopportune moments. For the second issue in the row, Byrne has disregarded the storyline with Hank's previous wife. Interesting.
The team jumps in the quinjet and heads back to the base from where Mockingbird escaped. There are two scenes regarding Hawkeye's inability to effectively lead the team; once when Janet tells Hank what to do, and another time when Hank takes charge. Hawkeye even notes it mentally ("I was in charge again for about half a second there."). Anyway, the team gets into the base and splits up. Wanda and Bobbi discover a technician wandering the hall and Bobbi threatens to kill him with one of the 57 ways she's been trained to unless he gives them the location of Vision.
Wasp infiltrates a cell block in the base and makes a startling discovering which isn't shown. The governess who is watching Scarlet Witch's twins is frightened by something which isn't shown. And the issue ends with Wanda and Bobbi finding Vision, only he's been completely taken apart in an excellent two-page ending. That's three cliffhangers to spring from for next issue. Not bad.
Also worth noting is how the issue continues the brief history of the Vision told through flashbacks that ran through the previous issue, because no WCA book would be complete without some good old fashion exposition.
The book's dramatic jump in quality is making it extremely hard for me to find something to make fun of. Come on, Byrne! Work with me here.
WEST BOAST OR ROAST?
Boast. A bit of a step down from the previous issue, but still miles above where the book's regularly been for years.
WEST COAST SCENE (OF THE WEEK)!
Hawkeye is not interested in your apologies.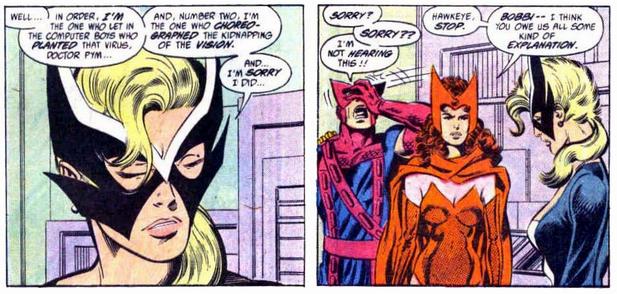 Previously on West Coast Wednesdays…
West Coast Avengers Vol. 1, #1
West Coast Avengers Vol. 1, #2
West Coast Avengers Vol. 1, #3
West Coast Avengers Vol. 1, #4
The Vision and Scarlet Witch #1
West Coast Avengers Vol. 2, #2
The Vision and Scarlet Witch #2
West Coast Avengers Vol. 2, #3
West Coast Avengers Vol. 2, #4
West Coast Avengers Vol. 2, #5
West Coast Avengers Vol. 2, #6
West Coast Avengers Vol. 2, #7
West Coast Avengers Vol. 2, #8
West Coast Avengers Vol. 2, #9
West Coast Avengers Vol. 2, #10
West Coast Avengers Vol. 2, #11
West Coast Avengers Vol. 2, #12
West Coast Avengers Vol. 2, #13
West Coast Avengers Vol. 2, #14
West Coast Avengers Vol. 2, #15
West Coast Avengers Vol. 2, #16
West Coast Avengers Vol. 2, #17
West Coast Avengers Vol. 2, #18
West Coast Avengers Vol. 2, #19
West Coast Avengers Vol. 2, #20
West Coast Avengers Vol. 2, #21
West Coast Avengers Vol. 2, #22
West Coast Avengers Vol. 2, #23
West Coast Avengers Vol. 2, #24
West Coast Avengers Vol. 2, #25
West Coast Avengers Vol. 2, #26
West Coast Avengers Vol. 2, #27
West Coast Avengers Vol. 2, #28
West Coast Avengers Vol. 2, #29
West Coast Avengers Vol. 2, #30
West Coast Avengers Vol. 2, #31
West Coast Avengers Vol. 2, #32
West Coast Avengers Vol. 2, #33
West Coast Avengers Vol. 2, #34
West Coast Avengers Vol. 2, #35
West Coast Avengers Vol. 2, #36
West Coast Avengers Vol. 2, #37
West Coast Avengers Vol. 2, #38
West Coast Avengers Vol. 2, #39
West Coast Avengers Vol. 2, #40