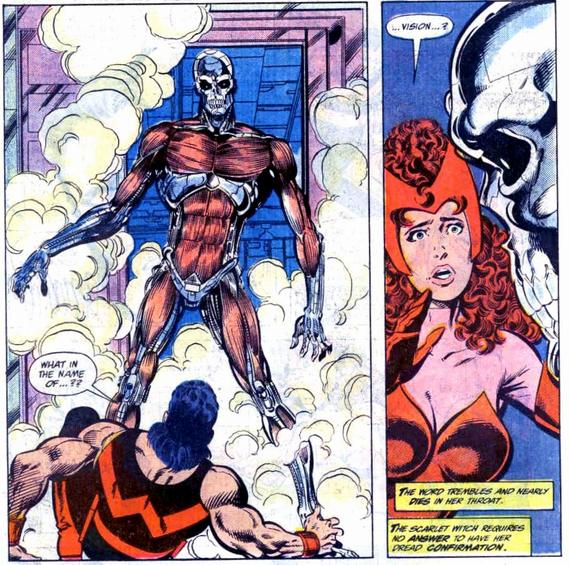 West Coast Wednesdays: West Coast Avengers Vol. 2, #44
West Coast Avengers, Vol. 2, Issue 44 (May 1989)
WEST COAST CREDITS!
Writer: John Byrne
Penciler: John Byrne
Inker: Mike Machlan
WEST COAST SUMMARY!
The teams find Vision, but it turns out he's been completely erased thanks to a joint effort by nearly all of the world's security networks. Things aren't looking good and it's about to get a whole lot worse…
WEST COAST THOUGHTS!
Three issues in to Byrne's run on West Coast Avengers, I've noticed that each issue opens with a splash page with a close up of one of the members (#42 was Wanda, #43 was Clint and #44 goes to a destroyed Vision). A nice touch.
It's learned that the people who kidnapped Vision aren't KGB, rather they're a group of people from different world security networks who've come together to make sure that Vision can never be a threat to humanity again. They've not only tore him apart, but they've completely erased his memories. And thanks to their computer virus back at the West Coast Avengers' compound, even Vision's back-up files have been destroyed.
Just when you think it couldn't get worse for Wanda's husband, it turns out that Wasp had discovered Dr. Horton, the creator of the original Human Torch, locked up in the facility. As we know from the flashbacks that's been running through this storyline, Vision's body was originally that of the original Human Torch. However, when Horton enters the lab to see Vision spread out on the table, he makes a startling revelation: the body on the table isn't his work.
Hawkeye is still wandering around the facility looking for answers and comes across Tigra going all feral on a bunch of workers. When she sees Hawkeye, it's clear she doesn't recognize him and attacks him too.
Of interest, we have a one page scene of a mysterious group of people at Absolom College in Texas, where they're trying to decide on "a suitable subject." You can tell that these people are evil because the scene is set in Texas. There's a large monitor that ends up revealing over 40 heroes from the Marvel universe before coming to Scarlet Witch, who they agree is the best candidate. What makes this page so significant is that in one page Byrne manages to connect the West Coast Avengers with the greater Marvel universe – X-verse and all – in a way that's never really been done before in the series. It's a small touch, but an important one.
Anyway, the team packs up all the pieces of Vision and heads home. Pym points out that while the whole operation to kidnap and deprogram Vision is bad, because it had the approval of the government, there isn't a whole lot they can do except register a complaint. So the team returns home with egg on their face, but not before Wanda uses her powers to nonchalantly destroy the entire facility, probably killing hundreds of government workers in the process. I hope they send her a bill for damages.
When they return to the compound, Wanda sees that the governess watching her children had activated the panic button. She runs over to her bungalow to find Miss Bach in a state of panic as she confesses that the twins had just vanished at the blink of an eye while giving them a bath. Wanda barges into the bathroom to find the twins sitting in the bathtub as if nothing had happened. Wanda doesn't appreciate Bach's "sick sense of humor" and terminates her employment immediately, because the daughter of Magneto and the wife of an android couldn't possibly imagine that maybe something is amiss with her children.
The issue's fight scene comes in the form of a reactivated Vision, who looks more like a product of Skynet than the lovable guy we've come to know over the years. He knocks Pym out and gives the rest of the team a run for their money until Pym wakes up and deactivates him. This is a by-the-numbers kind of fight.
The issue ends with the team discovering that the government has now sent them a new member as a way to avoid future interventions, and it is none other than U.S. Agent! Because Captain America would be too good for this team!
WEST BOAST OR ROAST?
Boast. Another good issue with lots of mysteries being introduced.
WEST COAST SCENE (OF THE WEEK)!
Are you Sarah Connor?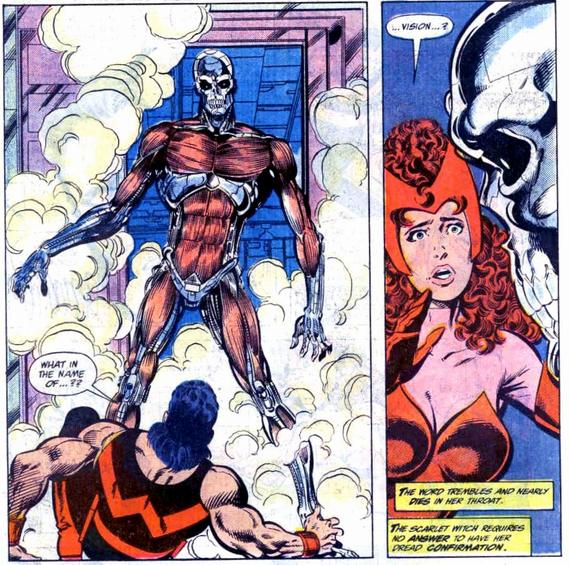 Previously on West Coast Wednesdays…
West Coast Avengers Vol. 1, #1
West Coast Avengers Vol. 1, #2
West Coast Avengers Vol. 1, #3
West Coast Avengers Vol. 1, #4
The Vision and Scarlet Witch #1
West Coast Avengers Vol. 2, #2
The Vision and Scarlet Witch #2
West Coast Avengers Vol. 2, #3
West Coast Avengers Vol. 2, #4
West Coast Avengers Vol. 2, #5
West Coast Avengers Vol. 2, #6
West Coast Avengers Vol. 2, #7
West Coast Avengers Vol. 2, #8
West Coast Avengers Vol. 2, #9
West Coast Avengers Vol. 2, #10
West Coast Avengers Vol. 2, #11
West Coast Avengers Vol. 2, #12
West Coast Avengers Vol. 2, #13
West Coast Avengers Vol. 2, #14
West Coast Avengers Vol. 2, #15
West Coast Avengers Vol. 2, #16
West Coast Avengers Vol. 2, #17
West Coast Avengers Vol. 2, #18
West Coast Avengers Vol. 2, #19
West Coast Avengers Vol. 2, #20
West Coast Avengers Vol. 2, #21
West Coast Avengers Vol. 2, #22
West Coast Avengers Vol. 2, #23
West Coast Avengers Vol. 2, #24
West Coast Avengers Vol. 2, #25
West Coast Avengers Vol. 2, #26
West Coast Avengers Vol. 2, #27
West Coast Avengers Vol. 2, #28
West Coast Avengers Vol. 2, #29
West Coast Avengers Vol. 2, #30
West Coast Avengers Vol. 2, #31
West Coast Avengers Vol. 2, #32
West Coast Avengers Vol. 2, #33
West Coast Avengers Vol. 2, #34
West Coast Avengers Vol. 2, #35
West Coast Avengers Vol. 2, #36
West Coast Avengers Vol. 2, #37
West Coast Avengers Vol. 2, #38
West Coast Avengers Vol. 2, #39
West Coast Avengers Vol. 2, #40