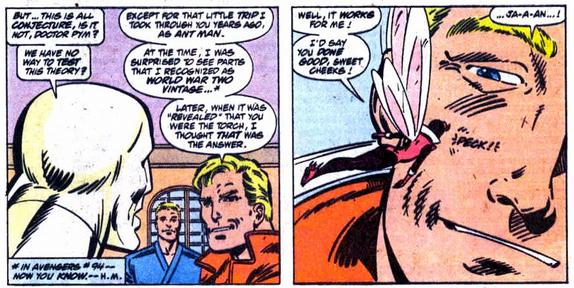 West Coast Wednesdays: West Coast Avengers Vol. 2, #50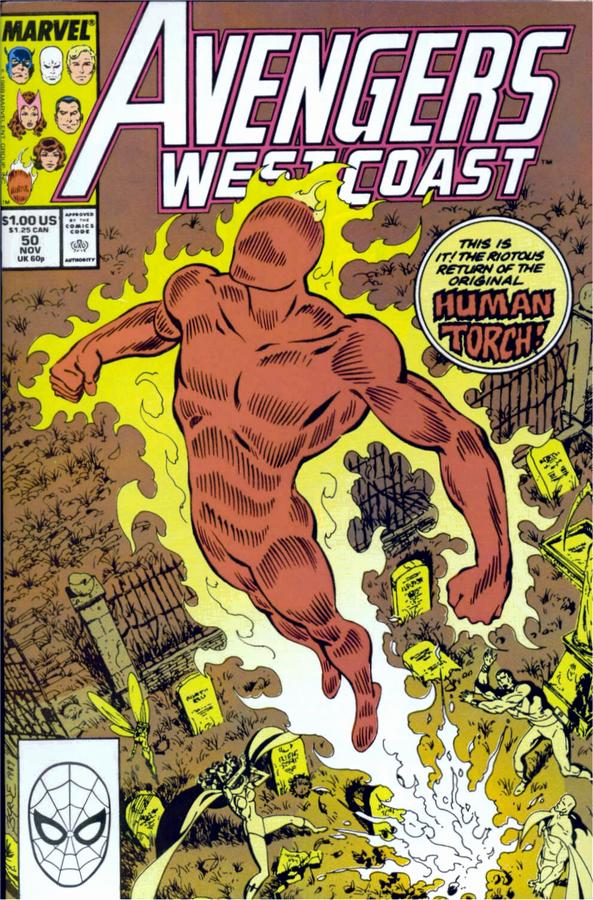 West Coast Avengers, Vol. 2, Issue 50 (November 1989)
WEST COAST CREDITS!
Writer: John Byrne
Penciler: John Byrne
Inker: Mike Machlan
WEST COAST SUMMARY!
The mystery of the Vision is finally revealed when the original Human Torch returns.
WEST COAST THOUGHTS!
Ann Raymond, who first appeared a couple of issues back in the homeless shelter, is now in the West Coast Avengers compound. She is the wife of Thomas Raymond, who was known as Toro, the partner to the original Human Torch. Through some flashbacks, we learn that Thomas had died after the Mad Thinker had drugged and brainwashed him into thinking he was the original Human Torch. While under control of the Mad Thinker, he gets into a battle with Namor, who frees Tom from the villain's control, and Tom sacrifices himself in order stop the Mad Thinker from escaping. Now that she knows that the Vision wasn't originally then Human Torch, she was hoping that the details surrounding her husband's death were also wrong.
While Ann is telling her story, Wanda has a complete meltdown and threatens to leave "forever" with her husband. Also, it's worth noting that Janet refers to Hank as "love" and "lover" throughout the issue. Looks like Pym's first wife has been completely ignored, unless it was addressed in another book somewhere.
Pym contacts Namor to get his side of the story and he confirms everything Ann told them. While the team is trying to figure out what to do next, they discover that Pym, after shrinking Tigra, had locked her up in a tiny cage in his lab while he finds a solution to help her. U.S. Agent mentions that he had seen Tigra acting weird before, but never reported it. This sets Simon off on U.S. Agent as he explains that since he's now an Avenger, it's his duty to communicate with his teammates.
Pym talks to Wanda and Vision to further discuss the discrepancies in the connection between Vision and the original Torch. This conversation is basically a way of using conjecture to retcon the moments where concrete links between the two were previously established, and honestly, it works.
We get a one page interlude with a Mr. Preston who wants to be left alone in his Hollywood office. And it turns out he's none other than Master Pandemonium!
The team arrives at the grave of the Human Torch and before you know, he's up and alive, as most people do in the Marvel Universe. After a brief chase between Wonder Man and the Human Torch, the flaming hero returns to the ground and shakes hands with Vision, thus letting us know once and for all that they are not the same.
Back at the compound, the team gives the Torch his old costume (and it appears that he strips down and puts it on in front of the group) and invite him to join the team. He's so overwhelmed with emotion, he starts to cry. He says he's just got something in his eye, but he's reminded by the Wasp that it's the Eighties and men can totally cry now!
Interestingly enough, 21 years after the Eighties have ended, I never stopped crying.
The issue ends with the return of Iron Man.
WEST BOAST OR ROAST?
Boast. A little too talky for a milestone issue, but there's enough important events happening to keep it interesting.
WEST COAST SCENE (OF THE WEEK)!
Janet is easily impressed.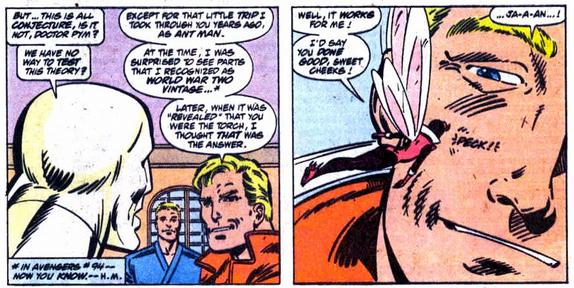 Previously on West Coast Wednesdays…
West Coast Avengers Vol. 1, #1
West Coast Avengers Vol. 1, #2
West Coast Avengers Vol. 1, #3
West Coast Avengers Vol. 1, #4
The Vision and Scarlet Witch #1
West Coast Avengers Vol. 2, #2
The Vision and Scarlet Witch #2
West Coast Avengers Vol. 2, #3
West Coast Avengers Vol. 2, #4
West Coast Avengers Vol. 2, #5
West Coast Avengers Vol. 2, #6
West Coast Avengers Vol. 2, #7
West Coast Avengers Vol. 2, #8
West Coast Avengers Vol. 2, #9
West Coast Avengers Vol. 2, #10
West Coast Avengers Vol. 2, #11
West Coast Avengers Vol. 2, #12
West Coast Avengers Vol. 2, #13
West Coast Avengers Vol. 2, #14
West Coast Avengers Vol. 2, #15
West Coast Avengers Vol. 2, #16
West Coast Avengers Vol. 2, #17
West Coast Avengers Vol. 2, #18
West Coast Avengers Vol. 2, #19
West Coast Avengers Vol. 2, #20
West Coast Avengers Vol. 2, #21
West Coast Avengers Vol. 2, #22
West Coast Avengers Vol. 2, #23
West Coast Avengers Vol. 2, #24
West Coast Avengers Vol. 2, #25
West Coast Avengers Vol. 2, #26
West Coast Avengers Vol. 2, #27
West Coast Avengers Vol. 2, #28
West Coast Avengers Vol. 2, #29
West Coast Avengers Vol. 2, #30
West Coast Avengers Vol. 2, #31
West Coast Avengers Vol. 2, #32
West Coast Avengers Vol. 2, #33
West Coast Avengers Vol. 2, #34
West Coast Avengers Vol. 2, #35
West Coast Avengers Vol. 2, #36
West Coast Avengers Vol. 2, #37
West Coast Avengers Vol. 2, #38
West Coast Avengers Vol. 2, #39
West Coast Avengers Vol. 2, #40
West Coast Avengers Vol. 2, #44
West Coast Avengers Vol. 2, #48