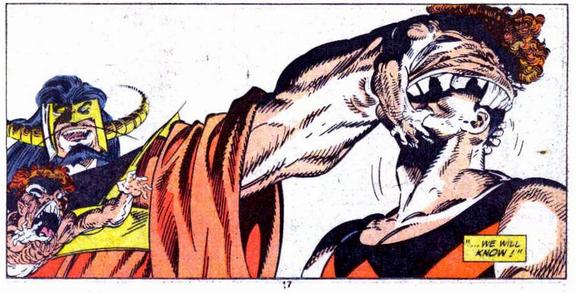 West Coast Wednesdays: West Coast Avengers Vol. 2, #52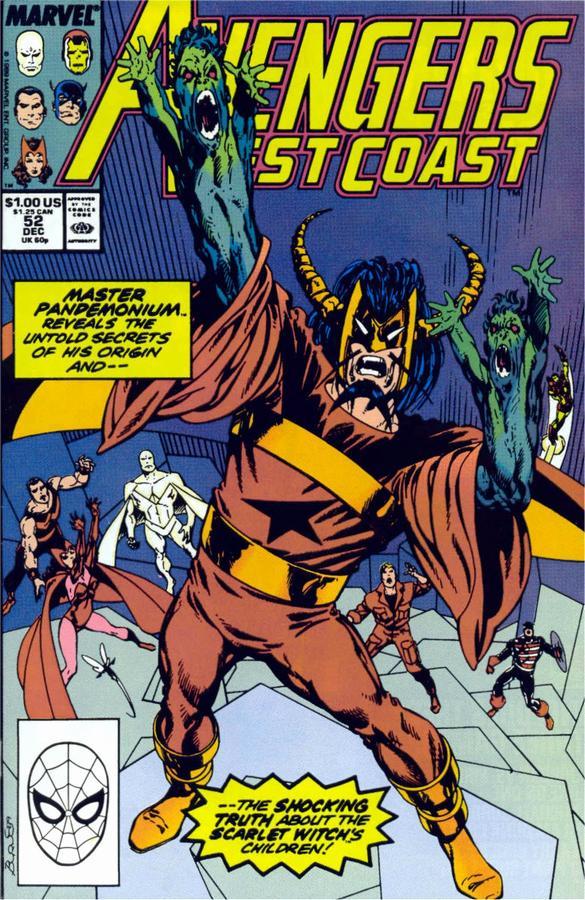 West Coast Avengers, Vol. 2, Issue 52 (December 1989)
WEST COAST CREDITS!
Writer: John Byrne
Penciler: John Byrne
Inker: Mike Machlan
WEST COAST SUMMARY!
The team confronts Master Pandemonium in his lair to save the lives of Wanda's kidnapped children, but things are, as usual, not what they seem.
WEST COAST THOUGHTS!
Byrne appeared to have a master plan with the Scarlet Witch, Vision and their twins the moment he came on board this title, and this issue looks to be where he was headed all along. With her marriage to Vision seemingly undone, Wanda is now more like her human-hating father than the sweet-natured woman we've come to know over the years. Now it's just a matter of figuring out what to do with her children. And this issue puts an end to them once and for all…well, for a decade at least.
Master Pandemonium is more powerful than ever now that he's absorbed Wanda's children. It turns out, the twins were parts of his missing soul (you know, the one Mephisto broke into a bunch of small pieces and were physically represented by the creepy star-shaped hole on Pandemonium's stomach?), and now his powers have increased a thousandfold. He manages to take out the team fairly quickly, and Byrne is clearly having a lot of fun with the more surreal, demonic aspects of this fight inside Master Pandemonium's dark lair.
The issue's first twist is that Master Pandemonium's missing soul isn't really his. Mephisto didn't tell the truth all those years ago, which is pretty shocking coming from the self-professed Prince of Lies (why would anyone call themselves that?). The soul Master Pandemonium has been collecting all of this time is actually Mephisto's soul, which had been shattered during his fight with Franklin Richards (the son of Reed and Susan of the Fantastic Four).
Agatha Harkness transport the Human Torch to the fight with the final two pieces of Master PandemoniumMephisto's soul (though it's not clear where exactly these fragments came from). He offers the pieces in exchange for the team's safety; which doesn't make a lot of sense considering how powerful Master Pandemonium has become and he clearly has the advantage. Master Pandemonium reclaims the pieces; however, there is still a hole in his stomach which sucks him inside out like a collapsed star. Once he's out of the way, Mephisto makes an appearance to acknowledge that Master Pandemonium's soul (which is really Mephisto's, see) has been restored to Mephisto.
Harkness's cat, Ebony, who has been wandering around in the background throughout the issue, then transforms into a giant beast and attacks Mephisto. The battle is so horrifying, we only get pieces of what's going on through the team's disgusted faces and horrified observations.
Eventually the team is returned home. Harkness tells everyone that the twins have been erased from reality and when Wanda wakes up, she will not have any memory of their existence. The team isn't pleased with his development, but they seem to understand it's for the best.
OR IS IT?!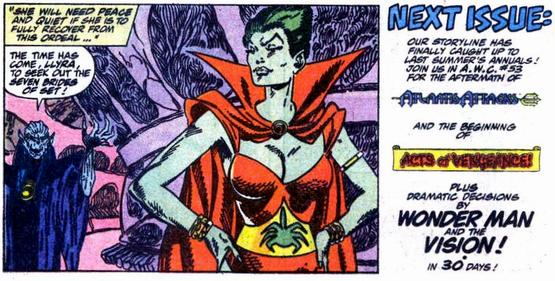 The issue ends with the above panel which comes out of nowhere. The book has finally caught up with the Atlantis Attacks crossover that was published three months before, and then it's jumping into another crossover, Acts of Vengeance. Marvel doesn't have a good track record with monthly books being shoe-horned into a major crossover event. So the odds are stacked against Byrne if he's going to be juggling two in one book.
Tune in next week to see if he pulls it off…
WEST BOAST OR ROAST?
Boast. A lot of exposition going on here, but Byrne's art makes it fun and easy to swallow.
WEST COAST SCENE (OF THE WEEK)!
Wonder Man plays a sick game of Hide-and-Seek with his nephew.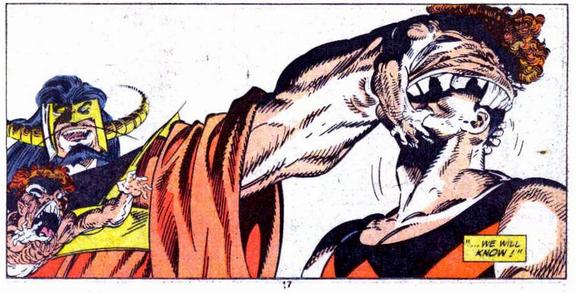 Previously on West Coast Wednesdays…
West Coast Avengers Vol. 1, #1
West Coast Avengers Vol. 1, #2
West Coast Avengers Vol. 1, #3
West Coast Avengers Vol. 1, #4
The Vision and Scarlet Witch #1
West Coast Avengers Vol. 2, #2
The Vision and Scarlet Witch #2
West Coast Avengers Vol. 2, #3
West Coast Avengers Vol. 2, #4
West Coast Avengers Vol. 2, #5
West Coast Avengers Vol. 2, #6
West Coast Avengers Vol. 2, #7
West Coast Avengers Vol. 2, #8
West Coast Avengers Vol. 2, #9
West Coast Avengers Vol. 2, #10
West Coast Avengers Vol. 2, #11
West Coast Avengers Vol. 2, #12
West Coast Avengers Vol. 2, #13
West Coast Avengers Vol. 2, #14
West Coast Avengers Vol. 2, #15
West Coast Avengers Vol. 2, #16
West Coast Avengers Vol. 2, #17
West Coast Avengers Vol. 2, #18
West Coast Avengers Vol. 2, #19
West Coast Avengers Vol. 2, #20
West Coast Avengers Vol. 2, #21
West Coast Avengers Vol. 2, #22
West Coast Avengers Vol. 2, #23
West Coast Avengers Vol. 2, #24
West Coast Avengers Vol. 2, #25
West Coast Avengers Vol. 2, #26
West Coast Avengers Vol. 2, #27
West Coast Avengers Vol. 2, #28
West Coast Avengers Vol. 2, #29
West Coast Avengers Vol. 2, #30
West Coast Avengers Vol. 2, #31
West Coast Avengers Vol. 2, #32
West Coast Avengers Vol. 2, #33
West Coast Avengers Vol. 2, #34
West Coast Avengers Vol. 2, #35
West Coast Avengers Vol. 2, #36
West Coast Avengers Vol. 2, #37
West Coast Avengers Vol. 2, #38
West Coast Avengers Vol. 2, #39
West Coast Avengers Vol. 2, #40
West Coast Avengers Vol. 2, #44
West Coast Avengers Vol. 2, #48
West Coast Avengers Vol. 2, #50