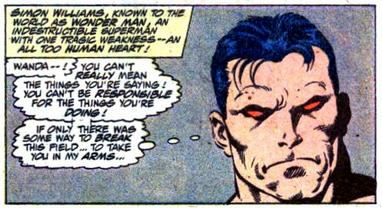 West Coast Wednesdays: West Coast Avengers Vol. 2, #57
West Coast Avengers, Vol. 2, Issue 57 (April 1990)
WEST COAST CREDITS!
Writer: John Byrne
Penciler: John Byrne
Inker: Paul Ryan
WEST COAST SUMMARY!
The team suffers a serious defeat against the newly turned Scarlet Witch with her father Magneto and brother Quicksilver. When the bad guys flee to Asteroid M, the team gets the chance to regroup and attack again. But the second time isn't always the charm…
WEST COAST THOUGHTS!
We start right where we left off last issue, with an unconscious Pym at the mercy of the villainous trio. Magneto is the one who keeps showing restraint and not causing bloodshed unless there's absolutely no choice, which appears to disappoint Wanda. It's the Human Torch who comes to save the day, but he's clearly outmatched. Wanda tries to deactivate him with her powers, but Pietro stops her, claiming that he thought Wonder Man was about to break free (we know, of course, that Quicksilver is helping the Avengers and is playing along with his family for his own reasons). Magneto decides that enough is enough and he transports them out of the cottage towards his Asteroid base in space. On the way, they run into Iron Man who is easily taken down by Wanda. Of interest, Magneto tries to save Iron Man, but due to Iron Man's use of anti-magnetic agents in his armor, he could not stop his free fall.
Iron Man, much to our surprise, does not die. While Wanda's powers deactivated Tony's automatic systems, that didn't stop him from deploying a good old fashion parachute to save the day.
The team regroups and makes a plan of attack. It's off to space in the quinjet. Wasp is the first one off to do some recon as the quinjet (invisible from all forms of detection devices) hovers near Asteroid M. When they lose contact with Janet, the team immediately jumps into action by simply punching their way inside Magneto's base. Naturally, they don't have a chance. U.S. Agent is bound by scraps of metal. Human Torch is deactivated by Wanda. Janet is revealed to be unconscious in a handy jar. Magneto then traps everyone inside a large metal ball made from scraps from their destroyed quinjet and transports them back to their compound. Wanda is upset by this, as she just wants to kill them. Magneto reassures her that he could've killed them all twice today, and no team would be foolish enough to attack them a third time.
Well, the joke's on Magento, because foolish is what the West Coast Avengers is all about!
WEST BOAST OR ROAST?
Boast. This is good work, with each member getting enough time to shine. Byrne knows these characters and he's done a great job balancing out the large cast.
WEST COAST SCENE (OF THE WEEK)!
This is why no one ever takes you seriously, Simon!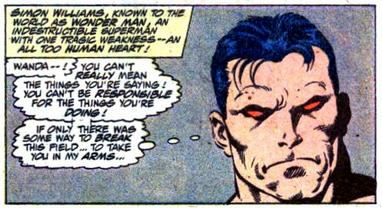 Previously on West Coast Wednesdays…
West Coast Avengers Vol. 1, #1
West Coast Avengers Vol. 1, #2
West Coast Avengers Vol. 1, #3
West Coast Avengers Vol. 1, #4
The Vision and Scarlet Witch #1
West Coast Avengers Vol. 2, #2
The Vision and Scarlet Witch #2
West Coast Avengers Vol. 2, #3
West Coast Avengers Vol. 2, #4
West Coast Avengers Vol. 2, #5
West Coast Avengers Vol. 2, #6
West Coast Avengers Vol. 2, #7
West Coast Avengers Vol. 2, #8
West Coast Avengers Vol. 2, #9
West Coast Avengers Vol. 2, #10
West Coast Avengers Vol. 2, #11
West Coast Avengers Vol. 2, #12
West Coast Avengers Vol. 2, #13
West Coast Avengers Vol. 2, #14
West Coast Avengers Vol. 2, #15
West Coast Avengers Vol. 2, #16
West Coast Avengers Vol. 2, #17
West Coast Avengers Vol. 2, #18
West Coast Avengers Vol. 2, #19
West Coast Avengers Vol. 2, #20
West Coast Avengers Vol. 2, #21
West Coast Avengers Vol. 2, #22
West Coast Avengers Vol. 2, #23
West Coast Avengers Vol. 2, #24
West Coast Avengers Vol. 2, #25
West Coast Avengers Vol. 2, #26
West Coast Avengers Vol. 2, #27
West Coast Avengers Vol. 2, #28
West Coast Avengers Vol. 2, #29
West Coast Avengers Vol. 2, #30
West Coast Avengers Vol. 2, #31
West Coast Avengers Vol. 2, #32
West Coast Avengers Vol. 2, #33
West Coast Avengers Vol. 2, #34
West Coast Avengers Vol. 2, #35
West Coast Avengers Vol. 2, #36
West Coast Avengers Vol. 2, #37
West Coast Avengers Vol. 2, #38
West Coast Avengers Vol. 2, #39
West Coast Avengers Vol. 2, #40
West Coast Avengers Vol. 2, #44
West Coast Avengers Vol. 2, #48
West Coast Avengers Vol. 2, #50