West Coast Wednesdays: West Coast Avengers Vol. 2, #62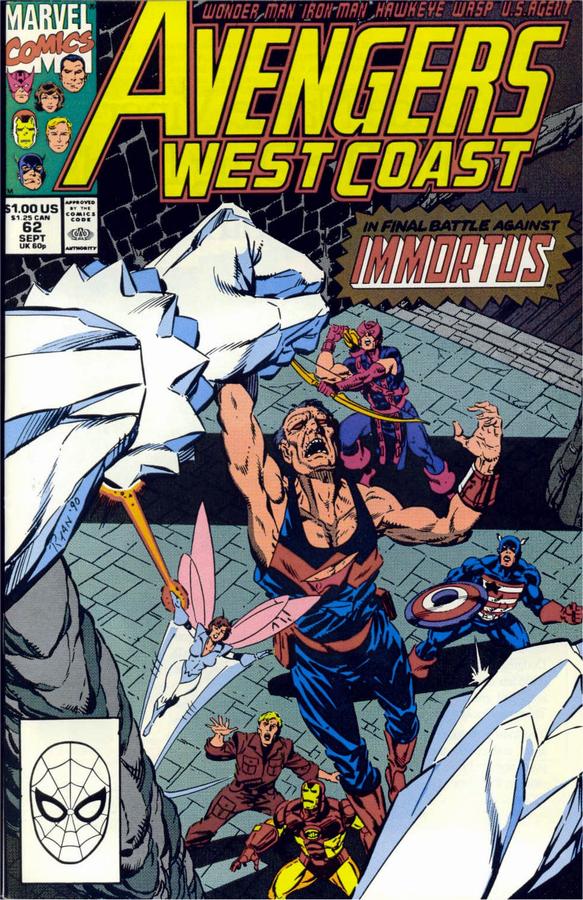 West Coast Avengers, Vol. 2, Issue 62 (September 1990)
WEST COAST CREDITS!
Writer: Roy and Dann Thomas
Penciler: Paul Ryan
Inker: Danny Bulanadi
WEST COAST SUMMARY!
This is it! The conclusion to the storyline that started way back in issue #42. The team finally confronts Immortus to save the Scarlet Witch from intermittent trances.
WEST COAST THOUGHTS!
After wasting an issue fighting the Legion of the Unliving, the West Coast Avengers are face-to-face with Immortus at last. Before punches are thrown, Immortus answers some questions with the Power of Exposition. It was Immortus who reverted Vision to an android incapable of loving Wanda. It was Immortus who made Wanda's twins disappear. All of this was done because Scarlet Witch is a nexus, a rare being who belong equally in all possible timelines. And Immortus needs her so he can protect and control the centuries under his dominion.
Finally, the team has had enough of all the big words Immortus keeps using. So do what they do best and start punching!
Tempus, Guardian of Castle Limbo and Warrior Slave (really, who would declare this?) appears out of nowhere and grabs Wonder Man. Tempus' touch makes Wonder Man age rapidly.
Agatha Harkness, having learned Immortus' plan at the end of last issue, travels to limbo using Immortus' doppelganger (stop thinking so hard and roll with it). Once in limbo, she uses her astral body to communicate with Wanda, still in her trance. The team is taking a heck of a beating from Tempus, whose timestorm is forcing the members to relive their most fearful  and deeply buried memories. Harkness is doing everything she can to convince Wanda to reject her powers. Immortus senses that something is amiss and realizes Harkness is there. He attacks, just as Tempus is about to kill the West Coast Avengers, and just when it looks like there's no hope left, Wanda wakes up and saves the day by rejecting her powers.
The Time Keepers then appear. They are the ones who designated that Immortus watch over the time between 3000 B.C. and 4000 A.D.  It turns out that while Immortus may have handled things poorly, he really was trying to make sure that nothing bad was going to happen to the timestream. And Wanda being a nexus was an important part of that plan. The Time Keepers give Wanda's rejected powers to Immortus, who is transformed into a motionless statue – the very fate he had planned for Wanda.
I'm skipping over the part where U.S. Agent decides he wants to arrest the Time Keepers and attacks them with his shield. And Hawkeye helps him out by shooting off an arrow. The West Coast Avengers have historically been over their head since the book began, and this scene just makes them look stupid.
The Time Keepers returns the team to their home. Hawkeye immediately falls asleep, creating one of those freeze shots you'd see at the end of an episode of CHiPs with everyone laughing while the captain shakes his head (this part played by U.S. Agent).
WEST BOAST OR ROAST?
Roast. I'm confident that this ending isn't even close to where Byrne was headed, and it's amazing that the Thomas's manage to make this half as coherent as they did. Still, it's a mess through and through…
WEST COAST SCENE (OF THE WEEK)!
No one rejects quite like Wanda…
Previously on West Coast Wednesdays…
West Coast Avengers Vol. 1, #1
West Coast Avengers Vol. 1, #2
West Coast Avengers Vol. 1, #3
West Coast Avengers Vol. 1, #4
The Vision and Scarlet Witch #1
West Coast Avengers Vol. 2, #2
The Vision and Scarlet Witch #2
West Coast Avengers Vol. 2, #3
West Coast Avengers Vol. 2, #4
West Coast Avengers Vol. 2, #5
West Coast Avengers Vol. 2, #6
West Coast Avengers Vol. 2, #7
West Coast Avengers Vol. 2, #8
West Coast Avengers Vol. 2, #9
West Coast Avengers Vol. 2, #10
West Coast Avengers Vol. 2, #11
West Coast Avengers Vol. 2, #12
West Coast Avengers Vol. 2, #13
West Coast Avengers Vol. 2, #14
West Coast Avengers Vol. 2, #15
West Coast Avengers Vol. 2, #16
West Coast Avengers Vol. 2, #17
West Coast Avengers Vol. 2, #18
West Coast Avengers Vol. 2, #19
West Coast Avengers Vol. 2, #20
West Coast Avengers Vol. 2, #21
West Coast Avengers Vol. 2, #22
West Coast Avengers Vol. 2, #23
West Coast Avengers Vol. 2, #24
West Coast Avengers Vol. 2, #25
West Coast Avengers Vol. 2, #26
West Coast Avengers Vol. 2, #27
West Coast Avengers Vol. 2, #28
West Coast Avengers Vol. 2, #29
West Coast Avengers Vol. 2, #30
West Coast Avengers Vol. 2, #31
West Coast Avengers Vol. 2, #32
West Coast Avengers Vol. 2, #33
West Coast Avengers Vol. 2, #34
West Coast Avengers Vol. 2, #35
West Coast Avengers Vol. 2, #36
West Coast Avengers Vol. 2, #37
West Coast Avengers Vol. 2, #38
West Coast Avengers Vol. 2, #39
West Coast Avengers Vol. 2, #40
West Coast Avengers Vol. 2, #44
West Coast Avengers Vol. 2, #48
West Coast Avengers Vol. 2, #50
West Coast Avengers Vol. 2, #57