West Coast Wednesdays: West Coast Avengers Vol. 2, #63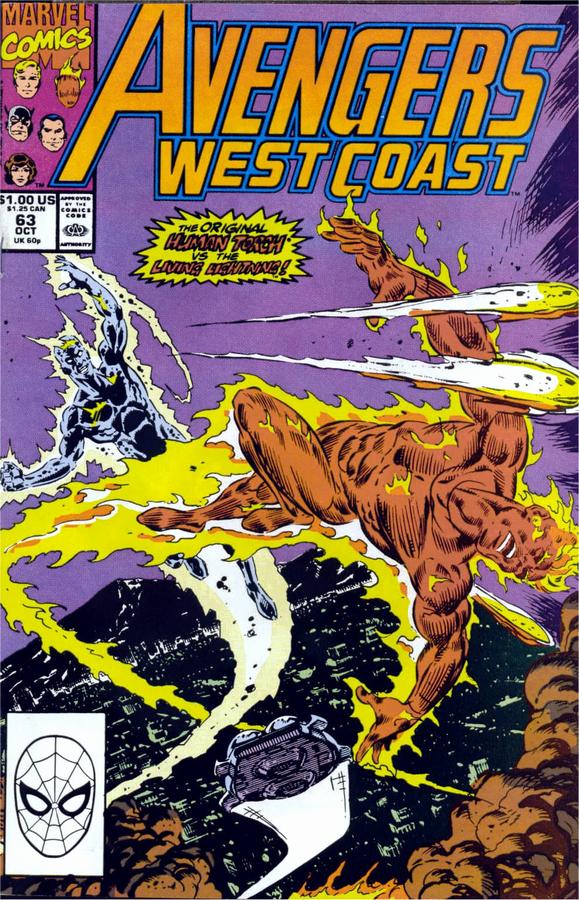 West Coast Avengers, Vol. 2, Issue 63 (October 1990)
WEST COAST CREDITS!
Writer: Roy and Dann Thomas
Penciler: Paul Ryan
Inker: Danny Bulanadi
WEST COAST SUMMARY!
With the team recovering from the onslaught of events involving Immortus and Terminus, our heroes finally have a little downtime. That is, until the Human Torch disappears and comes face-to-face with the Living Lightning.
WEST COAST THOUGHTS!
We start off with Wanda in bed surrounded by her friends while Doctor Sanford informs her that she needs a few more days rest. Why the team is trusting one of the world's most powerful mutants to be diagnosed by a normal physician instead of someone like Mister Fantastic is really never addressed. Maybe they're trying to save money.
Quicksilver gets into a tiff with Doctor Sanford outside when he asks him if Wanda will ever regain her powers. Sanford innocently responds that he doesn't know as he's never treated a mutant before, which makes Quicksilver angry. Luckily, Hawkeye is there to break things up.
U.S. Agent is conflicted about his orders from the government to watch the team and his enthusiasm for being a part of the Avengers. He wants to tell everyone how proud he is to be an Avenger, maybe even apologize for coming off too strong before, but then he walks away, thinking everyone's looking down on him. It's a one page scene, but it's probably the best thing anyone's done with U.S. Agent since he arrived in the book. Finally, readers can tell that there's something real going on in his head.
Wonder Man is still struggling with his feelings for Wanda. He calls Vision to see if he wants to come and see his wife, but Vision reminds Simon that he's not the same android he was, and he has no memories of his time with Wanda. This leads to some Wonder Man angst with just the right amount of unnecessary property damage (see below).
The Human Torch was in Pym's lab recovering from his fight with Terminus (West Coast Avengers Annual #5) when he suddenly wakes up with a wild look in his eyes and flees by melting a hole through the roof. Pym, Wasp and Mrs. Raymond (the Human Torch's partner Toro's widow) jump into ROVER and begin searching for our flaming hero.
The Human Torch, flying over Orange County, is trying to figure out his place in the world when he hears about a "glowing man" causing problems on the radio. He immediately springs into action and comes face-to-face with the Living Lightning. The Living Lightning makes short work of the Human Torch. By the time the rest of the team comes to his aid, he's on his back recovering. He tells Wasp that he's a "has-been," but he learns that he's fully capable of being a hero in the modern world, only he needs to learn the value of team work. And so, with the help of Pym and Wasp, the Human Torch is finally able to defeat the Living Lightning.
And with that, this After School Special comes to a close.
WEST BOAST OR ROAST?
Boast. We finally have a decent issue. Despite the fighting, there's enough downtime to get in some needed character development that's been absent in the book since Byrne left.
WEST COAST SCENE (OF THE WEEK)!
Wonder Melodrama!
Previously on West Coast Wednesdays…
West Coast Avengers Vol. 1, #1
West Coast Avengers Vol. 1, #2
West Coast Avengers Vol. 1, #3
West Coast Avengers Vol. 1, #4
The Vision and Scarlet Witch #1
West Coast Avengers Vol. 2, #2
The Vision and Scarlet Witch #2
West Coast Avengers Vol. 2, #3
West Coast Avengers Vol. 2, #4
West Coast Avengers Vol. 2, #5
West Coast Avengers Vol. 2, #6
West Coast Avengers Vol. 2, #7
West Coast Avengers Vol. 2, #8
West Coast Avengers Vol. 2, #9
West Coast Avengers Vol. 2, #10
West Coast Avengers Vol. 2, #11
West Coast Avengers Vol. 2, #12
West Coast Avengers Vol. 2, #13
West Coast Avengers Vol. 2, #14
West Coast Avengers Vol. 2, #15
West Coast Avengers Vol. 2, #16
West Coast Avengers Vol. 2, #17
West Coast Avengers Vol. 2, #18
West Coast Avengers Vol. 2, #19
West Coast Avengers Vol. 2, #20
West Coast Avengers Vol. 2, #21
West Coast Avengers Vol. 2, #22
West Coast Avengers Vol. 2, #23
West Coast Avengers Vol. 2, #24
West Coast Avengers Vol. 2, #25
West Coast Avengers Vol. 2, #26
West Coast Avengers Vol. 2, #27
West Coast Avengers Vol. 2, #28
West Coast Avengers Vol. 2, #29
West Coast Avengers Vol. 2, #30
West Coast Avengers Vol. 2, #31
West Coast Avengers Vol. 2, #32
West Coast Avengers Vol. 2, #33
West Coast Avengers Vol. 2, #34
West Coast Avengers Vol. 2, #35
West Coast Avengers Vol. 2, #36
West Coast Avengers Vol. 2, #37
West Coast Avengers Vol. 2, #38
West Coast Avengers Vol. 2, #39
West Coast Avengers Vol. 2, #40
West Coast Avengers Vol. 2, #44
West Coast Avengers Vol. 2, #48
West Coast Avengers Vol. 2, #50
West Coast Avengers Vol. 2, #57