West Coast Wednesdays: West Coast Avengers Vol. 2, #64
West Coast Avengers, Vol. 2, Issue 64 (November 1990)
WEST COAST CREDITS!
Writer: Terry Kavanagh
Penciler: Chris Wozniak
Inker: Danny Bulanadi
WEST COAST SUMMARY!
Captain America's old partner Rick Jones is in trouble and he springs into action to save him. This leads him on a collision course with the Human Torch, the Great Lake Avengers and…Superman?
WEST COAST THOUGHTS!
Looks like we've stumbled onto another dreaded inventory issue. Chris Wozniak's pencils are a real change of pace for the book – a cross between Todd McFarlane and Michael Golden with a little Art Adams thrown in for good measure. I probably loved the hell out of this in 1990, but today, while it has its moments, it just doesn't work for me. I do remember Wozniak's work over in Justice League in the early 90's and enjoying it quite a bit.
Captain America gets a video message from Rick Jones as he's being attacked by a monster. When he traces the message, he discovers that it came from the West Coast Avengers compound. When the Human Torch investigates, he learns that the message was actually relayed from the compound from somewhere in the midwest. He sends Captain America the coordinates who immediately springs into action. Later, the Human Torch realizes that the coordinates were actually another relay station and that Captain America could be walking into a trap.
Captain America arrives at an amusement park. In a fun house, he's attacked by a bunch of robots (one of them is, interestingly enough, dressed as Superman). Eventually, he ends up in a Tunnel of Love where he's confronted by the creature that attacked Rick Jones. The creature takes Captain America's shield.
Eventually, the Human Torch meets up with Captain America in a wax museum full of replicas of Marvel heroes and villains that have come to life. During the fighting, Captain America believes the Human Torch to be a doppelganger (thus satisfying the misunderstanding that'll lead to our heroes fighting). Just when they figure out that they're fighting a friend, the Great Lake Avengers appears with their own misunderstanding. It turns out that they received a message from Captain America saying that he needed their help to get his shield back from a fake Captain America. This is like a Marvel version of Three's Company.
Once everyone realizes who everyone is, they come to understand that the whole thing was a big set up to steal Captain America's shield. Luckily for them, Captain America figured this out earlier and switched his shield with one made out of wax.
The villain of the story is actually a high school kid named Stevie, who had come into possession of the Mystic Ruby of Cyttorak (the same thing that gives Juggernaut his strength) which he calls his "lucky red rock." It turns out that he simply wanted Captain America's shield to impress his class during Show and Tell. The issue ends with him being humiliated in front of his class and getting ready to do something horrible to them with the Mystic Ruby of Cyttorak.
There's also a hint that Stevie's story is meant to continue somewhere else. Anyone know if that ever happened?
WEST BOAST OR ROAST?
Boast. For an inventory issue, it's not too terrible. The story moves at a quick pace and the art is fine enough (Wozniak is clearly having fun with all the cameos from both Marvel and DC universes).
WEST COAST SCENE (OF THE WEEK)!
It's the Captain America/Joker fight fans have waited all their life for.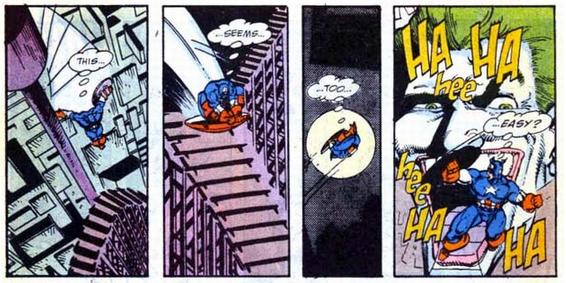 Previously on West Coast Wednesdays…