West Coast Wednesdays: West Coast Avengers Vol. 2, #65
West Coast Avengers, Vol. 2, Issue 65 (December 1990)
WEST COAST CREDITS!
Writer: Roy and Dann Thomas
Penciler: Paul Ryan
Inker: Danny Bulanadi
WEST COAST SUMMARY!
The Grim Reaper has returned from the dead to prey on the living like a vampire. When Wonder Man confronts his brother, will he be able to make him see reason? Or will the Grim Reaper make his point?
WEST COAST THOUGHTS!
Simon visits the grave of his older brother Erik. Simon talks out loud about his feelings, and we get a recap of their relationship and Erik's evolution to big brother to the villain known as Grim Reaper. As soon as Simon leaves the cemetery in his quinjet, Erik's grave bursts open with the Grim Reaper shouting out, "Free at last!"
Nekra appears and informs him that she revived him because she was in love with him. And for him to stay alive, he'll need to kill someone with his scythe once every 24 hours. The cemetery groundskeeper sees the two of them and yells at them for being there after dark. Nekra tells Erik that this will be his first victim. But Erik kills Nekra instead, absorbing her lifeforce, and becoming the "walking personification of death!"
At the compound, Hawkeye and U.S. Agent finally come to blows, but they're interrupted by Quicksilver, Scarlet Witch and the returning Wonder Man. Once the commotion dies down, Wanda and Simon are left alone. Wanda is worried about the fact that her powers still haven't returned. Simon, seeing an opportunity, asks her out for dinner. She's about to decline, but she sees his sour face, and agrees to go on a pity-date for tacos.
Meanwhile, at an abandoned military bunker on the coast, a group of Satanists are in the middle of some serious business when the Grim Reaper enters and starts hacking away. Willie is the first Satanist to die (see below!). The more the Grim Reaper kills, the more powerful he becomes. One of the Satanists survives and she stumbles out of the bunker, crosses the street, and conveniently enters the Mexican restaurant Wanda and Simon are eating at.
Simon goes to investigate and is confronted by his brother. They start fighting. And when the Grim Reaper's scythe touches his brother, Simon begins to absorb Erik's lifeforce. Simon is disorientated by all the dark energy from his brother. And Erik is in desperate need of another victim before he dies…again. The Grim Reaper escapes, and Simon vows to find him. Because every drop of blood Erik spills will be on Simon's hands.
The issue wraps up with Hank and Janet on a road trip. They're stranded when their rental gets a flat tire and head to a farm to get some help. Please remember that this is the guy who has previously saved the world using a only a rope and a skateboard, and he's apparently completely useless when it comes to a flat tire.
It turns out that the farmers are really androids. This is learned when they inexplicably explode. Hank and Janet are shocked and they decide they need to get back to L.A. immediately. As they leave, we discover that Ultron 13 is watching the whole thing from his secret robot lair.
Ultron is back. And so is the Grim Reaper. Man, it's like the old days again.
WEST BOAST OR ROAST?
Boast. I'm on board. This feels like an Englehart issue, only without all the Englehartness. Don't get me wrong, it's still too convenient and silly, but it's at least fun. Plus: Pity Taco Date! You don't see that in Marvel comics anymore.
WEST COAST SCENE (OF THE WEEK)!
No, not Willie too!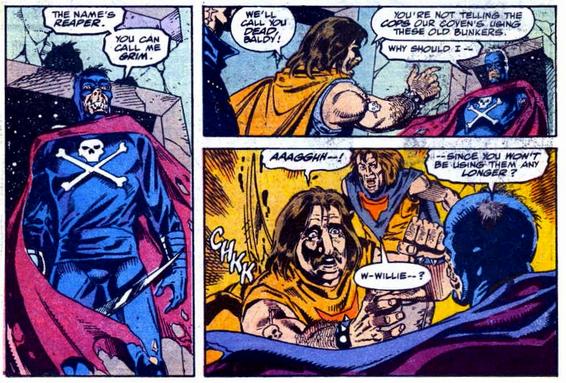 Previously on West Coast Wednesdays…
West Coast Avengers Vol. 1, #1
West Coast Avengers Vol. 1, #2
West Coast Avengers Vol. 1, #3
West Coast Avengers Vol. 1, #4
Avengers Vol. 1, #250
Iron Man Annual #7
West Coast Avenger Vol. 2, #1
The Vision and Scarlet Witch #1
West Coast Avengers Vol. 2, #2
The Vision and Scarlet Witch #2
West Coast Avengers Vol. 2, #3
West Coast Avengers Vol. 2, #4
West Coast Avengers Vol. 2, #5
West Coast Avengers Vol. 2, #6
West Coast Avengers Vol. 2, #7
West Coast Avengers Vol. 2, #8
West Coast Avengers Vol. 2, #9
West Coast Avengers Vol. 2, #10
West Coast Avengers Vol. 2, #11
West Coast Avengers Vol. 2, #12
West Coast Avengers Vol. 2, #13
Avengers Annual #15
West Coast Avengers Annual #1
West Coast Avengers Vol. 2, #14
West Coast Avengers Vol. 2, #15
West Coast Avengers Vol. 2, #16
West Coast Avengers Vol. 2, #17
West Coast Avengers Vol. 2, #18
West Coast Avengers Vol. 2, #19
West Coast Avengers Vol. 2, #20
West Coast Avengers Vol. 2, #21
West Coast Avengers Vol. 2, #22
West Coast Avengers Vol. 2, #23
West Coast Avengers Vol. 2, #24
West Coast Avengers Annual #2
Avengers Annual #16
Silver Surfer #3
West Coast Avengers Vol. 2, #25
West Coast Avengers Vol. 2, #26
West Coast Avengers Vol. 2, #27
West Coast Avengers Vol. 2, #28
West Coast Avengers Vol. 2, #29
West Coast Avengers Vol. 2, #30
West Coast Avengers Vol. 2, #31
West Coast Avengers Vol. 2, #32
West Coast Avengers Vol. 2, #33
West Coast Avengers Vol. 2, #34
West Coast Avengers Vol. 2, #35
West Coast Avengers Vol. 2, #36
West Coast Avengers Annual #3
West Coast Avengers Vol. 2, #37
West Coast Avengers Vol. 2, #38
West Coast Avengers Vol. 2, #39
West Coast Avengers Vol. 2, #40
West Coast Avengers Vol. 2, #41
West Coast Avengers Vol. 2, #42
West Coast Avengers Vol. 2, #43
West Coast Avengers Vol. 2, #44
West Coast Avengers Vol. 2, #45
West Coast Avengers Vol. 2, #46
West Coast Avengers Vol. 2, #47
West Coast Avengers Vol. 2, #48
West Coast Avengers Vol. 2, #49
West Coast Avengers Vol. 2, #50
West Coast Avengers Annual #4
West Coast Avengers Vol. 2, #51
West Coast Avengers Vol. 2, #52
West Coast Avengers Vol. 2, #53
Avengers Vol. 1, #312 
West Coast Avengers Vol. 2, #54
Avengers Vol. 1, #313 
West Coast Avengers Vol. 2, #55
West Coast Avengers Vol. 2, #56
West Coast Avengers Vol. 2, #57
West Coast Avengers Vol. 2, #58
West Coast Avengers Vol. 2, #59
West Coast Avengers Vol. 2, #60
West Coast Avengers Vol. 2, #61
West Coast Avengers Vol. 2, #62
West Coast Avengers Annual #5
West Coast Avengers Vol. 2, #63
West Coast Avengers Vol. 2, #64