West Coast Wednesdays: West Coast Avengers Vol. 2, #68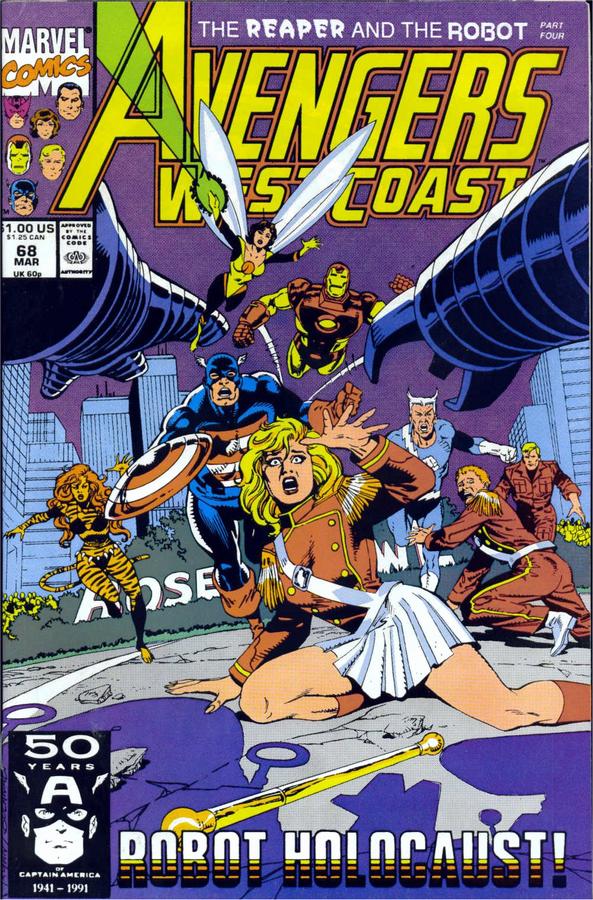 West Coast Avengers, Vol. 2, Issue 68 (March 1991)
WEST COAST CREDITS!
Writer: Roy and Dann Thomas
Penciler: Paul Ryan
Inker: Danny Bulanadi
WEST COAST SUMMARY!
The team learns that Ultron-13 is behind the mystery spray turning humans into andrones. But will they be able to stop him from releasing his robot spray at the Rose Parade?
WEST COAST THOUGHTS!
The issue opens with a splash page of the team crashing into Ultron-13's secret lair in the Metro Rail tunnel. It's a strong start, but it poses a serious problem. In fact, I had to make sure I didn't accidentally skip an issue by mistake, because the last issue ended with the team still unaware of who the bad guy was and where his secret lair was. And now, here we are with the team knowing the who and where. On top of this, there's absolutely no mention of how they came to connect the dots. Weird. The book has a habit of relying too heavily on coincidences and plot holes, but this one is particularly problematic.
The team takes down a group of silent andrones at Ultron-13's lair, including a child androne that takes U.S. Agent by surprise by simply speaking. Ultron-13 is no where to be found, of course. And before they can find any clues to his whereabouts, one of the adrones activates the auto-destruct sequence. The team escape from the tunnel just in time, only to be confronted by a police officer trying to write them a ticket (see below).
Wonder Man stays behind at the destroyed lair because he senses his brother, the Grim Reaper, is there. Once they meet, Wonder Man learns of Ultron-13's plan and the Grim Reaper's alliance with him. The Grim Reapers vows to help Wonder Man stop Ultron-13 in exchange for freedom and the ability to kill one person a day to maintain his strict diet. Wonder Man reluctantly agrees. Though to be honest, he didn't negotiate hard enough. You could've talked him down to half a person a day, Simon, if you were a real hero.
Hawkeye, who is still half robot thanks to Ultron-13's robot spray, tries to escape the compound, creating an unnecessary two-page fight sequence of our favorite archer against his teammates. They manage to tie Hawkeye to a chair and then jump into a quinjet to answer Wonder Man's signal for help.
Wonder Man and the Grim Reaper get to the Rose Parade where Ultron-13 is hiding in a blimp hovering above, waiting to release his robot spray (sorry, it's gallium arsenide spray, for all you scientists out there) on the unsuspecting population. The blimp, it turns out, isn't a blimp, but a metal craft using some kind of anti-gravity. Once inside, the Grim Reaper confronts Ultron-13. It turns out that Ultron-13 has been unknowingly absorbing the life force of the humans he's been transforming to robots, making him vulnerable to the Grim Reaper's scythe. The Grim Reaper takes Ultron-13 down.
Unbeknownst to Wonder Man, the feedback from Ultron-13's computer makes the robots in the Rose Parade come to life, which allows the West Coast Avengers to spend a few pages fighting Gort from The Day the Earth Stood Still, and the robots from Lost in Space and Forbidden Planet. How these Hollywood props could become fully functioning deadly robots is yet another detail readers are expected to roll with.
The Grim Reaper, having absorbed Ultron-13's life force, is now more powerful than ever. Wonder Man breaks his promise and decides to take in the Grim Reaper dead or…well, dead. But wait, Ultron-13 isn't down for the count after all. Before everyone can start pounding on each other, Hawkeye comes blazing in to the rescue. How he escaped from being tied to his chair is not addressed? Since Hawkeye is part human and part robot, both the Grim Reaper and Ultron-13 try to absorb his life force. However, they simply cancel one another out and lose consciousness.
The rest of the team arrives to clean up the mess and take Hawkeye back to the compound. Wonder Man, who is weak from saving Hawkeye, tells the team that the Grim Reaper might be dead and a murderer, but he is still his brother. And then he passes out too.
Lots of passing out going on in this issue.
WEST BOAST OR ROAST?
Roast. Seriously, did I miss an issue? And are there pages missing from this issue? I like what they're trying to do with the brother storyline, but it doesn't have enough dramatic weight, especially when you push it into a story involving a robot with his own robot spray.
WEST COAST SCENE (OF THE WEEK)!
Even the local law enforcement doesn't respect the West Coast Avengers!

Previously on West Coast Wednesdays…
West Coast Avengers Vol. 1, #1
West Coast Avengers Vol. 1, #2
West Coast Avengers Vol. 1, #3
West Coast Avengers Vol. 1, #4
Avengers Vol. 1, #250
Iron Man Annual #7
West Coast Avenger Vol. 2, #1
The Vision and Scarlet Witch #1
West Coast Avengers Vol. 2, #2
The Vision and Scarlet Witch #2
West Coast Avengers Vol. 2, #3
West Coast Avengers Vol. 2, #4
West Coast Avengers Vol. 2, #5
West Coast Avengers Vol. 2, #6
West Coast Avengers Vol. 2, #7
West Coast Avengers Vol. 2, #8
West Coast Avengers Vol. 2, #9
West Coast Avengers Vol. 2, #10
West Coast Avengers Vol. 2, #11
West Coast Avengers Vol. 2, #12
West Coast Avengers Vol. 2, #13
Avengers Annual #15
West Coast Avengers Annual #1
West Coast Avengers Vol. 2, #14
West Coast Avengers Vol. 2, #15
West Coast Avengers Vol. 2, #16
West Coast Avengers Vol. 2, #17
West Coast Avengers Vol. 2, #18
West Coast Avengers Vol. 2, #19
West Coast Avengers Vol. 2, #20
West Coast Avengers Vol. 2, #21
West Coast Avengers Vol. 2, #22
West Coast Avengers Vol. 2, #23
West Coast Avengers Vol. 2, #24
West Coast Avengers Annual #2
Avengers Annual #16
Silver Surfer #3
West Coast Avengers Vol. 2, #25
West Coast Avengers Vol. 2, #26
West Coast Avengers Vol. 2, #27
West Coast Avengers Vol. 2, #28
West Coast Avengers Vol. 2, #29
West Coast Avengers Vol. 2, #30
West Coast Avengers Vol. 2, #31
West Coast Avengers Vol. 2, #32
West Coast Avengers Vol. 2, #33
West Coast Avengers Vol. 2, #34
West Coast Avengers Vol. 2, #35
West Coast Avengers Vol. 2, #36
West Coast Avengers Annual #3
West Coast Avengers Vol. 2, #37
West Coast Avengers Vol. 2, #38
West Coast Avengers Vol. 2, #39
West Coast Avengers Vol. 2, #40
West Coast Avengers Vol. 2, #41
West Coast Avengers Vol. 2, #42
West Coast Avengers Vol. 2, #43
West Coast Avengers Vol. 2, #44
West Coast Avengers Vol. 2, #45
West Coast Avengers Vol. 2, #46
West Coast Avengers Vol. 2, #47
West Coast Avengers Vol. 2, #48
West Coast Avengers Vol. 2, #49
West Coast Avengers Vol. 2, #50
West Coast Avengers Annual #4
West Coast Avengers Vol. 2, #51
West Coast Avengers Vol. 2, #52
West Coast Avengers Vol. 2, #53
Avengers Vol. 1, #312 
West Coast Avengers Vol. 2, #54
Avengers Vol. 1, #313 
West Coast Avengers Vol. 2, #55
West Coast Avengers Vol. 2, #56
West Coast Avengers Vol. 2, #57
West Coast Avengers Vol. 2, #58
West Coast Avengers Vol. 2, #59
West Coast Avengers Vol. 2, #60
West Coast Avengers Vol. 2, #61
West Coast Avengers Vol. 2, #62
West Coast Avengers Annual #5
West Coast Avengers Vol. 2, #63
West Coast Avengers Vol. 2, #64
West Coast Avengers Vol. 2, #65
Avengers Spotlight #38 
West Coast Avengers Vol. 2, #66
West Coast Avengers Vol. 2, #67