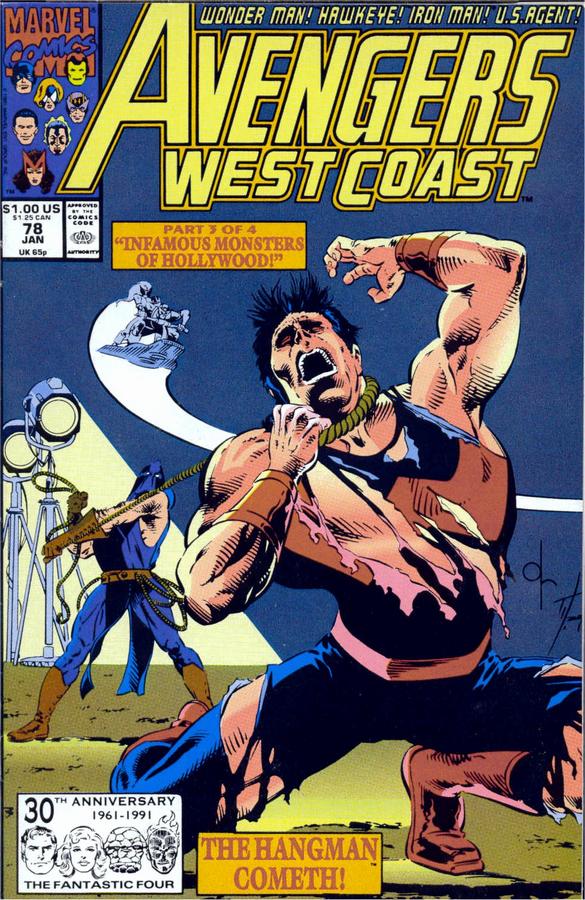 West Coast Avengers, Vol. 2, Issue 78 (January 1992)
WEST COAST CREDITS!
Writer: Roy and Dann Thomas
Penciler: David Ross
Inker:  Tim Dzon
WEST COAST SUMMARY!
"The Night Shift Takes Hollywood" begins filming with Wonder Man's help while the West Coast Avengers coordinate an offensive against the Night Shift without knowing whose side Wonder Man is really on.
WEST COAST THOUGHTS!
Wonder Man is hanged at the Hollywood sign while the Night Shift look on admiring their work. While they're bragging, he wakes up and begins fighting them before he's overwhelmed by the team. Just when it looks like he's down for the count, Hangman yells, "Cut!" It takes a while though for the Night Shift to hear him through all the body blows. Yeah, all of that was part of the filming of "The Night Shift Takes Hollywood."
Members of the Night Shift have some concerns about the movie. Some are bothered by the lack of lines they have, while others are worrying about how thin the story's plot is. The Misfit is even having difficult keeping his hands off one of the main actresses. All of this is supposed to be making fun of Hollywood as imagined by a ten year old.
Wonder Man is trapped in a Mexican standoff. You see, he's playing along with Hangman's directorial debut as there are a lot of innocent bystanders involved. Once it's safe to do so, he's going to take everyone down. The only problem is, the Night Shift know this and are waiting for him to act. So everyone is acting the part while acting the part. I'm pretty sure that all of this is supposed to be clever, but it's so painfully contrived that it's a wonder that this is the third part of a four part story.
Back at the compound, the West Coast Avengers is trying to figure out what to do next. They don't know whose side Wonder Man is really on, which says a lot about how much the team trusts him. U.S. Agent is ready to go and take down Wonder Man, but Iron Man and the rest want to do so without hurting him. This, of course, leads to another argument between U.S. Agent and Hawkeye.
As all of this is going down, Mockingbird arrives. She is introduced to the newest members of the team and discovers that Hawkeye had lied to her in the previous issue on the phone. Spider-Woman also realizes that Hawkeye had been coming on to her all this time.
Because of urgent super-hero business, Spider-Woman has to call her ex-husband and tell him that she won't be able to pick up her daughter. This leads to an argument over the phone that's meant to make the ex look like a bad guy, but in reality, she's the one at fault.
Meanwhile, on the set of "The Demon that Devoured Hollywood," U.S. Agent has taken over the part of the Demon which was previously played by Wonder Man. This infuriates Wonder Man ("Why, that back-stabbing…") and Hangman. The latter is so mad that he tells everyone that they're going to kidnap the director of "The Demon that Devoured Hollywood" and make him co-direct "The Night Shift Takes Hollywood."
Hey! Why not?
Iron Man visits Dr. Strange and barges in – against the protests of Wong – on one of Strange's spells. Iron Man brings him up to speed on their problem with Santannish. Once he's filled in, Dr. Strange promises to investigate and quickly disappears into a dimensional portal of some kind.
Back on the set of "The Demon that Devoured Hollywood," production is halted when Wonder Man is found hanging from the Hollywood sign (oh, that was foreshadowing from before! Wow! I didn't know they were capable of this). U.S. Agent is quick to act, but realizes that Wonder Man wasn't hanged, but knocked out instead. And…it's a trap! U.S. Agent is knocked around by the Night Shift until he's knocked out.
Holding the unconscious bodies of U.S. Agent and Wonder Man, Hangman contact the West Coast Avengers and tells them that they need to arrive tomorrow at dawn for a final showdown with the Night Shift that will be filmed as the climax for "The Night Shift Takes Hollywood."
Oh noes!
WEST BOAST OR ROAST?
Roast. If stupidity can cause cancer, this story might be carcinogenic.
WEST COAST SCENE (OF THE WEEK)!
Wong will not answer your questions.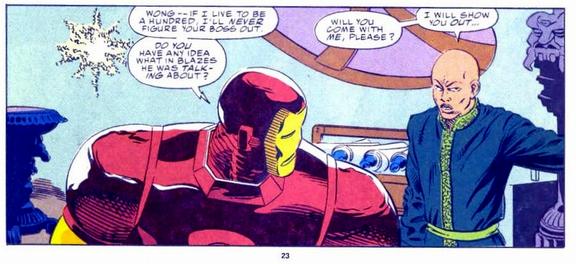 Previously on West Coast Wednesdays…
West Coast Avengers Vol. 1, #1
West Coast Avengers Vol. 1, #2
West Coast Avengers Vol. 1, #3
West Coast Avengers Vol. 1, #4
Avengers Vol. 1, #250
Iron Man Annual #7
West Coast Avenger Vol. 2, #1
The Vision and Scarlet Witch #1
West Coast Avengers Vol. 2, #2
The Vision and Scarlet Witch #2
West Coast Avengers Vol. 2, #3
West Coast Avengers Vol. 2, #4
West Coast Avengers Vol. 2, #5
West Coast Avengers Vol. 2, #6
West Coast Avengers Vol. 2, #7
West Coast Avengers Vol. 2, #8
West Coast Avengers Vol. 2, #9
West Coast Avengers Vol. 2, #10
West Coast Avengers Vol. 2, #11
West Coast Avengers Vol. 2, #12
West Coast Avengers Vol. 2, #13
Avengers Annual #15
West Coast Avengers Annual #1
West Coast Avengers Vol. 2, #14
West Coast Avengers Vol. 2, #15
West Coast Avengers Vol. 2, #16
West Coast Avengers Vol. 2, #17
West Coast Avengers Vol. 2, #18
West Coast Avengers Vol. 2, #19
West Coast Avengers Vol. 2, #20
West Coast Avengers Vol. 2, #21
West Coast Avengers Vol. 2, #22
West Coast Avengers Vol. 2, #23
West Coast Avengers Vol. 2, #24
West Coast Avengers Annual #2
Avengers Annual #16
Silver Surfer #3
West Coast Avengers Vol. 2, #25
West Coast Avengers Vol. 2, #26
West Coast Avengers Vol. 2, #27
West Coast Avengers Vol. 2, #28
West Coast Avengers Vol. 2, #29
West Coast Avengers Vol. 2, #30
West Coast Avengers Vol. 2, #31
West Coast Avengers Vol. 2, #32
West Coast Avengers Vol. 2, #33
West Coast Avengers Vol. 2, #34
West Coast Avengers Vol. 2, #35
West Coast Avengers Vol. 2, #36
West Coast Avengers Annual #3
West Coast Avengers Vol. 2, #37
West Coast Avengers Vol. 2, #38
West Coast Avengers Vol. 2, #39
West Coast Avengers Vol. 2, #40
West Coast Avengers Vol. 2, #41
West Coast Avengers Vol. 2, #42
West Coast Avengers Vol. 2, #43
West Coast Avengers Vol. 2, #44
West Coast Avengers Vol. 2, #45
West Coast Avengers Vol. 2, #46
West Coast Avengers Vol. 2, #47
West Coast Avengers Vol. 2, #48
West Coast Avengers Vol. 2, #49
West Coast Avengers Vol. 2, #50
West Coast Avengers Annual #4
West Coast Avengers Vol. 2, #51
West Coast Avengers Vol. 2, #52
West Coast Avengers Vol. 2, #53
Avengers Vol. 1, #312 
West Coast Avengers Vol. 2, #54
Avengers Vol. 1, #313 
West Coast Avengers Vol. 2, #55
West Coast Avengers Vol. 2, #56
West Coast Avengers Vol. 2, #57
West Coast Avengers Vol. 2, #58
West Coast Avengers Vol. 2, #59
West Coast Avengers Vol. 2, #60
West Coast Avengers Vol. 2, #61
West Coast Avengers Vol. 2, #62
West Coast Avengers Annual #5
West Coast Avengers Vol. 2, #63
West Coast Avengers Vol. 2, #64
West Coast Avengers Vol. 2, #65
Avengers Spotlight #38 
West Coast Avengers Vol. 2, #66
West Coast Avengers Vol. 2, #67
West Coast Avengers Vol. 2, #68
West Coast Avengers Vol. 2, #69
West Coast Avengers Vol. 2, #70
West Coast Avengers Vol. 2, #71
West Coast Avengers Vol. 2, #72
West Coast Avengers Vol. 2, #73
West Coast Avengers Vol. 2, #74
West Coast Avengers Annual #6
West Coast Avengers Vol. 2, #75
West Coast Avengers Vol. 2, #76
West Coast Avengers Vol. 2, #77