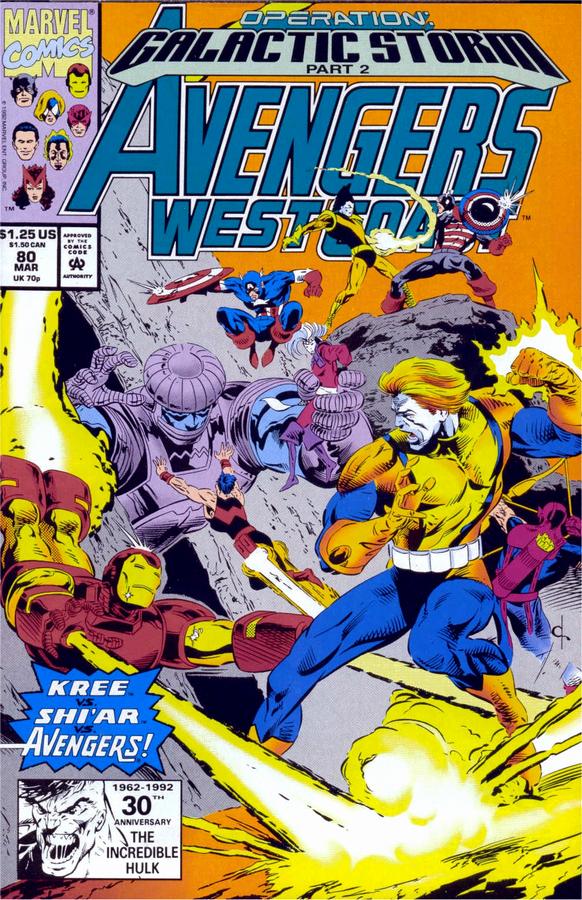 West Coast Avengers, Vol. 2, Issue 80 (March 1992)
WEST COAST CREDITS!
Writer: Roy and Dann Thomas
Penciler: David Ross
Inker:  Tim Dzon
WEST COAST SUMMARY!
The West Coast Avengers is part of Operation: Galactic Storm!
WEST COAST THOUGHTS!
Outside of the annuals, it's been a while since this book was sucked into a big event. And what better way to celebrate our nation's independence than to read an issue of "Operation: Galactic Storm"? For the sake of convenience, let's see what Wikipedia has to say about this one:
"Operation: Galactic Storm" was a 19-part comic book crossover storyline which ran through Marvel's Avengers related titles – Avengers, West Coast Avengers, Captain America, Iron Man, Thor, Wonder Man, and Quasar – between March and May 1992.
"Operation: Galactic Storm" is meant to be a sequel to the "Kree-Skrull War," a famous storyline that ran in Avengers back in 1971 and 1972.
This issue is the second part, continuing from where things left off in Captain America #398. Rick Jones had a dream that the Kree race had been annihilated. Not wanting to sucked into another intergalactic war (see Kree-Skrull War), he contacted Captain America. Along the way, they were attacked by Warstar. And then aliens attacked all of them and kidnapped Jones. When this issue begins, Jones learns that he wasn't kidnapped by the Kree (as he suspected), but the Shi-ar. They need Jones to bring him to the Kree lair where he first met Mar-vell, a Kree officer that Jones used to switch places with thanks to the help of nega-bands.
Captain America calls the West Coast Avengers for help, as he's stranded in Arizona and they're the closer team. This is important because Iron Man and Captain America haven't been on speaking terms since the Armor Wars, and you know Steve is in a tight spot if he has to call Tony. Before you know, everyone is together on the quinjet and on their way to save Jones. Luckily, Captain America gave Jones his communicard, which the team can use to track down his location.
Jones, in the meantime, is underground somewhere at the lost Kree outpost. He leads the Shi-ar to the long-outlawed psyche-magnetron, which is the device they were looking for all along – or rather, a specific part of the said device. And as they grab the part, Intergalactic Sentry #372 rises from below. It had been activated to protect the lair in the event that no Kree were present.
A fight breaks out between the sentry and the Shi-ar, with Jones trapped in the middle. And just when he's about to be blasted by the sentry, Captain America and the rest of the heroes arrive, as does Warstar, who has been following them all along. So now it's a mess of a fight involving a Intergalactic Sentry #372, Shi-ar Imperial Guardsmen, Warstar and Avengers.
There's nothing that happens next that should surprise anyone. The only thing worth noting is that U.S. Agent finds an awfully big Liefeldian gun that he shares with Iron Man to bring down Intergalactic Sentry #372. And when the dust finally settles, the Shi-ar end up escaping with the technology that they came for…because this is Part 2 after all.
With the Shi-ar in space, Captain America calls Quasar to follow them, but the Shi-ar's ship "warps out" before he can get to it.
The issue ends with a shadowy figure standing over Mar-vell's grave on the moon of Titan.
WEST BOAST OR ROAST?
Roast. While it's a step up from fighting the Night Shift in Hollywood, this is still a mess.
WEST COAST SCENE (OF THE WEEK)!
At least Cable never needed anyone to help him carry his gun.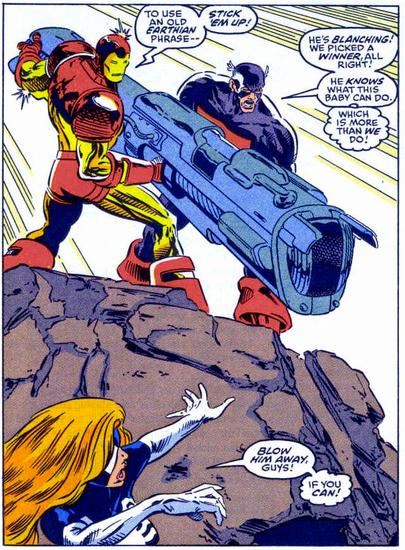 Previously on West Coast Wednesdays…
West Coast Avengers Vol. 1, #1
West Coast Avengers Vol. 1, #2
West Coast Avengers Vol. 1, #3
West Coast Avengers Vol. 1, #4
Avengers Vol. 1, #250
Iron Man Annual #7
West Coast Avenger Vol. 2, #1
The Vision and Scarlet Witch #1
West Coast Avengers Vol. 2, #2
The Vision and Scarlet Witch #2
West Coast Avengers Vol. 2, #3
West Coast Avengers Vol. 2, #4
West Coast Avengers Vol. 2, #5
West Coast Avengers Vol. 2, #6
West Coast Avengers Vol. 2, #7
West Coast Avengers Vol. 2, #8
West Coast Avengers Vol. 2, #9
West Coast Avengers Vol. 2, #10
West Coast Avengers Vol. 2, #11
West Coast Avengers Vol. 2, #12
West Coast Avengers Vol. 2, #13
Avengers Annual #15
West Coast Avengers Annual #1
West Coast Avengers Vol. 2, #14
West Coast Avengers Vol. 2, #15
West Coast Avengers Vol. 2, #16
West Coast Avengers Vol. 2, #17
West Coast Avengers Vol. 2, #18
West Coast Avengers Vol. 2, #19
West Coast Avengers Vol. 2, #20
West Coast Avengers Vol. 2, #21
West Coast Avengers Vol. 2, #22
West Coast Avengers Vol. 2, #23
West Coast Avengers Vol. 2, #24
West Coast Avengers Annual #2
Avengers Annual #16
Silver Surfer #3
West Coast Avengers Vol. 2, #25
West Coast Avengers Vol. 2, #26
West Coast Avengers Vol. 2, #27
West Coast Avengers Vol. 2, #28
West Coast Avengers Vol. 2, #29
West Coast Avengers Vol. 2, #30
West Coast Avengers Vol. 2, #31
West Coast Avengers Vol. 2, #32
West Coast Avengers Vol. 2, #33
West Coast Avengers Vol. 2, #34
West Coast Avengers Vol. 2, #35
West Coast Avengers Vol. 2, #36
West Coast Avengers Annual #3
West Coast Avengers Vol. 2, #37
West Coast Avengers Vol. 2, #38
West Coast Avengers Vol. 2, #39
West Coast Avengers Vol. 2, #40
West Coast Avengers Vol. 2, #41
West Coast Avengers Vol. 2, #42
West Coast Avengers Vol. 2, #43
West Coast Avengers Vol. 2, #44
West Coast Avengers Vol. 2, #45
West Coast Avengers Vol. 2, #46
West Coast Avengers Vol. 2, #47
West Coast Avengers Vol. 2, #48
West Coast Avengers Vol. 2, #49
West Coast Avengers Vol. 2, #50
West Coast Avengers Annual #4
West Coast Avengers Vol. 2, #51
West Coast Avengers Vol. 2, #52
West Coast Avengers Vol. 2, #53
Avengers Vol. 1, #312 
West Coast Avengers Vol. 2, #54
Avengers Vol. 1, #313 
West Coast Avengers Vol. 2, #55
West Coast Avengers Vol. 2, #56
West Coast Avengers Vol. 2, #57
West Coast Avengers Vol. 2, #58
West Coast Avengers Vol. 2, #59
West Coast Avengers Vol. 2, #60
West Coast Avengers Vol. 2, #61
West Coast Avengers Vol. 2, #62
West Coast Avengers Annual #5
West Coast Avengers Vol. 2, #63
West Coast Avengers Vol. 2, #64
West Coast Avengers Vol. 2, #65
Avengers Spotlight #38 
West Coast Avengers Vol. 2, #66
West Coast Avengers Vol. 2, #67
West Coast Avengers Vol. 2, #68
West Coast Avengers Vol. 2, #69
West Coast Avengers Vol. 2, #70
West Coast Avengers Vol. 2, #71
West Coast Avengers Vol. 2, #72
West Coast Avengers Vol. 2, #73
West Coast Avengers Vol. 2, #74
West Coast Avengers Annual #6
West Coast Avengers Vol. 2, #75
West Coast Avengers Vol. 2, #76
West Coast Avengers Vol. 2, #77
West Coast Avengers Vol. 2, #78
West Coast Avengers Vol. 2, #79