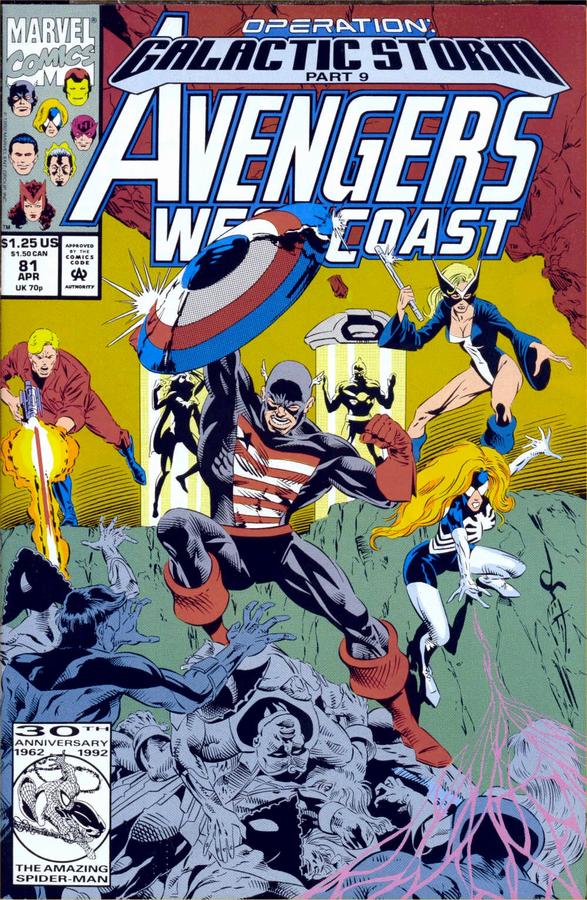 West Coast Avengers, Vol. 2, Issue 81 (April 1992)
WEST COAST CREDITS!
Writer: Roy and Dann Thomas
Penciler: David Ross
Inker:  Tim Dzon
WEST COAST SUMMARY!
With the Avengers in space dealing with the threat of an intergalactic war, the reservists, including U.S. Agent, Mockingbird, Spider-Woman and Pym, must deal with a threat closer to home.
WEST COAST THOUGHTS!
If there's a better way to spend your birthday than reading the ninth part to "Operation: Galactic Storm," I don…wait a minute! That's right. Anything. Anything is better than reading this.
Most of the Avengers are in space on an extremely dangerous mission, leaving behind many Avengers reservists to hold the fort in their absence. U.S. Agent is not pleased about this and decides to take it out on She-Hulk by basically telling her that she's fat. And when she threatens to punch him, he says, "Don't try it, lady. I've never hit a woman in my life, but in your case…"
Hey, remember that time back in West Coast Avengers #72 when U.S. Agent beat the crap out of Spider-Woman?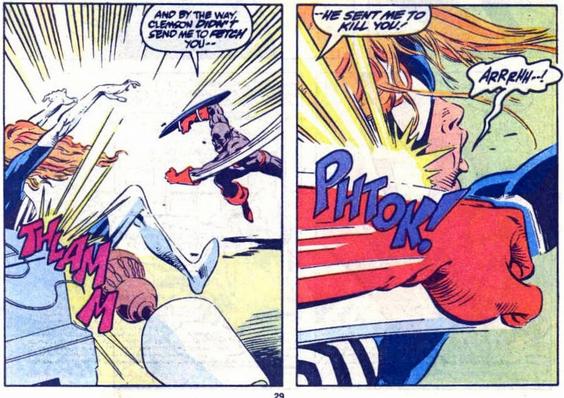 It turns out the whole thing was simply a misunderstanding (a Marvel staple!), as She-Hulk was simply mad that U.S. Agent and Mockingbird didn't relieve her and Falcon of guard duty. You see, everyone is hanging out at Project: Pegasus where Warstar, the Shi-ar crewmen, Captain Atlas and Dr. Minerva have been captured and put into a miniaturized stasis by Pym. And now everyone is taking turns watching over them until this whole intergalactic mess is dealt with.
You might be annoyed right now that I've decided not to read any of the other parts to "Operation: Galactic Storm" so that this would make a lot more sense. But I've read over 90 issues (including the original mini-series and annuals) of West Coast Avengers by the point…haven't I suffered enough?
While U.S. Agent and Mockingbird guard the prisoners, we find out that U.S. Agent was the one who voted for Mockingbird to be a member of the team way back in West Coast Avengers #69. It took 12 issues for the Thomas's to finally resolve that little mystery. But it turns out that he voted for her because "even if you can't do all that much, you'd sure improve the scenery." This jab annoys her enough to throw U.S. Agent across the room. She informs him that there's more to her than her looks (unfortunately, this speech is completely undermined by the artist – see below!).
When they finally stop bickering, they finally notice the intruder approaching them. A blue-skinned woman named Nightside who has the power to turn off the lights! Luckily, she's even aware of how limiting her powers really are, so she carries a handy concussion gun. So while U.S. Agent and Mockingbird are fumbling around in the dark, she shoots them both. Nightside is accompanied by another woman named Scintilla. They both free the captured villains, but not before She-Hulk walks in to see the escape.
Side note: One of the Avengers present is Gilgamesh, who I gather has replaced Hercules as the team's mythical half-naked hero. It's important to remember how fashionable Mesopotamia was back in the days of 1992.
The team manage to stop Nightside and the Shi-ar prisoners, including Warstar. However, the Kree prisoners – Captain Atlas and Dr. Minerva – manage to escape. The team catches up with them as their escape ship is taking off. U.S. Agent jumps on the ship without thinking. Using an electro-magnetic charge, the Kree manage to shake U.S. Agent off the ship where he would have fallen to his death if it weren't for Spider-Woman using her psi-webs (how exactly do these work again?) to slow down his fall in time for She-Hulk to catch him.
Now, I'm not going to say that this issue was good, but it might've had a chance of being close to good if it had ended here. However, there are quite a few pages left…and this is where everything turns stupid.
Dr. Minerva flies the ship into outer space. Captain Atlas tries to get in some kissing action with Dr. Minerva (they're lover, see?) but she's too busy landing the ship on a Shi-ar starcruiser. What? Dr. Minerva was actually Hobgoblin, a shapeshifitng imperial guardsman! This whole elaborate scheme was for the Shi-ar to steal Captain Atlas' nega-bands.
The real Dr. Minerva was found unconscious back on Project: Pegasus, where Hobgoblin made the switch during the escape. She agrees to help the heroes – out of revenge against the Shi-ar – to locate Captain Atlas using her higher intuitive sense. She senses that Captain Atlas is with the Shi-ar and are now leaving Earth's orbit.
She-Hulk contacts Quasar – who is hanging out in outer space with Her (don't ask…please?) – and tells him to stop the Shi-ar starcruiser from reaching the stargate with Captain Atlas. Unfortunately, the Shi-ar send out some assassins to fight Quasar and Her, allowing the starcruiser to warp through the stargate.
This birthday was supposed to be a happy one…
WEST BOAST OR ROAST?
Roast. Come on, let me get back to my birthday already!
WEST COAST SCENE (OF THE WEEK)!
Nothing says that Mockingbird isn't tolerated for her looks more than a gratuitous ass shot!

Previously on West Coast Wednesdays…
West Coast Avengers Vol. 1, #1
West Coast Avengers Vol. 1, #2
West Coast Avengers Vol. 1, #3
West Coast Avengers Vol. 1, #4
Avengers Vol. 1, #250
Iron Man Annual #7
West Coast Avenger Vol. 2, #1
The Vision and Scarlet Witch #1
West Coast Avengers Vol. 2, #2
The Vision and Scarlet Witch #2
West Coast Avengers Vol. 2, #3
West Coast Avengers Vol. 2, #4
West Coast Avengers Vol. 2, #5
West Coast Avengers Vol. 2, #6
West Coast Avengers Vol. 2, #7
West Coast Avengers Vol. 2, #8
West Coast Avengers Vol. 2, #9
West Coast Avengers Vol. 2, #10
West Coast Avengers Vol. 2, #11
West Coast Avengers Vol. 2, #12
West Coast Avengers Vol. 2, #13
Avengers Annual #15
West Coast Avengers Annual #1
West Coast Avengers Vol. 2, #14
West Coast Avengers Vol. 2, #15
West Coast Avengers Vol. 2, #16
West Coast Avengers Vol. 2, #17
West Coast Avengers Vol. 2, #18
West Coast Avengers Vol. 2, #19
West Coast Avengers Vol. 2, #20
West Coast Avengers Vol. 2, #21
West Coast Avengers Vol. 2, #22
West Coast Avengers Vol. 2, #23
West Coast Avengers Vol. 2, #24
West Coast Avengers Annual #2
Avengers Annual #16
Silver Surfer #3
West Coast Avengers Vol. 2, #25
West Coast Avengers Vol. 2, #26
West Coast Avengers Vol. 2, #27
West Coast Avengers Vol. 2, #28
West Coast Avengers Vol. 2, #29
West Coast Avengers Vol. 2, #30
West Coast Avengers Vol. 2, #31
West Coast Avengers Vol. 2, #32
West Coast Avengers Vol. 2, #33
West Coast Avengers Vol. 2, #34
West Coast Avengers Vol. 2, #35
West Coast Avengers Vol. 2, #36
West Coast Avengers Annual #3
West Coast Avengers Vol. 2, #37
West Coast Avengers Vol. 2, #38
West Coast Avengers Vol. 2, #39
West Coast Avengers Vol. 2, #40
West Coast Avengers Vol. 2, #41
West Coast Avengers Vol. 2, #42
West Coast Avengers Vol. 2, #43
West Coast Avengers Vol. 2, #44
West Coast Avengers Vol. 2, #45
West Coast Avengers Vol. 2, #46
West Coast Avengers Vol. 2, #47
West Coast Avengers Vol. 2, #48
West Coast Avengers Vol. 2, #49
West Coast Avengers Vol. 2, #50
West Coast Avengers Annual #4
West Coast Avengers Vol. 2, #51
West Coast Avengers Vol. 2, #52
West Coast Avengers Vol. 2, #53
Avengers Vol. 1, #312 
West Coast Avengers Vol. 2, #54
Avengers Vol. 1, #313 
West Coast Avengers Vol. 2, #55
West Coast Avengers Vol. 2, #56
West Coast Avengers Vol. 2, #57
West Coast Avengers Vol. 2, #58
West Coast Avengers Vol. 2, #59
West Coast Avengers Vol. 2, #60
West Coast Avengers Vol. 2, #61
West Coast Avengers Vol. 2, #62
West Coast Avengers Annual #5
West Coast Avengers Vol. 2, #63
West Coast Avengers Vol. 2, #64
West Coast Avengers Vol. 2, #65
Avengers Spotlight #38 
West Coast Avengers Vol. 2, #66
West Coast Avengers Vol. 2, #67
West Coast Avengers Vol. 2, #68
West Coast Avengers Vol. 2, #69
West Coast Avengers Vol. 2, #70
West Coast Avengers Vol. 2, #71
West Coast Avengers Vol. 2, #72
West Coast Avengers Vol. 2, #73
West Coast Avengers Vol. 2, #74
West Coast Avengers Annual #6
West Coast Avengers Vol. 2, #75
West Coast Avengers Vol. 2, #76
West Coast Avengers Vol. 2, #77
West Coast Avengers Vol. 2, #78
West Coast Avengers Vol. 2, #79
West Coast Avengers Vol. 2, #80