West Coast Wednesdays: West Coast Avengers Vol. 2, #84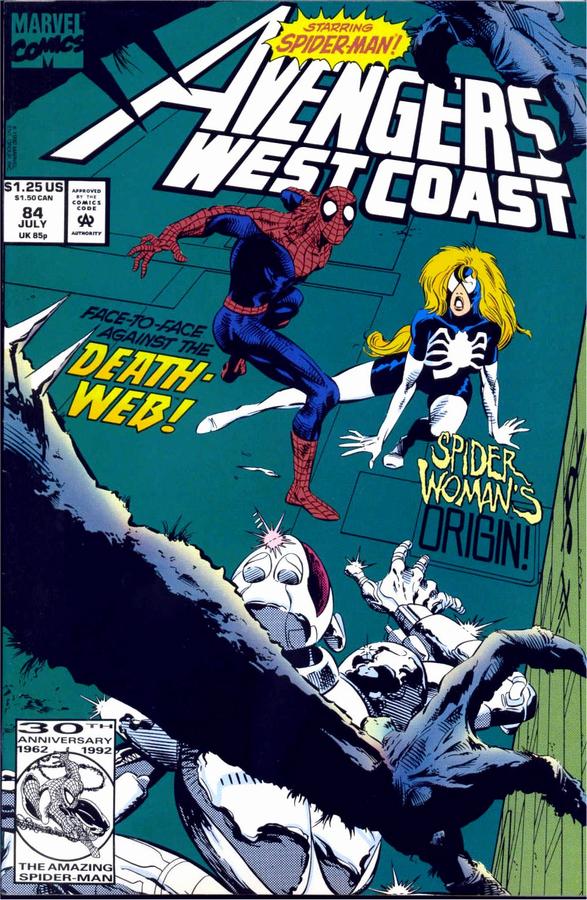 West Coast Avengers, Vol. 2, Issue 84 (July 1992)
WEST COAST CREDITS!
Writer: Roy Thomas
Penciler: David Ross
Inker:  Tim Dzon
WEST COAST SUMMARY!
When a tabloid threatens to expose a presidential candidate's corruption, a string of murders leads Spider-Man and the West Coast Avengers on a collision course with the Deathweb.
WEST COAST THOUGHTS!
Not sure if this is a sign of things to come or if it's a fluke, but Roy Thomas is writing this issue solo. Not that it matters, as the story reads with all the familiar hallmarks we've come to expect from the Thomas's. The only thing that really sets this issue apart on a technical level is the lettering, which feels jarringly amateurish for a book of this caliber (hey, I'm trying to be nice here!).
In New York, Peter Parker attends a press conference where the N.Y. Globe-Reporter is about to announce which one of the presidential candidates is on the mob's payroll. When the paper's informant mysteriously appears on stage – as if he'd been teleported – with a strange mark on his neck right before he falls over and dies, Parker knows that something is amiss. Knowing that the presidential candidates are all out in California, he hops on the first place heading west. For a guy who is always struggling financially, Parker sure gets around.
The West Coast Avengers are having breakfast at the compound (thanks to the hard work of Consuela) and discussing the news, especially of the mysterious death of the N.Y. Globe-Reporter's informant in New York. Hawkeye and U.S. Agent naturally get into a debate over the new presidential nominees, especially Michael A. Galvan – the Liberty Party's nomination (I'm guessing that Galvan is meant to mirror Ross Perot). Hawkeye thinks he's the next thing to a Nazi, while U.S. Agent feels that Galvan's law and order platform – especially with the gang situation in L.A. – is just as important as the economy. During all this, Miguel and his girlfriend Mona walk into the kitchen half-naked, as you do.  When the radio announces the mysterious murder of Henry J. Drummond, the attorney for the Globe-Reporter, and how his body was found in an enormous spider-web, Iron Man and Wonder Man call the team to action.
Spider-Woman picks up his daughter Rachel from her estranged ex-husband Larry. On the highway, Spider-Woman decides to tell her daughter her origin story – four pages of exposition that's about 12 issues too late. For those who are uncertain of her origin (as I was), Spider-Woman was living in Denver when her friend Valerie Cooper offered her a job. This job basically made her a test subject for a top secret Commission that did research on super-heroes. After injecting her with a bunch of needles, they confess that they accidentally injected her with extracts from spiders. And because this is the Marvel universe, she quickly discovered that she had the powers of a spider, including strength, wall-climbing, jumping, etc. She even found out that she could create spider webs with her mind (a detail I never quite understood from her appearances in this book, and now that I know her origin, am still a little flabbergasted by how stupid this is). From there, she ended up in Secret Wars, Freedom Force and then finally back to the Commission under the guidance of the shady Mike Clemson.
Speaking of Clemson, Spider-Woman takes a detour to meet with him at an old run-down factory. Keeping in mind that her daughter is along for the ride. Clemson – like the reader – is shocked that she's dumb enough to bring her daughter. While he's lecturing her about this, Rachel is out of the car and hitting Clemson. He pushes her and tells her to get back in the car. Spider-Woman, upset that he laid a hand on his daughter, throws him against a wall, telling him that she's done with the Commission. After she leaves, Clemson enters the warehouse where there are multiple screens with shadowy figures on them, and we learn that there is another group called the Conclave, which is even more secret than the Commission.
If that wasn't enough, Spider-Woman then decides to take Rachel to the convention center where the team has gathered to investigate those strange murders. Spider-Woman's solution to protecting Rachel's identity is to let her wear her own Spider-Woman mask. Rachel's presence makes the team freak out (see below). And rightfully so.
Galvan is giving a speech at the convention center when the lights go out. The team notices a strange figure climbing the walls and jumping around and chase it down. By the time they realize it's Spider-Man doing his own investigation, they're all under attack by the Deathweb!
And so it ends…
WEST BOAST OR ROAST?
Roast. Even if I could get on board a presidential conspiracy story, Spider-Woman's ineptitude keeps knocking me out of the book.
WEST COAST SCENE (OF THE WEEK)!
When the West Coast Avengers is questioning your mothering skills, something is wrong…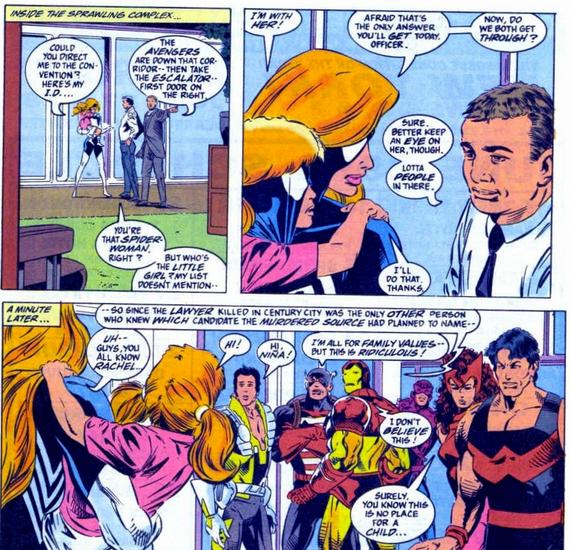 Previously on West Coast Wednesdays…
West Coast Avengers Vol. 1, #1
West Coast Avengers Vol. 1, #2
West Coast Avengers Vol. 1, #3
West Coast Avengers Vol. 1, #4
Avengers Vol. 1, #250
Iron Man Annual #7
West Coast Avenger Vol. 2, #1
The Vision and Scarlet Witch #1
West Coast Avengers Vol. 2, #2
The Vision and Scarlet Witch #2
West Coast Avengers Vol. 2, #3
West Coast Avengers Vol. 2, #4
West Coast Avengers Vol. 2, #5
West Coast Avengers Vol. 2, #6
West Coast Avengers Vol. 2, #7
West Coast Avengers Vol. 2, #8
West Coast Avengers Vol. 2, #9
West Coast Avengers Vol. 2, #10
West Coast Avengers Vol. 2, #11
West Coast Avengers Vol. 2, #12
West Coast Avengers Vol. 2, #13
Avengers Annual #15
West Coast Avengers Annual #1
West Coast Avengers Vol. 2, #14
West Coast Avengers Vol. 2, #15
West Coast Avengers Vol. 2, #16
West Coast Avengers Vol. 2, #17
West Coast Avengers Vol. 2, #18
West Coast Avengers Vol. 2, #19
West Coast Avengers Vol. 2, #20
West Coast Avengers Vol. 2, #21
West Coast Avengers Vol. 2, #22
West Coast Avengers Vol. 2, #23
West Coast Avengers Vol. 2, #24
West Coast Avengers Annual #2
Avengers Annual #16
Silver Surfer #3
West Coast Avengers Vol. 2, #25
West Coast Avengers Vol. 2, #26
West Coast Avengers Vol. 2, #27
West Coast Avengers Vol. 2, #28
West Coast Avengers Vol. 2, #29
West Coast Avengers Vol. 2, #30
West Coast Avengers Vol. 2, #31
West Coast Avengers Vol. 2, #32
West Coast Avengers Vol. 2, #33
West Coast Avengers Vol. 2, #34
West Coast Avengers Vol. 2, #35
West Coast Avengers Vol. 2, #36
West Coast Avengers Annual #3
West Coast Avengers Vol. 2, #37
West Coast Avengers Vol. 2, #38
West Coast Avengers Vol. 2, #39
West Coast Avengers Vol. 2, #40
West Coast Avengers Vol. 2, #41
West Coast Avengers Vol. 2, #42
West Coast Avengers Vol. 2, #43
West Coast Avengers Vol. 2, #44
West Coast Avengers Vol. 2, #45
West Coast Avengers Vol. 2, #46
West Coast Avengers Vol. 2, #47
West Coast Avengers Vol. 2, #48
West Coast Avengers Vol. 2, #49
West Coast Avengers Vol. 2, #50
West Coast Avengers Annual #4
West Coast Avengers Vol. 2, #51
West Coast Avengers Vol. 2, #52
West Coast Avengers Vol. 2, #53
Avengers Vol. 1, #312 
West Coast Avengers Vol. 2, #54
Avengers Vol. 1, #313 
West Coast Avengers Vol. 2, #55
West Coast Avengers Vol. 2, #56
West Coast Avengers Vol. 2, #57
West Coast Avengers Vol. 2, #58
West Coast Avengers Vol. 2, #59
West Coast Avengers Vol. 2, #60
West Coast Avengers Vol. 2, #61
West Coast Avengers Vol. 2, #62
West Coast Avengers Annual #5
West Coast Avengers Vol. 2, #63
West Coast Avengers Vol. 2, #64
West Coast Avengers Vol. 2, #65
Avengers Spotlight #38 
West Coast Avengers Vol. 2, #66
West Coast Avengers Vol. 2, #67
West Coast Avengers Vol. 2, #68
West Coast Avengers Vol. 2, #69
West Coast Avengers Vol. 2, #70
West Coast Avengers Vol. 2, #71
West Coast Avengers Vol. 2, #72
West Coast Avengers Vol. 2, #73
West Coast Avengers Vol. 2, #74
West Coast Avengers Annual #6
West Coast Avengers Vol. 2, #75
West Coast Avengers Vol. 2, #76
West Coast Avengers Vol. 2, #77
West Coast Avengers Vol. 2, #78
West Coast Avengers Vol. 2, #79
West Coast Avengers Vol. 2, #80
West Coast Avengers Vol. 2, #81
West Coast Avengers Vol. 2, #82
West Coast Avengers Vol. 2, #83