West Coast Wednesdays: West Coast Avengers Vol. 2, #86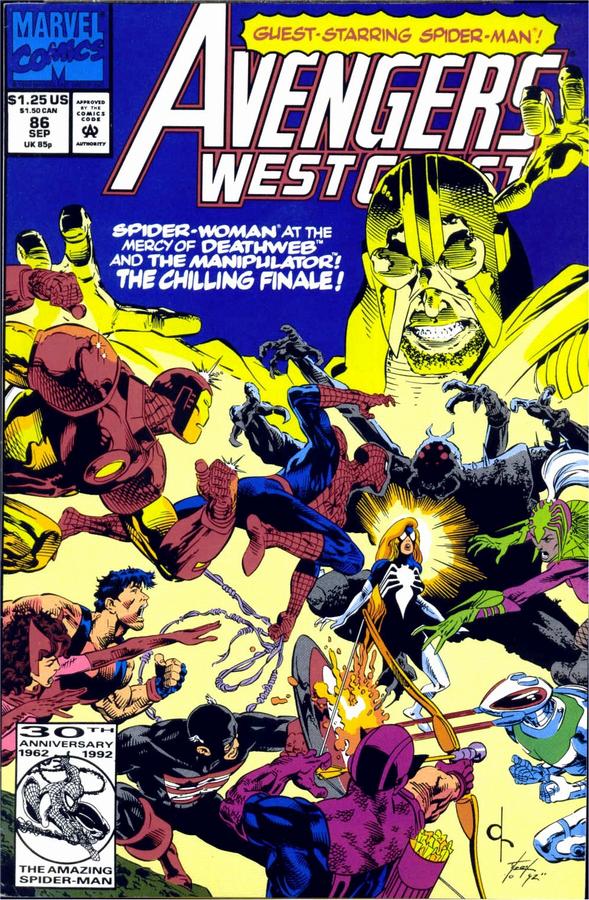 West Coast Avengers, Vol. 2, Issue 86 (September 1992)
WEST COAST CREDITS!
Writer: Roy and Dann Thomas
Penciler: David Ross
Inker:  Tim Dzon
WEST COAST SUMMARY!
Spider-Woman vs. Spider-Man? Things go from bad to worse when the team have their final confrontation with the Deathweb. Plus, a character dies! YES! REALLY!
WEST COAST THOUGHTS!
Clearly the book must be hurting by this point to call for a three-part story with Spider-Man's involvement. This is confirmed even more with the appearance of Wolverine in next month's issue. But I'm getting ahead of myself. Also, is it Death-Web or Deathweb? The book can't quite decide, which is why I tend to go back and forth myself here.
The issue starts right where we left off with Spider-Woman being forced to kill Spider-Man in order to save the life of her daughter Rachel. Our two heroes throw one another around the room, smashing up the Conclave's equipment as they go, until eventually the machines threaten to explode. Seeing our heroes in a "death struggle", the Deathweb, along with the Manipulator, trap-door away before the factory explodes.
Meanwhile, the team is licking its wounds from their last encounter with the Deathweb (though Hawkeye and U.S. Agent are getting checked up at the hospital). It's also worth mentioning that Spider-Woman's ex-husband Larry Carpenter is also there, as he needs to make sure the team protects the Liberty Party's candidate for tonight's big rally. Wonder Man is especially bummed about losing Rachel. As usual, he's too busy moping, which is why he's caught off guard when the Deathweb trap-door right behind him. He's knocked down long enough for the villains to leave a mysterious device before trap-dooring away. The rest of the heroes come running in too late. Wonder Man insists the device is a bomb, but after a quick inspection, Iron Man disagrees. When he plugs it in, an R2-D2 -style hologram of the Manipulator with Rachel appears. He tells them that Spider-Man and Spider-Woman are dead and that he'll hurt Rachel unless the team shows up at the rally. Larry is, of course, distraught that his daughter is in danger and begs the team not to come to the rally.
Apparently, Larry's been reading the book and knows what the team isn't capable of.
Back at the destroyed factory, Spider-Man and Spider-Woman are, in fact, not dead. They're trapped under the building's rubble. This scene is supposed to mirror Amazing Spider-Man #33, the classic story where Spider-Man is trapped under debris, but the major difference here is that Ross doesn't sell the scene like Steve Ditko did. They would probably escape quicker if they didn't spend all their time chatting away. Spider-Woman confesses that she couldn't have killed Spider-Man, even if it meant saving her daughter's life. Spider-Man informs her that he knew, and that he also conveniently managed to throw a spider-tracer on Rachel before the Deathweb teleported her away. It should be of no surprise that they finally free themselves.
Spider-Woman and Spider-Man show up at the rally. On stage, Michael A. Galvan is giving a big speech on stage and introducing his running mate, Wilson Lambert. Backstage, Larry is a mess as he is sick with worry over his daughter's kidnapping. However, that's all quickly resolved when Spider-Man brings Rachel into the room. He had found her in an unguarded trailer thanks to his spider-tracer. And while Larry is thrilled to see Rachel, he's still mad at the heroes for putting her in danger. And at this moment, Spider-Woman unmasks herself. Larry's reaction is surprisingly natural, as he freaks out for her putting Rachel's life in jeopardy. He threatens to take her to court where she'll most certainly lose any custody of their daughter.
The Deathweb trap-door on stage behind Galvan and immediately kill him. As it turns out, the West Coast Avengers ignored Larry's plea to avoid being at the rally and were there all along. In fact, the Living Lightning was disguised as a police officer near Galvan the whole time. And the heroes are so busy telling the Deathweb how they're ready for them this time, that they never seem to fully address that they weren't ready enough to stop them from killing a presidential candidate. Once again, the West Coast Avengers continue to be the worst super-hero team ever. The team fight the Deathweb, and with some ingenuity thanks to Scarlet Witch, they defeat them fairly quickly.
With Galvan dead, Lambert quickly takes to the mic and tells everyone that he plans to carry on Galvan's message and inspires two people from the audience.
Outside the rally, Larry is bringing Rachel to the car to get her out of there when the Manipulator appears to reclaim the girl. Larry fights back and the Manipulator gives him a heart attack. Spider-Man and Spider-Woman appear too late, but they do show up in time for the Manipulator to vanish into thin air. Larry tells Julia that maybe neither of them was as bad as the other thought. And then he dies.
Back inside, Lambert continues to give the most ill-timed political speech of all time, while the Deathweb are tied up a few yards away. Thanks to  this bit of convenience, it's learned that the Deathweb were ordered to kill everyone but Lambert, meaning that the running mate was the one working for the mob all along. Of course there's no evidence and Lambert denies the whole thing, but his audience begins to suspect that something's wrong, with one of them harshly saying, "I gotta go think about him for a while" (because people didn't rush to judgement back in 1992).
If this issue doesn't inspire you to get into politics, nothing will.
WEST BOAST OR ROAST?
Roast. A convoluted mess, with all the emotional scenes being too short to have any impact and all the stupid moments lasting too long.
WEST COAST SCENE (OF THE WEEK)!
And when Matt Drudge was finishing thinking about him, he invented the internet.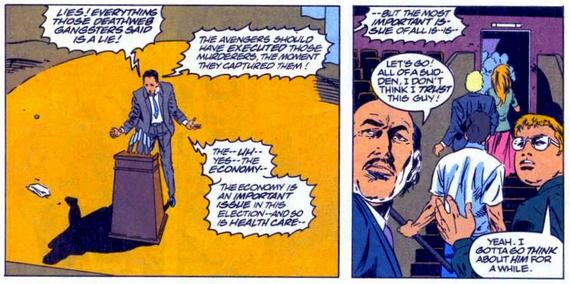 Previously on West Coast Wednesdays…
West Coast Avengers Vol. 1, #1
West Coast Avengers Vol. 1, #2
West Coast Avengers Vol. 1, #3
West Coast Avengers Vol. 1, #4
Avengers Vol. 1, #250
Iron Man Annual #7
West Coast Avenger Vol. 2, #1
The Vision and Scarlet Witch #1
West Coast Avengers Vol. 2, #2
The Vision and Scarlet Witch #2
West Coast Avengers Vol. 2, #3
West Coast Avengers Vol. 2, #4
West Coast Avengers Vol. 2, #5
West Coast Avengers Vol. 2, #6
West Coast Avengers Vol. 2, #7
West Coast Avengers Vol. 2, #8
West Coast Avengers Vol. 2, #9
West Coast Avengers Vol. 2, #10
West Coast Avengers Vol. 2, #11
West Coast Avengers Vol. 2, #12
West Coast Avengers Vol. 2, #13
Avengers Annual #15
West Coast Avengers Annual #1
West Coast Avengers Vol. 2, #14
West Coast Avengers Vol. 2, #15
West Coast Avengers Vol. 2, #16
West Coast Avengers Vol. 2, #17
West Coast Avengers Vol. 2, #18
West Coast Avengers Vol. 2, #19
West Coast Avengers Vol. 2, #20
West Coast Avengers Vol. 2, #21
West Coast Avengers Vol. 2, #22
West Coast Avengers Vol. 2, #23
West Coast Avengers Vol. 2, #24
West Coast Avengers Annual #2
Avengers Annual #16
Silver Surfer #3
West Coast Avengers Vol. 2, #25
West Coast Avengers Vol. 2, #26
West Coast Avengers Vol. 2, #27
West Coast Avengers Vol. 2, #28
West Coast Avengers Vol. 2, #29
West Coast Avengers Vol. 2, #30
West Coast Avengers Vol. 2, #31
West Coast Avengers Vol. 2, #32
West Coast Avengers Vol. 2, #33
West Coast Avengers Vol. 2, #34
West Coast Avengers Vol. 2, #35
West Coast Avengers Vol. 2, #36
West Coast Avengers Annual #3
West Coast Avengers Vol. 2, #37
West Coast Avengers Vol. 2, #38
West Coast Avengers Vol. 2, #39
West Coast Avengers Vol. 2, #40
West Coast Avengers Vol. 2, #41
West Coast Avengers Vol. 2, #42
West Coast Avengers Vol. 2, #43
West Coast Avengers Vol. 2, #44
West Coast Avengers Vol. 2, #45
West Coast Avengers Vol. 2, #46
West Coast Avengers Vol. 2, #47
West Coast Avengers Vol. 2, #48
West Coast Avengers Vol. 2, #49
West Coast Avengers Vol. 2, #50
West Coast Avengers Annual #4
West Coast Avengers Vol. 2, #51
West Coast Avengers Vol. 2, #52
West Coast Avengers Vol. 2, #53
Avengers Vol. 1, #312 
West Coast Avengers Vol. 2, #54
Avengers Vol. 1, #313 
West Coast Avengers Vol. 2, #55
West Coast Avengers Vol. 2, #56
West Coast Avengers Vol. 2, #57
West Coast Avengers Vol. 2, #58
West Coast Avengers Vol. 2, #59
West Coast Avengers Vol. 2, #60
West Coast Avengers Vol. 2, #61
West Coast Avengers Vol. 2, #62
West Coast Avengers Annual #5
West Coast Avengers Vol. 2, #63
West Coast Avengers Vol. 2, #64
West Coast Avengers Vol. 2, #65
Avengers Spotlight #38 
West Coast Avengers Vol. 2, #66
West Coast Avengers Vol. 2, #67
West Coast Avengers Vol. 2, #68
West Coast Avengers Vol. 2, #69
West Coast Avengers Vol. 2, #70
West Coast Avengers Vol. 2, #71
West Coast Avengers Vol. 2, #72
West Coast Avengers Vol. 2, #73
West Coast Avengers Vol. 2, #74
West Coast Avengers Annual #6
West Coast Avengers Vol. 2, #75
West Coast Avengers Vol. 2, #76
West Coast Avengers Vol. 2, #77
West Coast Avengers Vol. 2, #78
West Coast Avengers Vol. 2, #79
West Coast Avengers Vol. 2, #80
West Coast Avengers Vol. 2, #81
West Coast Avengers Vol. 2, #82
West Coast Avengers Vol. 2, #83
West Coast Avengers Vol. 2, #84
West Coast Avengers Vol. 2, #85