West Coast Wednesdays: West Coast Avengers Vol. 2, #87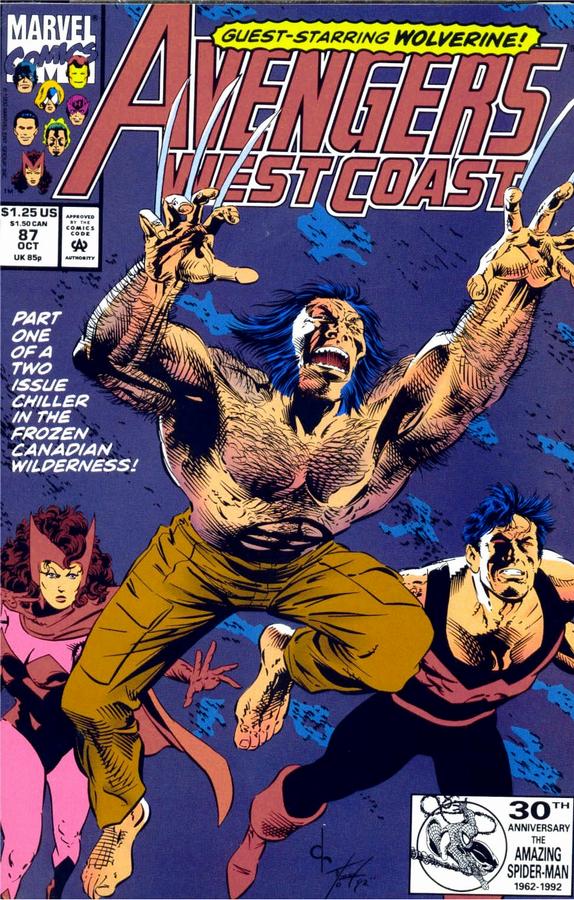 West Coast Avengers, Vol. 2, Issue 87 (November 1992)
WEST COAST CREDITS!
Writer: Roy and Dann Thomas
Penciler: David Ross
Inker:  Tim Dzon
WEST COAST SUMMARY!
After a three-part story with Spider-Man, it's time for the West Coast Avengers to step up to the plate for a Wolverine two-parter!
WEST COAST THOUGHTS!
Things must not have been looking good for the book by November of 1992 if the appearance of Wolverine is any indication. Because any title with Wolverine in it was certainly going to grab the attention of readers. At this rate, I expect the Punisher to make an appearance pretty soon.
A U.S.-Canadian D.E.W. base is attacked by Russians. After all of the soldiers have been neutralized, a team of technicians begin assembling important equipment that'll take ten hours to do. "It must be done within five," commands a mysterious doctor. "This may be our last chance to begin a new cold war!"
Oh, 1992, how I've missed you!
Hawkeye and U.S. Agent are sharing a room in the hospital – still recovering from their injuries fighting Deathweb. Mockingbird comes to see how they're doing and she discovers that they're arguing, as always. U.S. Agent gets a call from the Commission about a mission in Canada. He hangs up and gets into costume, but the phone rings again before he can leave. This time it's Scarlet Witch ordering him and the others to the compound.
Meanwhile, Wolverine is backpacking in Bathurst Inlet being stalked by a polar beer and complaining about the mosquitoes. And just as the polar beer is about to strike, Wolverine is confronted by two Russian supertypes who take him down surprisingly quick.
Back at the compound, it's learned that Tony Stark has passed away from an illness (see Iron Man #284), and the team is trying to come to terms with the loss. Hawkeye lashes out at Mockingbird but immediately apologizes. U.S. Agent is flippant and asks to leave. Spider-Woman accuses him of still working for the Commission, and he says what he does in his own spare time is his business. He leaves on a quinjet, and Wonder Man and Scarlet Witch decide to follow him in another.
If you feel I'm overlooking the death of Tony Stark, please understand that it's handled so nonchalantly in two pages that it's hard to feel like it's important. They could have devoted an entire issue to the team dealing with this (something the book could really use instead of fighting generic bad guys).
U.S. Agent arrives in Canada based on the Commission's instructions. He's immediately attacked by two Russian soldiers in a hovercraft. After dealing with the soldiers, he's confronted by a Russian man with psychic powers. This is Golubev (we find out his name later). Golubev uses levitation and telekinesis to tie up and throw U.S. Agent into the water to drown. Luckily, Scarlet Witch and Wonder Man arrive to save him just in time.
Wolverine wakes up to find himself restrained in some kind of lab. He's greeted by Dr. Vladimir Volkh, one of the four Russian supervillains in this story, who proceeds to give Wolverine a page of exposition about who everyone is and what their powers are. Volkh plans to start a second cold war today by turning all of North America into a gigantic uninhabitable iceberg.
Oh, cold war.
Wolverine breaks free from his restraints and confronts Volkh. It turns out that Volkh's powers make him adaptable, so as Wolverine tries to cut him, his skin gives rather than tears. While he's getting beaten by Volkh, Wonder Man, Scarlet Witch and U.S. Agent come walking into the room. And now it's Wolverine and the West Coast Avengers versus "Dr. Volkh and his Never-Say-Die Bogatyri."
See you next week for the stunning conclusion.
WEST BOAST OR ROAST?
Roast. Sorry, but even Wolverine can't save this one. And it's a shame when the guest star gets more page time than the death of one of the book's major characters.
WEST COAST SCENE (OF THE WEEK)!
Yeah, she still could apparently.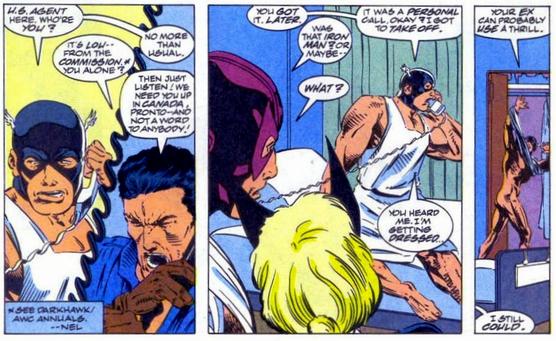 Previously on West Coast Wednesdays…
West Coast Avengers Vol. 1, #1
West Coast Avengers Vol. 1, #2
West Coast Avengers Vol. 1, #3
West Coast Avengers Vol. 1, #4
Avengers Vol. 1, #250
Iron Man Annual #7
West Coast Avenger Vol. 2, #1
The Vision and Scarlet Witch #1
West Coast Avengers Vol. 2, #2
The Vision and Scarlet Witch #2
West Coast Avengers Vol. 2, #3
West Coast Avengers Vol. 2, #4
West Coast Avengers Vol. 2, #5
West Coast Avengers Vol. 2, #6
West Coast Avengers Vol. 2, #7
West Coast Avengers Vol. 2, #8
West Coast Avengers Vol. 2, #9
West Coast Avengers Vol. 2, #10
West Coast Avengers Vol. 2, #11
West Coast Avengers Vol. 2, #12
West Coast Avengers Vol. 2, #13
Avengers Annual #15
West Coast Avengers Annual #1
West Coast Avengers Vol. 2, #14
West Coast Avengers Vol. 2, #15
West Coast Avengers Vol. 2, #16
West Coast Avengers Vol. 2, #17
West Coast Avengers Vol. 2, #18
West Coast Avengers Vol. 2, #19
West Coast Avengers Vol. 2, #20
West Coast Avengers Vol. 2, #21
West Coast Avengers Vol. 2, #22
West Coast Avengers Vol. 2, #23
West Coast Avengers Vol. 2, #24
West Coast Avengers Annual #2
Avengers Annual #16
Silver Surfer #3
West Coast Avengers Vol. 2, #25
West Coast Avengers Vol. 2, #26
West Coast Avengers Vol. 2, #27
West Coast Avengers Vol. 2, #28
West Coast Avengers Vol. 2, #29
West Coast Avengers Vol. 2, #30
West Coast Avengers Vol. 2, #31
West Coast Avengers Vol. 2, #32
West Coast Avengers Vol. 2, #33
West Coast Avengers Vol. 2, #34
West Coast Avengers Vol. 2, #35
West Coast Avengers Vol. 2, #36
West Coast Avengers Annual #3
West Coast Avengers Vol. 2, #37
West Coast Avengers Vol. 2, #38
West Coast Avengers Vol. 2, #39
West Coast Avengers Vol. 2, #40
West Coast Avengers Vol. 2, #41
West Coast Avengers Vol. 2, #42
West Coast Avengers Vol. 2, #43
West Coast Avengers Vol. 2, #44
West Coast Avengers Vol. 2, #45
West Coast Avengers Vol. 2, #46
West Coast Avengers Vol. 2, #47
West Coast Avengers Vol. 2, #48
West Coast Avengers Vol. 2, #49
West Coast Avengers Vol. 2, #50
West Coast Avengers Annual #4
West Coast Avengers Vol. 2, #51
West Coast Avengers Vol. 2, #52
West Coast Avengers Vol. 2, #53
Avengers Vol. 1, #312 
West Coast Avengers Vol. 2, #54
Avengers Vol. 1, #313 
West Coast Avengers Vol. 2, #55
West Coast Avengers Vol. 2, #56
West Coast Avengers Vol. 2, #57
West Coast Avengers Vol. 2, #58
West Coast Avengers Vol. 2, #59
West Coast Avengers Vol. 2, #60
West Coast Avengers Vol. 2, #61
West Coast Avengers Vol. 2, #62
West Coast Avengers Annual #5
West Coast Avengers Vol. 2, #63
West Coast Avengers Vol. 2, #64
West Coast Avengers Vol. 2, #65
Avengers Spotlight #38 
West Coast Avengers Vol. 2, #66
West Coast Avengers Vol. 2, #67
West Coast Avengers Vol. 2, #68
West Coast Avengers Vol. 2, #69
West Coast Avengers Vol. 2, #70
West Coast Avengers Vol. 2, #71
West Coast Avengers Vol. 2, #72
West Coast Avengers Vol. 2, #73
West Coast Avengers Vol. 2, #74
West Coast Avengers Annual #6
West Coast Avengers Vol. 2, #75
West Coast Avengers Vol. 2, #76
West Coast Avengers Vol. 2, #77
West Coast Avengers Vol. 2, #78
West Coast Avengers Vol. 2, #79
West Coast Avengers Vol. 2, #80
West Coast Avengers Vol. 2, #81
West Coast Avengers Vol. 2, #82
West Coast Avengers Vol. 2, #83
West Coast Avengers Vol. 2, #84
West Coast Avengers Vol. 2, #85
West Coast Avengers Vol. 2, #86
West Coast Avengers Annual #7